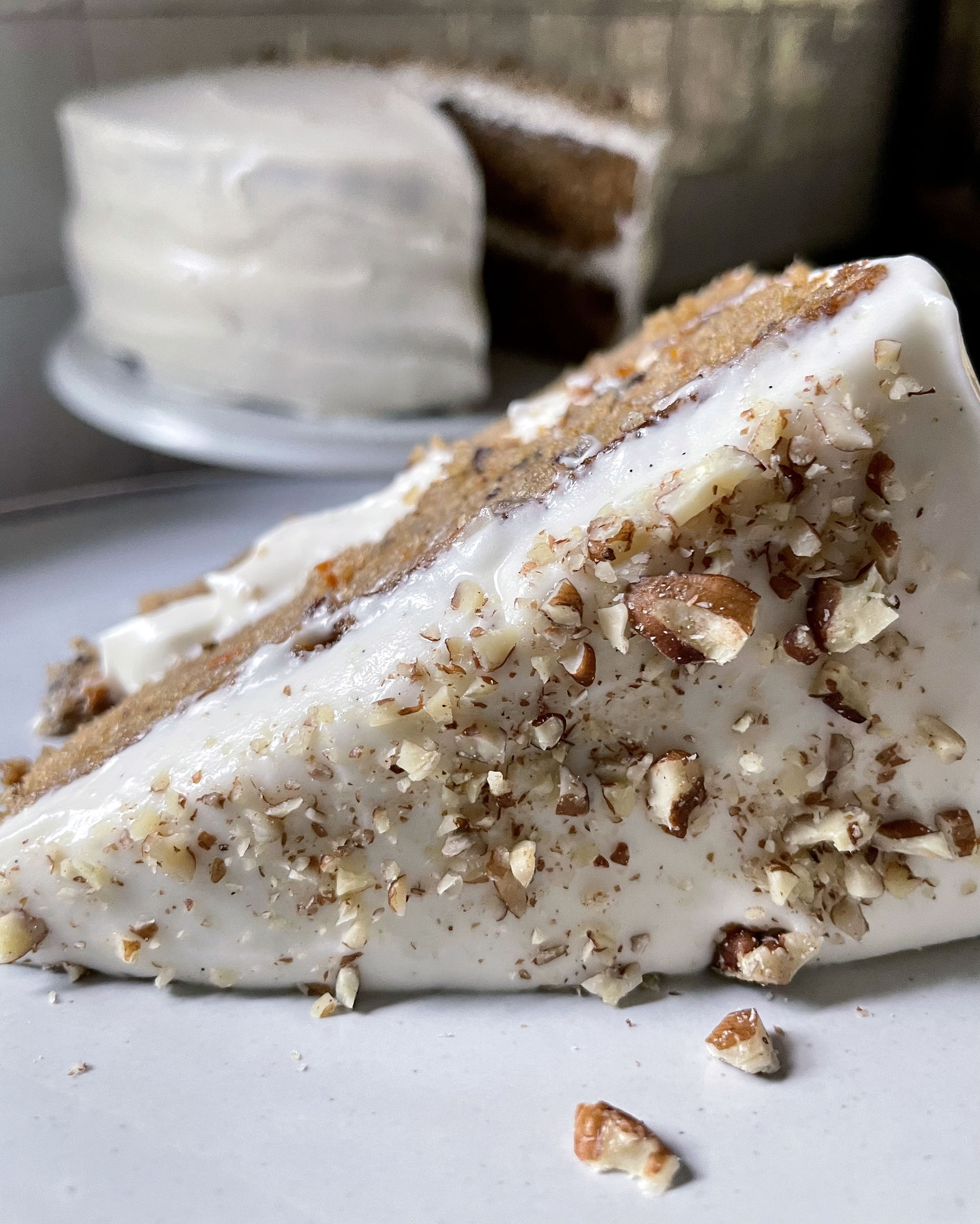 Print Recipe
Carrot Cake with Cream Cheese Frosting
Moist cake flecked with bright carrot, and toasted chopped pecans. Spiced with cloves and ginger. Frosted with vanilla cream cheese frosting. A Carrot Cake really is a cake for all seasons!
Ingredients
2 cups Chopped Pecans (1 cup for cake, 1/4-1 cup for garnish. Optional )

1.5 cups Packed Dark Brown Sugar

1/2 cup Granulated Sugar

1 cup Vegetable Oil

4 Large Eggs

3/4 cup Smooth Unsweetened Applesauce

1 tsp. Pure Vanilla Extract or Vanilla Bean Paste

2.5 cups All-Purpose Flour (spoon & leveled)

2 tsp. Baking Powder

1 tsp. Baking Soda

1 tsp. Kosher Salt

1.2 tsp. Ground Cinnamon

1 tsp. Ground Ginger

1/4 tsp. Ground Nutmeg

1/4 tsp. Ground Cloves

2 cups Grated Carrots (about 4 large)

Cream Cheese Frosting

16 oz. Full-fat Block Cream Cheese, softened to room temperature

1/2 cup Unsalted Butter, softened to room temperature

4 cups Powdered Sugar

1.5 tsp. Pure Vanilla Extract or Vanilla Bean Paste

Pinch of Kosher salt, to taste
Instructions
2
Line a large baking sheet with parchment paper. Spread the chopped pecans on the sheet and toast for 8 minutes. Remove from the oven and allow to cool for 10-15 minutes.
3
Turn the oven up to 350°F. Spray two 9-inch cake pans with cooking spray, line with a circle of parchment paper, then spray the parchment paper.
4
Whisk the brown sugar, granulated sugar, oil, eggs, applesauce, and vanilla together in a large bowl until combined and no sugar lumps remain.
5
In another large bowl, whisk the flour, baking powder, baking soda, salt, cinnamon, ginger, nutmeg, and cloves together.
6
Pour the wet ingredients into the dry ingredients and, using a rubber spatula, fold the ingredients together until just combined.
7
Fold in the carrots and 1 cup of the toasted pecans.
8
Pour the batter evenly into the cake pans. Bake for 30-35 minutes. Test the center with a toothpick. If it comes out clean, the cakes are done. If not, continue to bake until cooked through.
9
Allow the cakes to cool completely in the pans set on a wire rack. The cakes must be completely cool before frosting and assembling. Optionally, you can let the cakes cool completely, turn out of cake pans and tightly wrap in plastic wrap and refrigerate for up to 48 hours.
10
In a large bowl using a handheld or stand mixer fitted with a paddle attachment, beat the cream cheese and butter together on medium-high speed until smooth, about 2 minutes.
11
Add the powdered sugar, vanilla extract, and a pinch of salt.
12
Beat on low speed for 30 seconds, then increase to high speed and beat for 3 minutes until completely combined and creamy.
13
Frosting should be soft, but not runny. You can add more powdered sugar if the frosting is too runny, or a little milk if it's too thick.
14
On a cake stand or large plate, place one of the cakes upside down, so the bottom (flat side) is on top. Spread frosting on the first layer in an even layer.
15
Lay the second cake upside down on top of the frosted bottom cake. Spoon a generous amount of frosting on top and spread it outwards from the center.
16
Let the frosting spread over the top and down the sides. Use an offset spatula to smooth the frosting around the sides.
17
Top the cake with the remaining toasted, chopped pecans in whatever design you like.
18
Place the cake in the fridge for at least 15-20 minutes before slicing into it.
Notes
If your kitchen is pretty warm like mine, it's totally fine to take your time and refrigerate the cake between applications of frosting so that the cake and frosting holds its shape.