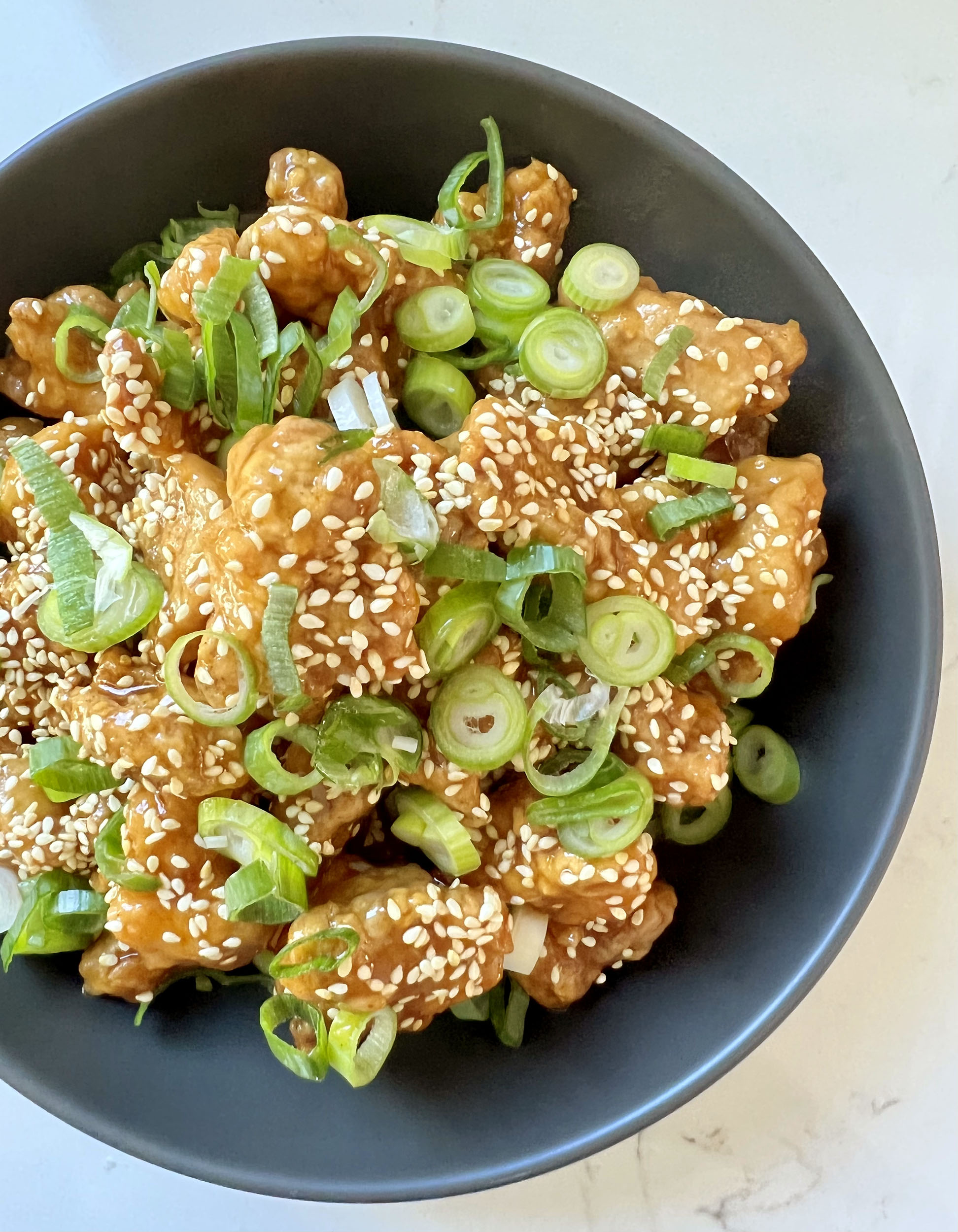 Print Recipe
Air Fryer Lemon Chicken
Air Fryer Lemon Chicken is an easy take on the classic Chinese takeout dish. Crispy, crunchy chicken cloaked in a sweet and sour lemon sauce.
Ingredients
Lemon Chicken Sauce

4 Strips of Lemon Zest

Grated Zest of Half a Lemon

1/2 cup Lemon Juice

3/4 cup Chicken Broth

1/3 cup Distilled White Vinegar

1/3 cup Packed Brown Sugar

1/4 cup Soy Sauce

2 tbsp. Cornstarch

3 Garlic Cloves, minced

1 tbsp. Grated Fresh Ginger

1 tbsp. Sriracha Sauce

1 tbsp. Toasted Sesame Oil

Chicken

1 ½ lbs. Boneless, Skinless Chicken Thighs, trimmed and cut into 1-inch pieces

2 Large Egg Whites

1 tsp. Kosher Salt

1/2 cup Cornstarch

1.5 cups All-Purpose Flour

1 tsp. Baking Powder

Cooking Spray

2 Scallions, sliced thin or chopped Fresh Cilantro

Toasted Sesame Seeds for garnish
Instructions
1
Use a vegetable peeler to remove four 2-inch strips of zest from 1 lemon.
2
Use a rasp-style grater to grate zest from half a lemon.
3
Squeeze 2-3 lemons to get 1/2 cup of lemon juice.
4
Combine lemon zest (strips and grated) and juice, broth, vinegar, sugar, soy sauce, cornstarch, garlic, ginger, sriracha, and oil in medium saucepan and whisk to dissolve cornstarch.
5
Bring sauce to simmer over medium-high heat, stirring frequently. Cook until dark brown and thickened, about 2 minutes. Set aside.
6
Combine chicken, egg whites, and salt in bowl.
7
Place cornstarch, flour, and baking powder in double-bagged large paper shopping bag.
8
Roll top of bag to seal and shake gently to combine.
9
Add chicken mixture to cornstarch mixture in bag, roll top of bag to seal, and shake vigorously to thoroughly coat chicken; set aside.
10
Preheat your air fryer to 375 degrees.
11
Once your air fryer is preheated, spray the the inside of the basket with cooking spray and add about half the chicken in a single layer in the bottom of the basket.
12
Liberally spray the chicken with cooking spray. Slide the basket into the fryer and set the temperature to 375 degrees and set the timer for 8 minutes.
13
At the 8 minute mark, remove the basket from the fryer and give it a good shake. Liberally spray again with cooking spray and fry for another 6 minutes.
14
Set a wire rack in a sheet tray to catch the first batch. Set your oven to 200 degrees – we will keep the first batch warm in the oven while the second batch is frying.
15
Repeat with the second batch of chicken.
16
Replace the sauce over medium heat to get it bubbling and hot again.
17
When all of the chicken is done, transfer the chicken to a large bowl and pour the sauce over the chicken, toss to coat.
18
Transfer the sauced chicken to a serving dish and top with sliced scallions and toasted sesame seeds. Serve with rice.