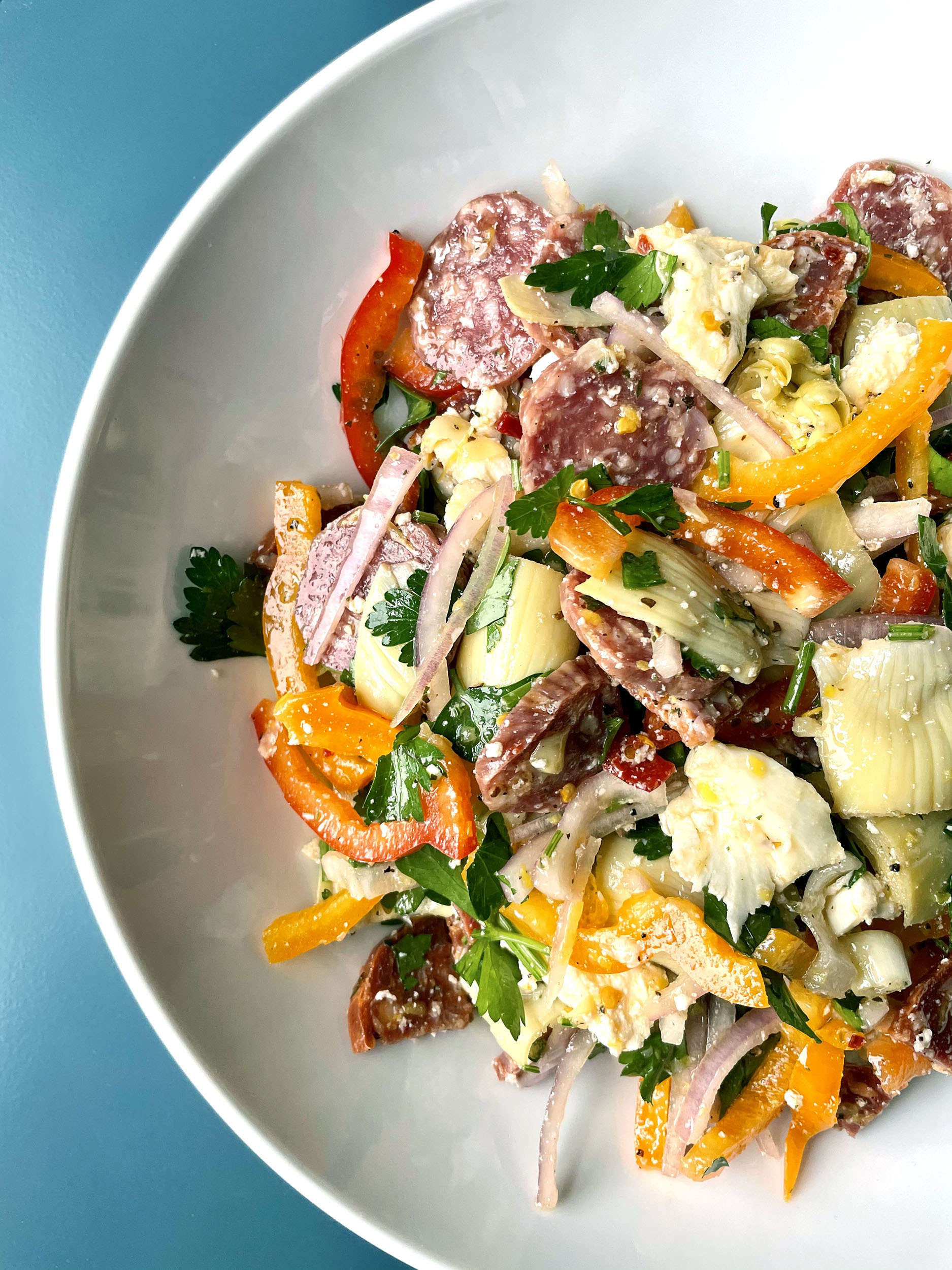 Print Recipe
Antipasto Salad
Tart and zesty with a sweet crunch from the red peppers, this Antipasto salad is an easy dish to throw together for a light meal or appetizer.
Ingredients
⅓ cup Extra-Virgin Olive Oil

¼ cup Red Wine Vinegar

½ tsp. Dried Oregano

Pinch of Crushed Red Pepper Flakes

1 Red or Orange Bell Pepper, thinly sliced

1 Small Red Onion, thinly sliced, soaked in ice water

1 14-oz. can Artichoke Hearts, drained, patted dry, halved or quartered

1 8-oz. Ball Fresh Mozzarella, torn into pieces (or a mix of fresh and smoked Mozzarella)

4 oz. Salami, thinly sliced (or a mix of a spicy salami and plain)

2-3 Calabrian Chili Peppers, minced (optional)

Kosher salt, freshly ground pepper

1 Lemon

1 bunch Flat Leaf Parsley
Instructions
1
Mix garlic, oil, vinegar, oregano, and red pepper flakes in a large bowl.
2
Add peppers, onion, artichokes, mozzarella, salami and Calabrian peppers (if using) and toss to coat; season with salt and black pepper.
3
Let sit, tossing occasionally, at least 15 minutes.
4
Zest lemon over salad and add parsley; toss to combine. Season with more salt and black pepper if needed.
5
Salad (without lemon zest and parsley) can be made 1 day ahead. Cover and chill.