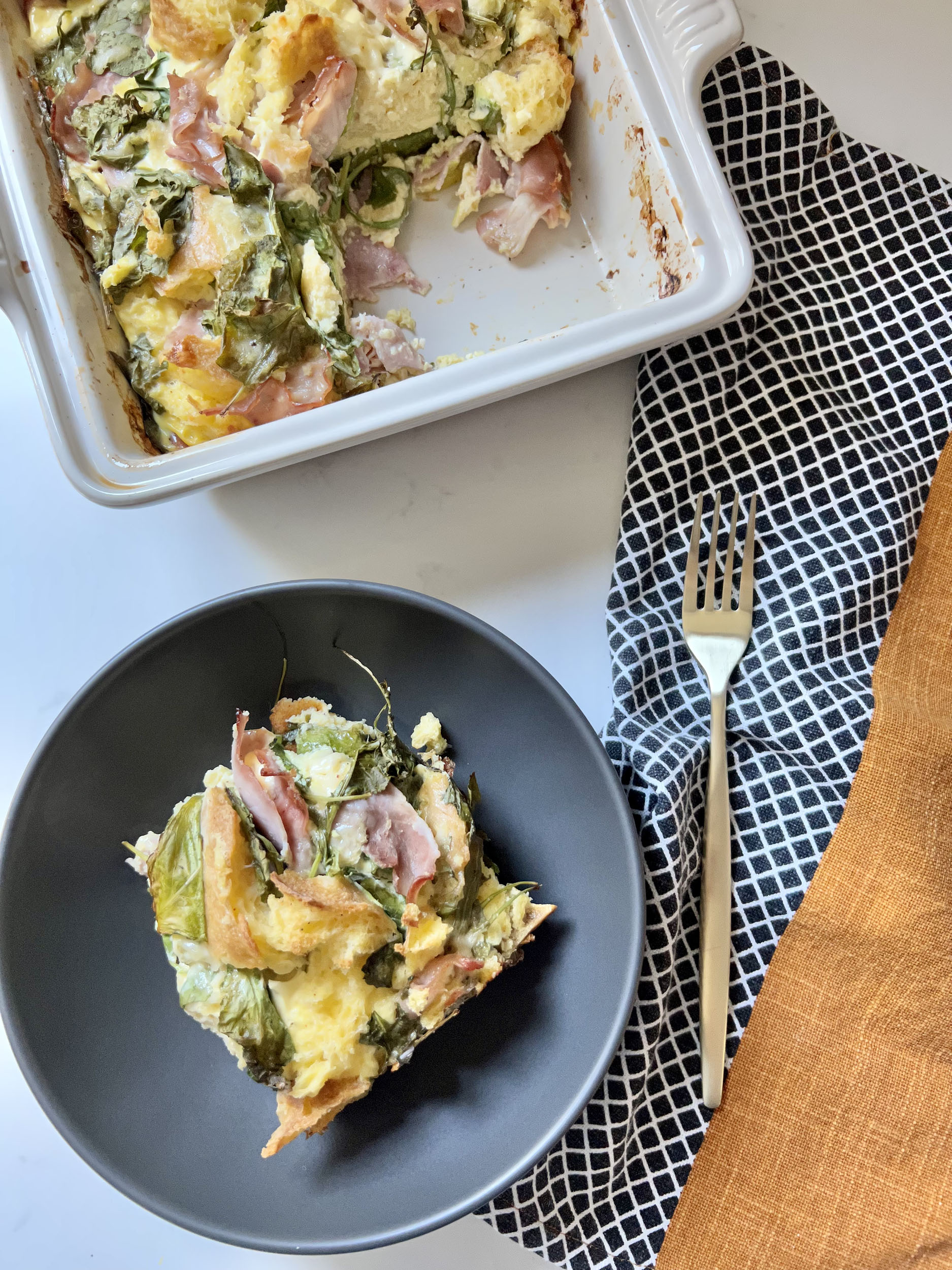 Print Recipe
Anytime Strata
An egg casserole, my Anytime Strata features ham, sharp provolone, greens and torn Italian bread. A perfect one dish meal for anytime of day.
Ingredients
Butter or cooking spray to grease the pan

6 Large Eggs

1.5 cups Half and Half

Pinch of Cayenne Pepper

Dash of Nutmeg

Dash of White Pepper

Pinch of Kosher Salt

3.5-4 cups Torn Pieces of Rustic Bread or Baguette

3/4 cup Grated Sharp Provolone Cheese

1 cup Torn Pieces of Deli Sliced Ham

3 handfuls total Baby Greens, like kale and/or arugula
Instructions
1
Preheat the oven to 350 degrees F and grease an 8x8, or 9x9-inch baking dish with butter or cooking spray
2
In a large bowl, whisk the eggs and add the half and half. Whisk until well combined. Season with a dash, pinch or a shake of nutmeg and white pepper; a small pinch of cayenne and a good-sized pinch of kosher salt.
3
Whisk the seasoning into the egg and milk mixture. Then add the bread, ham, and cheese. Give it a good mix, separating the slices of ham so they don't just clump up into one hunk of ham. Then add the greens and mix again to evenly distribute and coat everything in the egg mixture.
4
Pour the strata mixture into the prepared baking dish. Now, you can cover and refrigerate to bake later, even the next day; or you can cover and bake it now. Slide the covered baking dish into the oven on the center rack and bake covered for 35 minutes.
5
Then uncover and bake for an additional 15 minutes.
6
The strata should be firm-ish to the touch in the center, not super jiggly or liquid-y. It will continue to cook a bit as it sits on the counter for 15 minutes. The top layer should have some golden browning and crispy bits.
7
After its 15 minute rest, it's time to dig in!