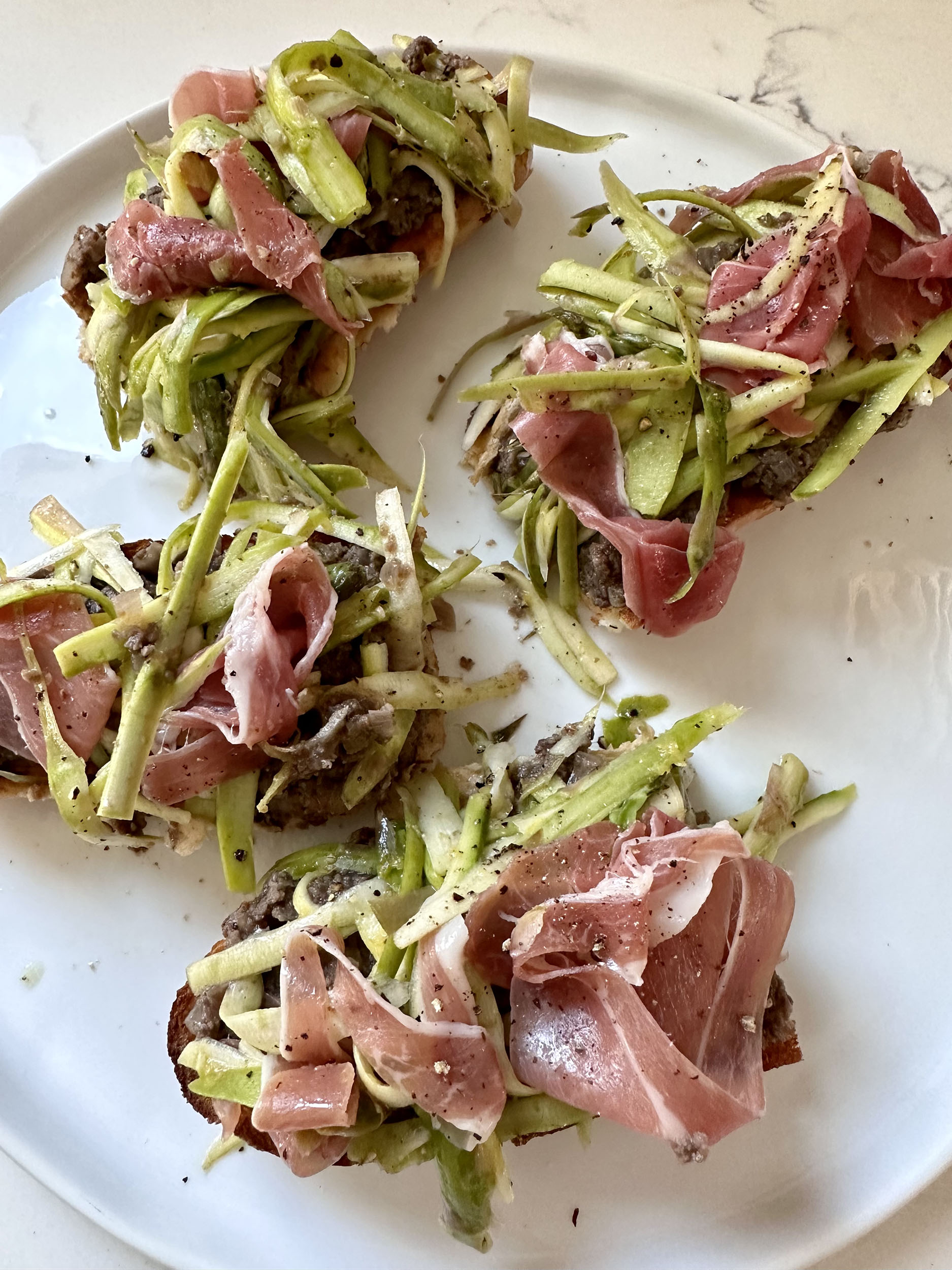 Print Recipe
Asparagus and Duxelles Tartines
A mushroom and shallot spread tops toasted brioche, with bright lemon dressed asparagus ribbons and strips of jambon sec, or prosciutto.
Ingredients
1 lb. White Button or Cremini Mushrooms

1/4 cup Dry Sherry or Madeira

3 tbsp. Unsalted Butter

2 Shallots, diced fine

1 tsp. Minced Fresh Thyme

1 tsp. Kosher Salt

1/2 tsp. Black Pepper

1/4 tsp. Sugar

5-8 Thick Asparagus Spears

Zest of 1 Lemon

Juice of Half Lemon

2 tsp. Olive Oil

Kosher Salt and Black Pepper, to taste

2-4 3/4-inch thick cut Slices of Soft Sandwich Bread (other options: Baguette sliced in half lengthwise, or Brioche)

2-3 slices of Prosciutto or Jambon Sec, each slice torn into 3-4 pieces
Instructions
1
Pulse the mushrooms in a food processor until finely ground. Stop regularly to scrape down the sides.
2
In a large nonstick skillet, over high heat, stir to combine the processed mushrooms and the sherry. The mixture will seem dry at first, but as the mushrooms release their liquid, the mixture will become loose and soupy. Stir occasionally and cook until the moisture is nearly gone. It will take about 10 minutes.
3
Use a vegetable peeler to make wide ribbons of thick asparagus spears. In a medium bowl, combine the asparagus ribbons lemon zest, olive oil and lemon juice. Season with kosher salt and black pepper. Toss to combine and set aside.
4
By now, the mushrooms should have cooked off their moisture and the mixture should be much drier. Reduce the heat to medium and push the mushrooms to one side of the pan.
5
Then add the butter to the empty side of the pan. When the butter is all melted, add the finely diced shallots, salt, sugar and thyme.
6
Stir the shallot mixture occasionally and cook until the shallots are mostly translucent. Then stir the onion mixture into the mushroom mixture and cook for another 3 minutes or so. Then cut the heat on the duxelles.
7
Toast the bread in your toaster or in the oven.
8
Spread a layer of the duxelles on the toasted bread. Top with the dressed asparagus ribbons.
9
Adding the strips of prosciutto is optional. Keep them vegetarian if you like. If using, tear each thin slice of jambon sec into three or four strips. Top the asparagus ribbons with a few strips of jambon sec.