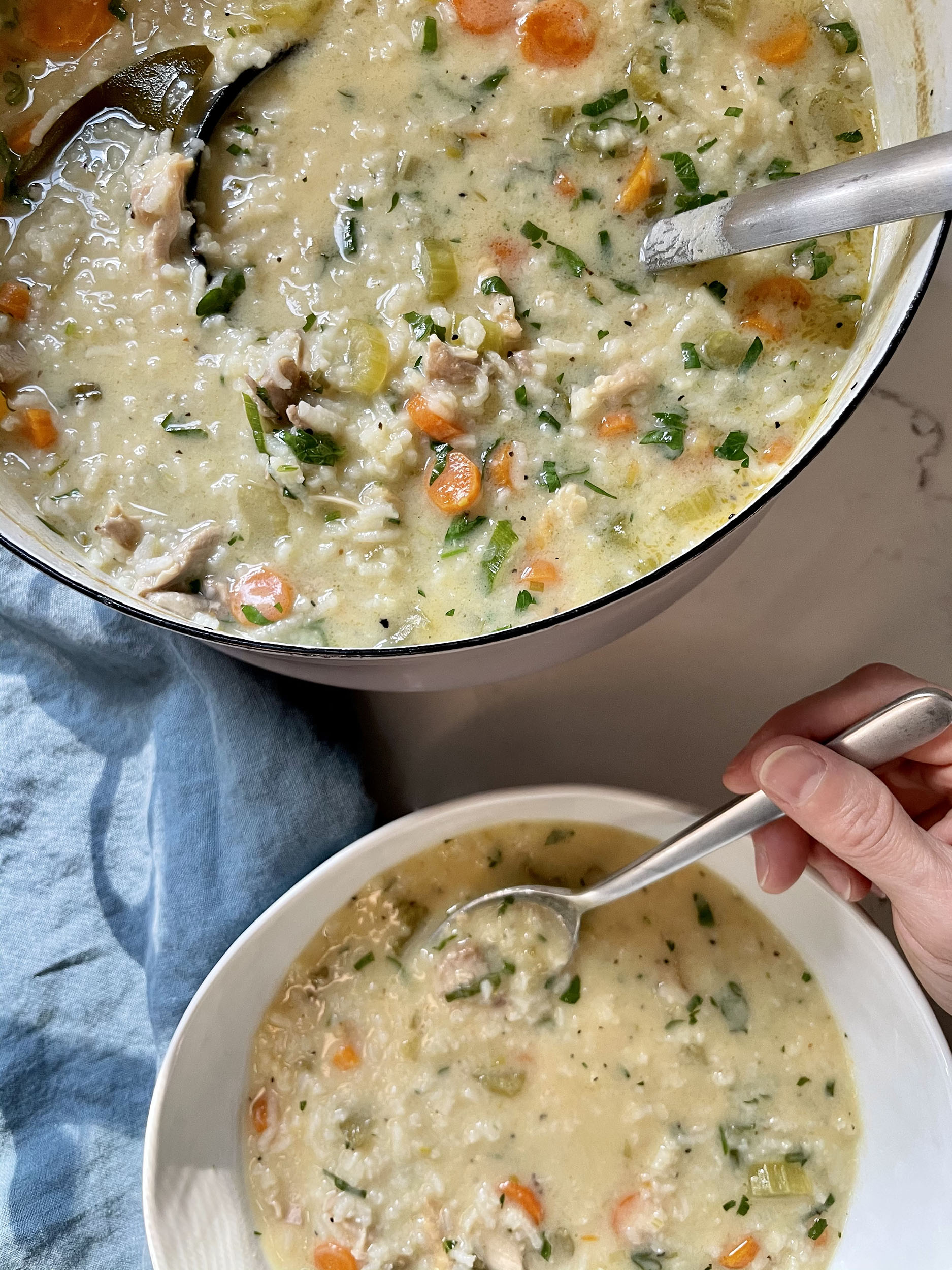 Print Recipe
Avgolemono Soup (Greek Chicken and Lemon Soup)
Avgolemono Soup is a Greek soup with chicken and rice, cooked with an egg-lemon-broth sauce. It's lemony, fresh and bright. With silky richness, it's flavorful and hearty without being heavy.
Ingredients
Extra Virgin Olive Oil

4 Chicken Thighs, pan seared then shredded or cut

1 cup Carrots, chopped

1 cup Celery, chopped

1 cup Green Onions, sliced

2 Garlic Cloves, finely chopped

8 cups Chicken Broth

2 Bay Leaves

1 cup Rice

Kosher Salt and Fresh Cracked Black Pepper, to taste

½ cup Fresh Squeezed Lemon Juice

2 Large Eggs

Fresh parsley for garnish (optional)
Instructions
1
Heat 1-2 tablespoons of olive oil in a Dutch oven or heavy bottom stock pot and add seasoned chicken thighs.
2
Brown well on both sides, about 6-7 minutes each side. Transfer chicken thighs to a separate plate.
3
Adjust the heat to medium and if needed, add another tablespoon of olive oil to the Dutch oven.
4
Add the carrots, celery and onions. Sauté for a couple minutes and add the garlic. Cook for another minute.
5
Add the broth and bay leaves to the pot and increase heat to high and bring to a boil.
6
Once boiling, add the rice and reduce heat to medium-low. Simmer for 20 minutes.
7
Shred the cooked chicken thighs while the soup is simmering.
8
Add the shredded chicken to the soup and let simmer while you prepare the avgolemono sauce.
9
In a medium bowl, whisk the two eggs very well and add the lemon juice, whisk to combine.
10
Scoop 1 ladle full of broth from the simmering soup and while whisking with one hand, slowly stream the hot broth into the eggs and lemon juice mixture, continuously whisking.
11
Repeat with one more ladle-full of hot broth.
12
Remove the simmering soup from heat and stir in the avgolemono sauce. Stir well to fully incorporate the avgolemono sauce.
13
Garnish with fresh chopped parsley and more green onions, if you like.