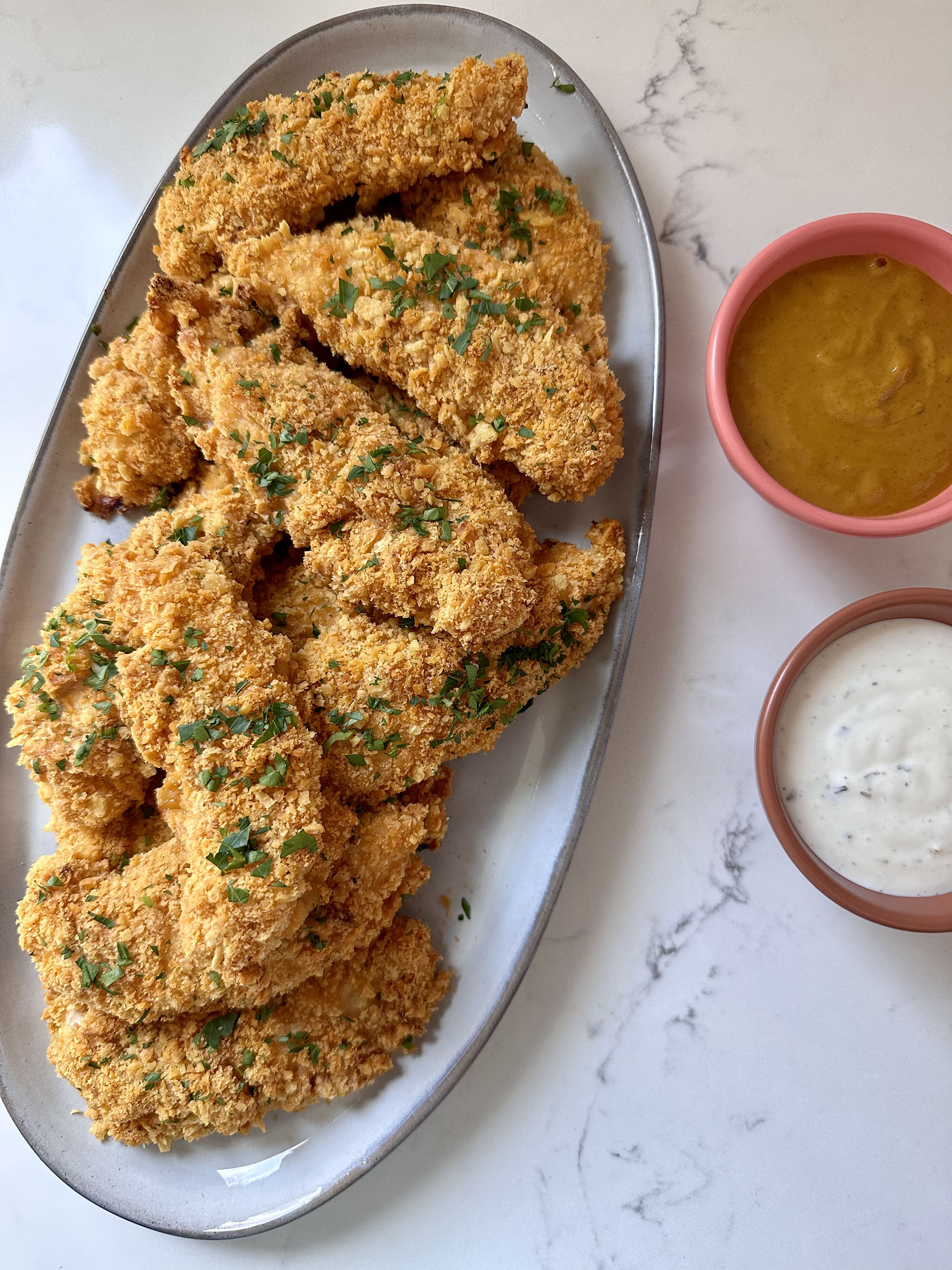 Print Recipe
Baked Cheez-It® Chicken Tenders
In only a few simple steps you can have Baked Cheez-It® Chicken Tenders for dinner! A fun cooking project for kids – they will love it!
Ingredients
2 lbs. Chicken Tenders (or 4-6 chicken breasts sliced lengthwise into 2-inch strips)

Buttermilk (enough to cover chicken tenders in bowl)

A Few Dashes of Hot Sauce, like Frank's Red Hot or Tabasco

1 box Cheez-It® Crackers

Olive Oil

Minced Parsley for garnish

Dipping Sauces
Instructions
1
Place Chicken Tenders in a bowl and pour on enough buttermilk to cover. Add a few splashes of Frank's Red Hot Sauce, Crystal or Tabasco. Stir to coat all the tenders with the buttermilk, cover and refrigerate overnight or for a few hours.
2
Preheat the oven to 425 degrees F. Spray a large sheet pan with cooking spray. If you're worried about the tenders sticking to your sheet pan, lay a sheet of parchment on the sheet tray and spray the parchment with cooking spray. Set the tray aside.
3
Add Cheez-It® Crackers to the bowl of a food processor and pulse until the crackers are a coarse sandy texture.
4
Transfer the Cheez-It® breading to a rectangular baking dish and set up your breading station with the buttermilk chicken tenders, the Cheez-It® breading in the center and the tray to catch the breaded tenders on the right.
5
Work with a few chicken tenders at time; lay the buttermilk coated tenders in the Cheez-It® breading, turn a few times to evenly coat the tender and place the breaded tenders on the sheet tray. Repeat with the rest of the tenders.
6
Then drizzle olive oil over the tenders. Now bake the tenders for 15-25 minutes, until the chicken is cooked through (temped at 165 degrees F) and the Cheez-It® coating is golden.
7
Let the tenders sit for several minutes to let them cool and the Cheez-It® coating will crisp up a bit more. While you're waiting for that, you can chop up some parsley to sprinkle over the top. Once they've cooled and crisped up a bit, transfer the Baked Cheez-It® Chicken Tenders to a serving dish. Serve with your favorite dipping sauces.