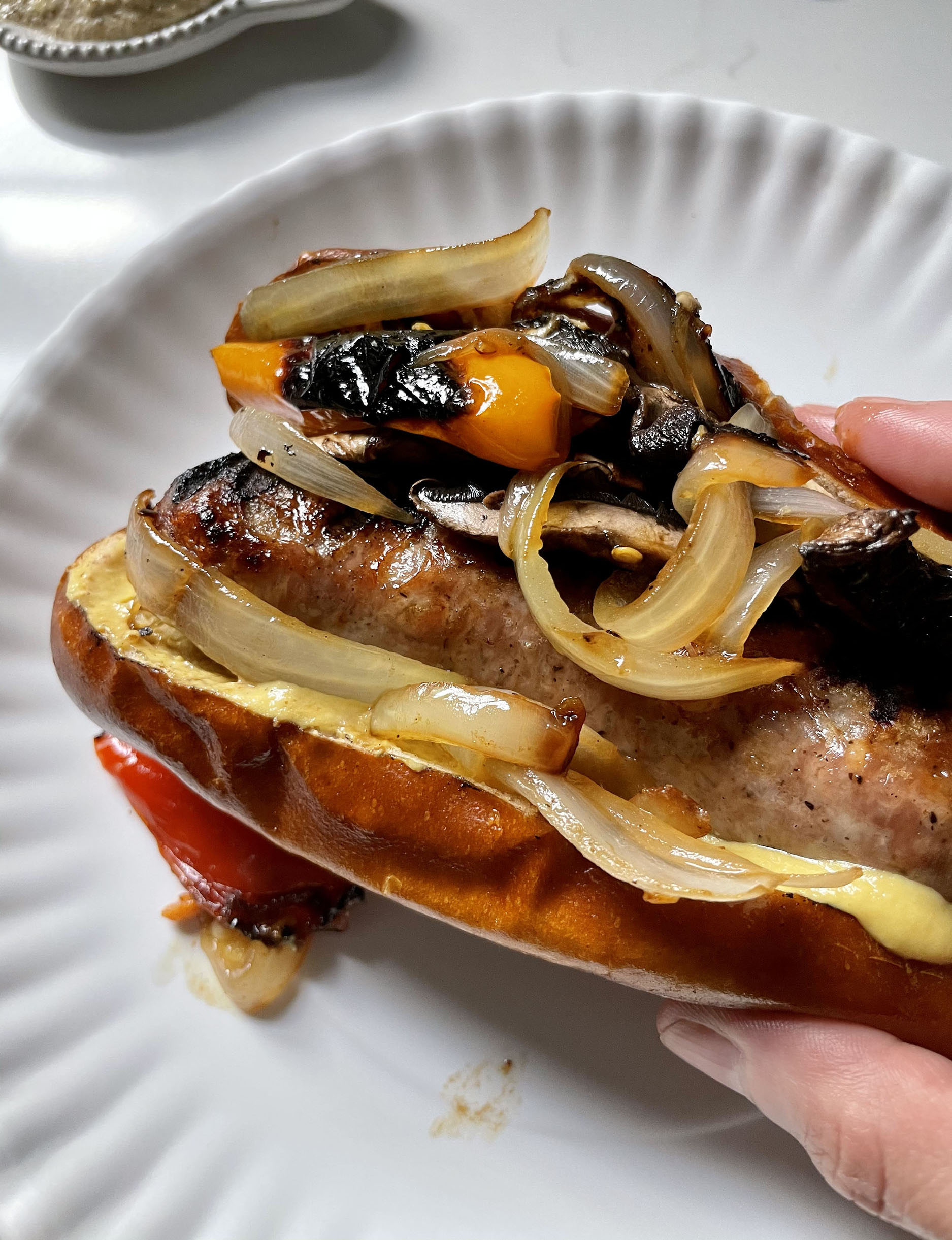 Print Recipe
Beer Poached Bratwurst with Peppers and Onions
Poaching Brats in beer keeps them juicy and tender through the cook and the beer flavor is unmistakable. Caramelized peppers and onions top our Brats.
Ingredients
8-10 Bratwurst Sausages

2 cans Light Pilsner-style Beer

Mini Bell Peppers, stemmed and halved

1-2 tbsp. Grapeseed or Vegetable Oil

Kosher Salt and Fresh Cracked Black Pepper, to taste

1 Sweet Onion, sliced into wedges

3 Portobello Mushroom Caps, sliced thickly

Pretzel Sausage Buns

Mustard

Sauerkraut
Instructions
1
Place Bratwurst sausages in a grill-safe baking pan and pour in 2 cans of beer, cover with foil and set aside.
2
Meanwhile prep veggies and prepare the grill by creating a hot side and a cool, indirect heat side.
3
Toss the peppers and onions with oil and season with Kosher salt and black pepper, transfer mixture to a grill-safe baking pan.
4
Place the mushrooms in a grill-safe baking pan and add 2 tablespoons of water to the mushrooms, season with Kosher salt and black pepper.
5
Place all three pans on a 400 degree grill and close the lid. Cook for 30-45 minutes, checking the Bratwurst for doneness at the 30 minute mark. Brats are done when they are firm to the touch and are white and opaque in color.
6
Remove Brats from the grill and leave covered with foil.
7
Position veggies over the hot side of the grill and continue to cook the mushrooms, onions and peppers until they are tender and have a little color and caramelization.
8
Move veggies to the cool side of the grill and transfer Brats from the pan of beer to the hot side of the grill, over the coals.
9
Sear the Brats, turning every minute or so, until all sides are slightly browned and have grill marks.
10
Remove everything from the grill and toast buns on grill if desired.
11
Serve buffet-style with sauerkraut and a selection of mustards.