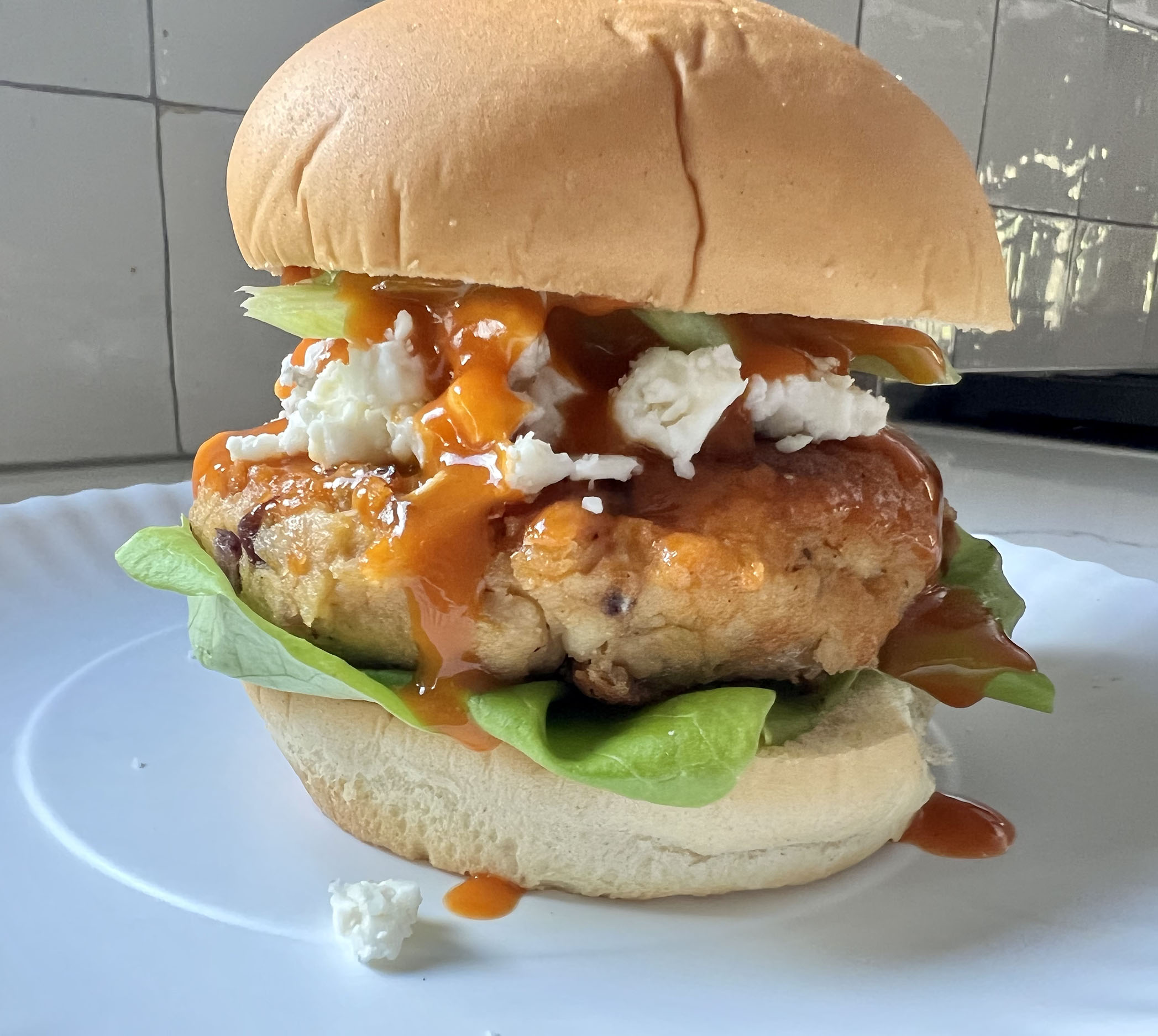 Print Recipe
Best Buffalo Bean Burgers
Best Buffalo Bean Burgers have great flavor and texture. They are filling without being heavy. A wonderful, healthy vegetarian burger recipe!
Ingredients
2 15.5-oz. Cans Canellini Beans, drained and rinsed

4 tbsp. Olive Oil, divided by half

2/3 cup Diced Onion

2/3 cup Diced Celery

1 tsp. Garlic Powder

1 tbsp. Frank's Red Hot Sauce

2 Large Egg Yolks

1/4 cup Panko Breadcrumbs

1 tsp. Kosher Salt, plus more to taste

1 tsp. Fresh Cracked Black Pepper

Buffalo Sauce

4 tbsp. Butter

6 tbsp. Frank's Red Hot Sauce

1 tbsp. Dark Brown Sugar

1/2 tsp. Cornstarch

1 tbsp. Water

Buffalo Bean Burgers

4 Burger Buns

4 Boston or Bibb Lettuce Leaves

Gorgonzola or Blue Cheese, crumbled

1 rib of Celery, sliced thinly, on the bias
Instructions
1
Preheat the oven to 375 degrees F.
2
Spread the drained and rinsed beans out on a parchment-lined sheet tray and bake the beans for about 15 minutes, until the beans are cracked and look dried out. Let the beans cool for about 10 minutes.
3
While the beans are baking and cooling, heat 2 tablespoons of olive oil in a skillet and sauté 2/3 cup diced onions and 2/3 cup diced celery. Add 1 teaspoon of garlic powder and stir to combine. When the onions and celery have softened a bit (about 5 minutes), add 1 tablespoon of Frank's Red Hot Sauce. Stir to combine and cut the heat.
4
Transfer the beans to a large mixing bowl. Then, take 2 cups of the cooled beans and add to a food processor. Add 2 tablespoons of the onion/celery mixture, two egg yolks, 1/4 cup Panko breadcrumbs, 1 teaspoon kosher salt and 1 teaspoon fresh cracked black pepper. Process until mixture is mostly smooth, about 20 seconds.
5
Transfer the bean puree to the mixing bowl with the remaining whole beans. Add the remaining celery/onion mixture to the bowl with the beans and bean puree. Use a silicone spatula to thoroughly mix the beans. Taste the mixture and add more kosher salt if needed.
6
Line a sheet tray with a fresh piece of parchment. Form the bean mixture into 4 equal patties, 4-inches wide and 1/4 inch thick. Place patties on a parchment-lined sheet pan and refrigerate for 30 minutes.
7
While the Buffalo Bean Burgers are chilling in the fridge, make the Buffalo sauce. Melt 4 tablespoons of butter with 6 tablespoons of Franks' Red Hot Sauce, 1 tablespoon of dark brown sugar. Whisk to combine and dissolve the sugar. Then add 1/2 teaspoon to one tablespoon of water to make a slurry. Add the cornstarch slurry to the Buffalo sauce and stir well to combine and make a slightly thick, emulsified sauce. Transfer to a separate bowl and set aside.
Cook the Buffalo Bean Burgers
8
Set up a braiser or other large pan with 2 tablespoons of olive oil. Heat the olive oil over medium heat.
9
When the oil is shimmery, carefully lay the 4 burgers in the hot oil. Let cook undisturbed for about 4 minutes, until the cooked side has developed some browning. Then flip the burgers and cook about 4 minutes, until browned.
10
When browned on both sides, transfer out to a sheet tray and brush Buffalo sauce over the tops and let sit for 5 minutes.
11
To build the burgers, get a soft bun and lay a lettuce leaf on the bottom half.
12
Carefully slide a Buffalo Bean Burger on top of the lettuce leaf. Top the burger with crumbles of gorgonzola or blue cheese. Then top the cheese crumbles with several slices of celery. Spoon more Buffalo sauce over the celery and then top with the top bun.
13
Serve with remaining Buffalo sauce on the side.