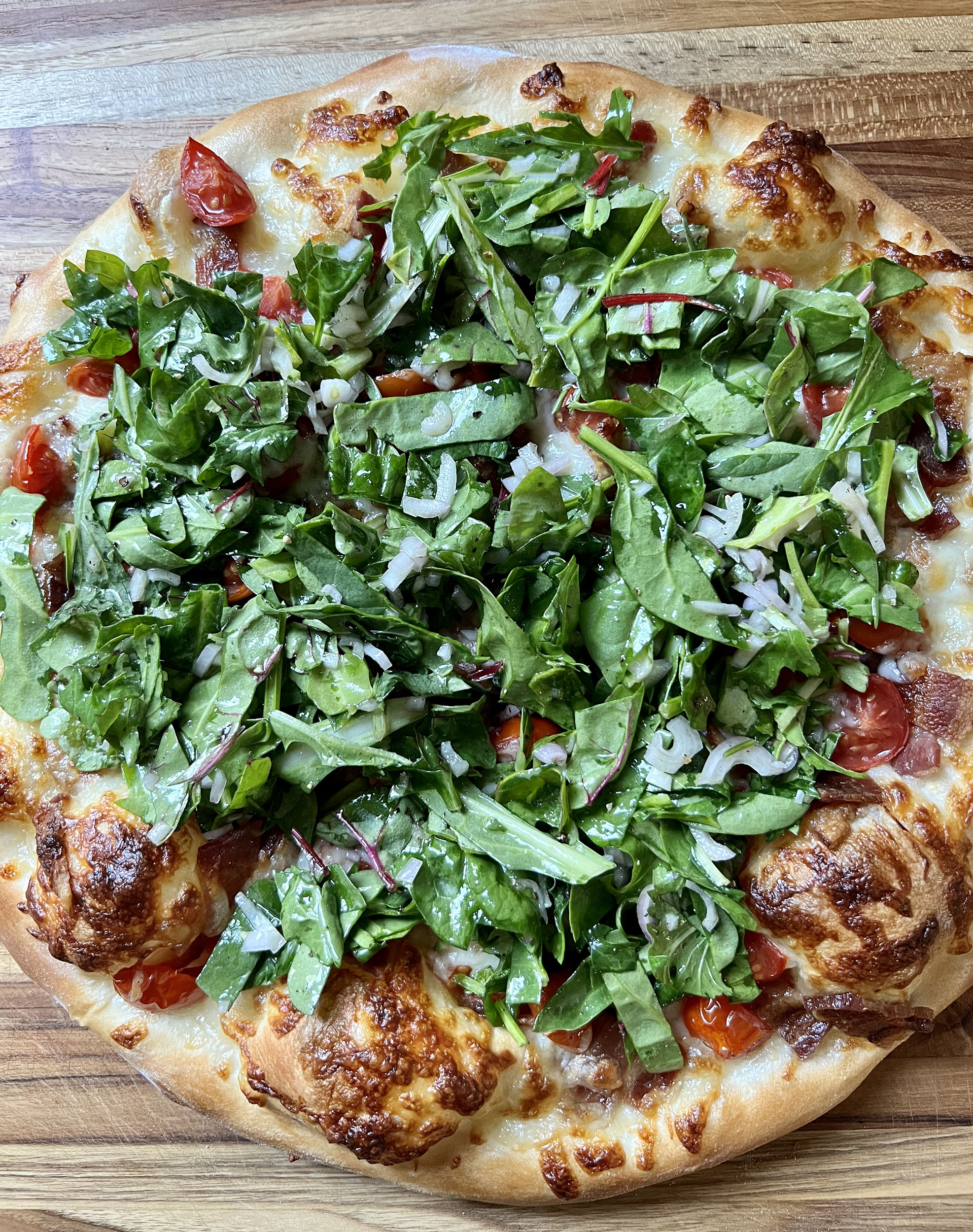 Print Recipe
BLT Pizza
The classic bacon and tomato sandwich combination elevated with dressed greens and shallots make this simple BLT Pizza a winner.
Ingredients
6 Strips Thick Cut Bacon; cooked, cooled and chopped into 1/2-inch strips

1 Prepared Pizza Dough

1.25 cups Grated Mozzarella Cheese

1.5 cups Quartered Grape Tomatoes

2 cups Baby Greens, roughly chopped

1 small Shallot, diced

Drizzle of Olive oIl

Drizzle of Red or White Wine Vinegar

Kosher Salt and Black Pepper
Instructions
1
Preheat the oven with pizza stone or steel to 450 degrees for about 40 minutes to one hour. Let the prepared pizza dough come up tot room temperature.
2
When the oven is up to temp and dough is at room temp; pull, stretch, roll or spin your dough out to about 12-inches round on a floured pizza peel.
3
Spread an even layer of the cheese (about 1 cup) over the dough surface. Then top with the bacon. Follow the bacon with the quartered tomatoes. Top with the remaining 1/4 cup of cheese.
4
Shimmy and slide the pizza onto the pizza stone or steel (be prepared to lose a few tomatoes in the process) and bake for 10-15 minutes, until the dough is puffed and golden and the cheese is melted and bubbly.
5
Combine the chopped greens and the shallot in a bowl and drizzle with olive oil. Give it a drizzle of white or red wine vinegar and toss to combine. Season with a little kosher salt and black pepper and toss again to combine.
6
When the pizza comes out of the oven, let it sit for a minute, then top the entire surface with the dressed greens.
7
Then slice it how you like it and enjoy!