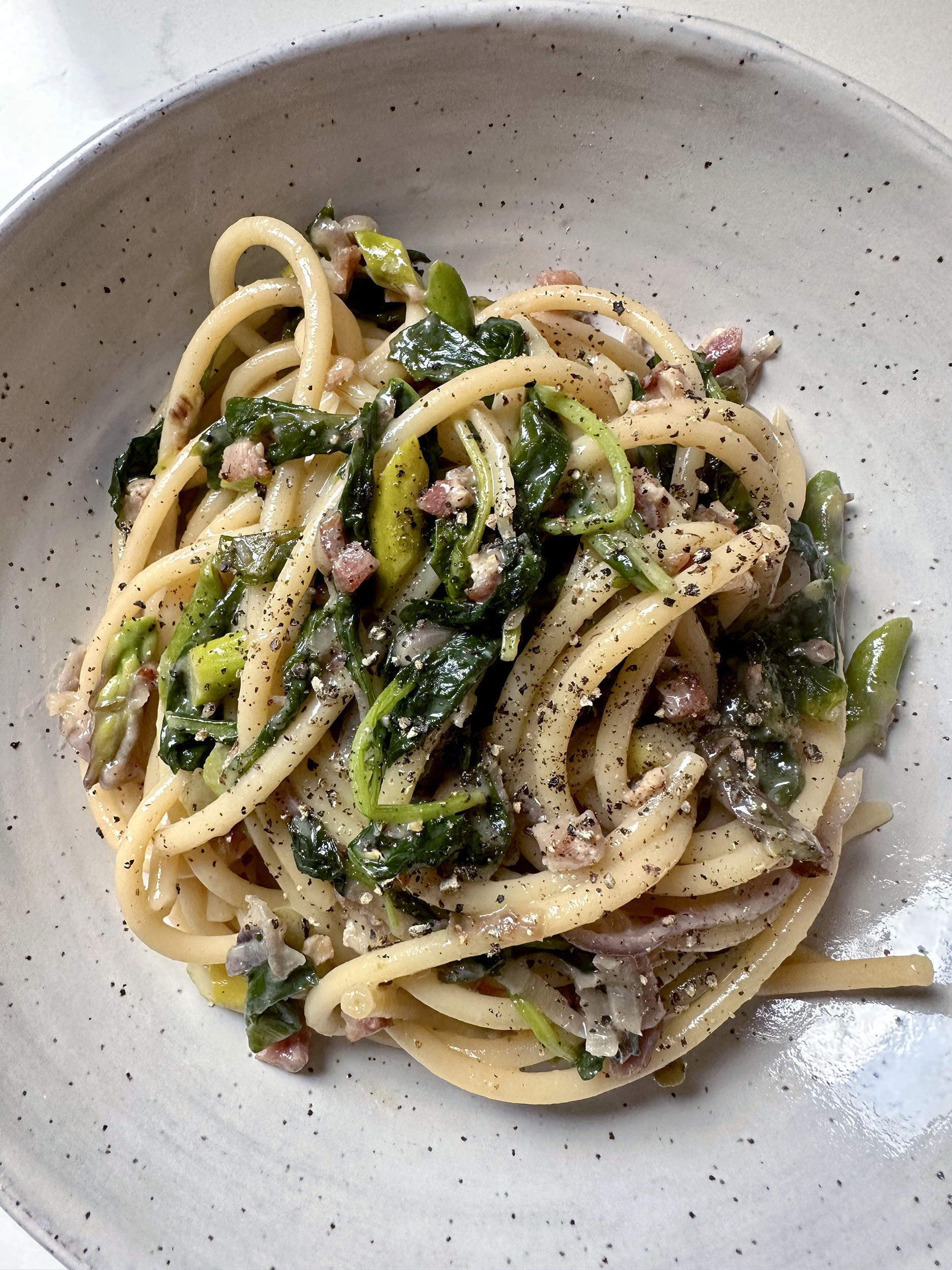 Print Recipe
Blue Cheese Bucatini with Greens and Pancetta
Bucatini Pasta with baby kale, pancetta, asparagus and onions is cloaked in a light and glossy sauce of creamy Roquefort cheese.
Ingredients
1/2 Small Onion, sliced thin

2 tbsp. Olive Oil

4 oz. Diced Pancetta

1/2 Bunch Asparagus, sliced small on the bias

~4 oz. Baby Kale

8 oz. Bucatini Pasta (or spaghetti)

3 qts. Water, for cooking the pasta

2 tbsp. Diamond Crystal Kosher Salt (1 tbsp. Morton's Kosher or table salt) for seasoning the pasta water

3/4 cup Roquefort Cheese (crumbled by you)

Cracked Black Pepper
Instructions
1
First of all, get a pot with about 3 quarts of water set over high heat. Cover the pot and let it come up to a boil.
2
Meanwhile in a separate large pot over medium heat, sauté the onions in about 2 tablespoons of olive oil.
3
Let the onions go kinda slowly, until they are translucent and begin to turn golden. Then add the diced pancetta. Stir occasionally until the pancetta begins to brown.
4
Then add the diced asparagus, stir to combine and then add the baby kale.
5
Stir to combine and as soon as the kale is slightly wilted, cut the heat. Turn your attention to the boiling water for the Bucatini.
6
When the water is boiling add two tablespoons of kosher salt, stir and then add the 8 ounces of pasta. Set the timer for 8 minutes and stir the pasta occasionally.
7
When the pasta is just shy of al dente, cut the heat and carefully slide the pot of pasta next to the pot with the greens and pancetta.
8
Use kitchen tongs to transfer the cooked pasta to the pot with greens. Don't worry about transferring some of the water as you do this. Then, use a heat safe measuring cup to scoop out 1/2 cup of the pasta water.
9
Add the 3/4 cup of Roquefort crumbles and pour the 1/2 cup of reserved pasta water over the cheese. Turn the heat up to medium-low under the pot of greens and pasta and use a sturdy wooden spoon to stir the pasta into the greens.
10
Now, at first it will look super watery. Keep stirring, and you will see the cheese melt, the water will get absorbed by the pasta and begin to thicken.
11
Once you can make a trail in the sauce with the spoon that very slowly fills in, cut the heat and let the pasta sit for about 3 minutes. Just before serving in wide shallow bowls, give the pasta another few stirs. If the sauce has stiffened and isn't glossy, silky and smooth, dribble in a little more pasta water to loosen it all up again.
12
Plate the pasta and top with fresh cracked black pepper.