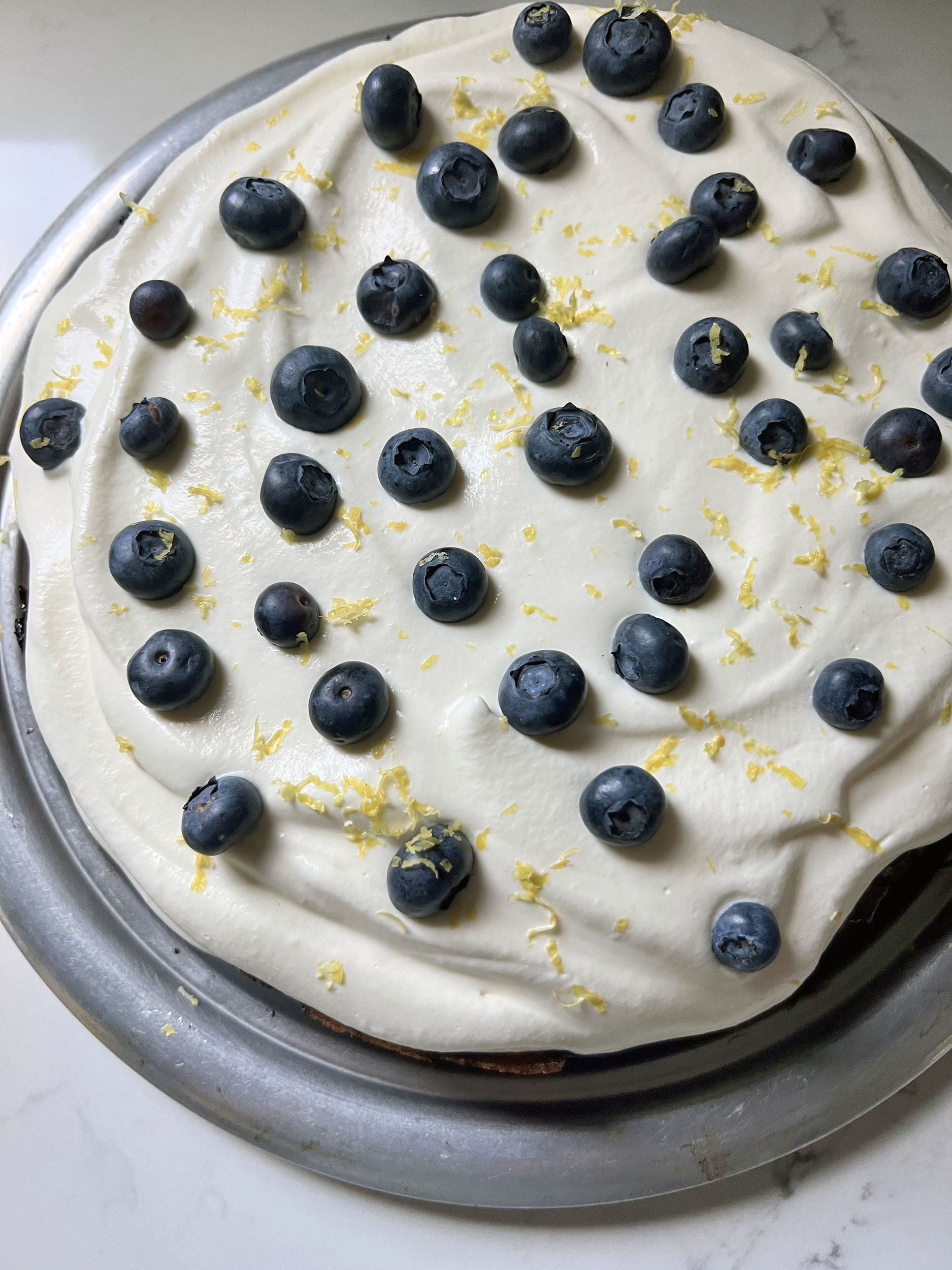 Print Recipe
Blueberry Upside Down Cake
Light and moist, Blueberry Upside Down Cake is a perfect summertime cake. Little bursts of juicy blueberry flavor, topped with whipped cream.
Ingredients
Blueberry Topping

2 c. Blueberries

1 tbsp. Granulated Sugar

2 tbsp. Lemon Juice

Cake

Cooking spray

1 3/4 cups All-Purpose Flour

3/4 tsp. Baking Powder

1 tsp. Kosher Salt

1/2 cup (1 stick) Unsalted Butter, softened

1 cup Granulated Sugar

1/2 cup Lightly Packed Brown Sugar

2 Large Eggs

2 tsp. Lemon Zest

1 tsp. Vanilla Extract, or Vanilla Paste

3/4 cup Whole Milk

Garnish

2 cups Cold Heavy Cream

1/4 cup Powdered Sugar

1/4 cup Fresh Blueberries

Lemon Zest
Instructions
1
Mix 2 cups of fresh, washed blueberries with 2 tablespoons of fresh lemon juice and one tablespoon of sugar in a small bowl. Preheat the oven to 350 degrees F and grease a 9-inch cake pan with cooking spray.
2
Pour the dressed blueberries into the greased cake pan. Set Aside.
3
In a small bowl or large measuring cup, whisk together the flour, salt and baking powder. Set that aside, then cream together the room temp butter, white sugar and brown sugar in a stand mixer or with hand mixer until light and fluffy.
4
To the light and fluffy butter/sugar mixture, add one egg at time, mixing in between each egg to incorporate. Then add the vanilla and the lemon zest, beat until combined. Now, add half of the flour mixture to the wet batter and mix to combine. Add the milk and mix again until combined.
5
We will finish the rest by hand. Add the remaining flour mixture and use a silicone spatula to mix until all the flour mix is incorporated.
6
Pour the cake batter on top of the blueberries in the cake pan. Smooth and even the batter with a silicone spatula. Pop the cake in the oven and bake the cake for one hour, until a cake tester comes out clean.
7
Let the cake cool for about 15 minutes before inverting it onto a serving plate and removing the pan.
8
While the cake is cooling further, whip up some heavy whipping cream with 1/4 cup of powdered sugar. Place the whipped cream in the fridge until the cake is cooled to room temperature.
9
Use a silicone spatula to smooth as much whipped cream as you want over the top of the cake.
10
Sprinkle a small handful of fresh blueberries on top and then zest some lemon zest over the whole top.
Notes
You will have leftover whipped cream, reduce recipe by half to avoid leftovers. (To halve: 1 cup Heavy cream whipped with 2 tbsp. Powdered Sugar)