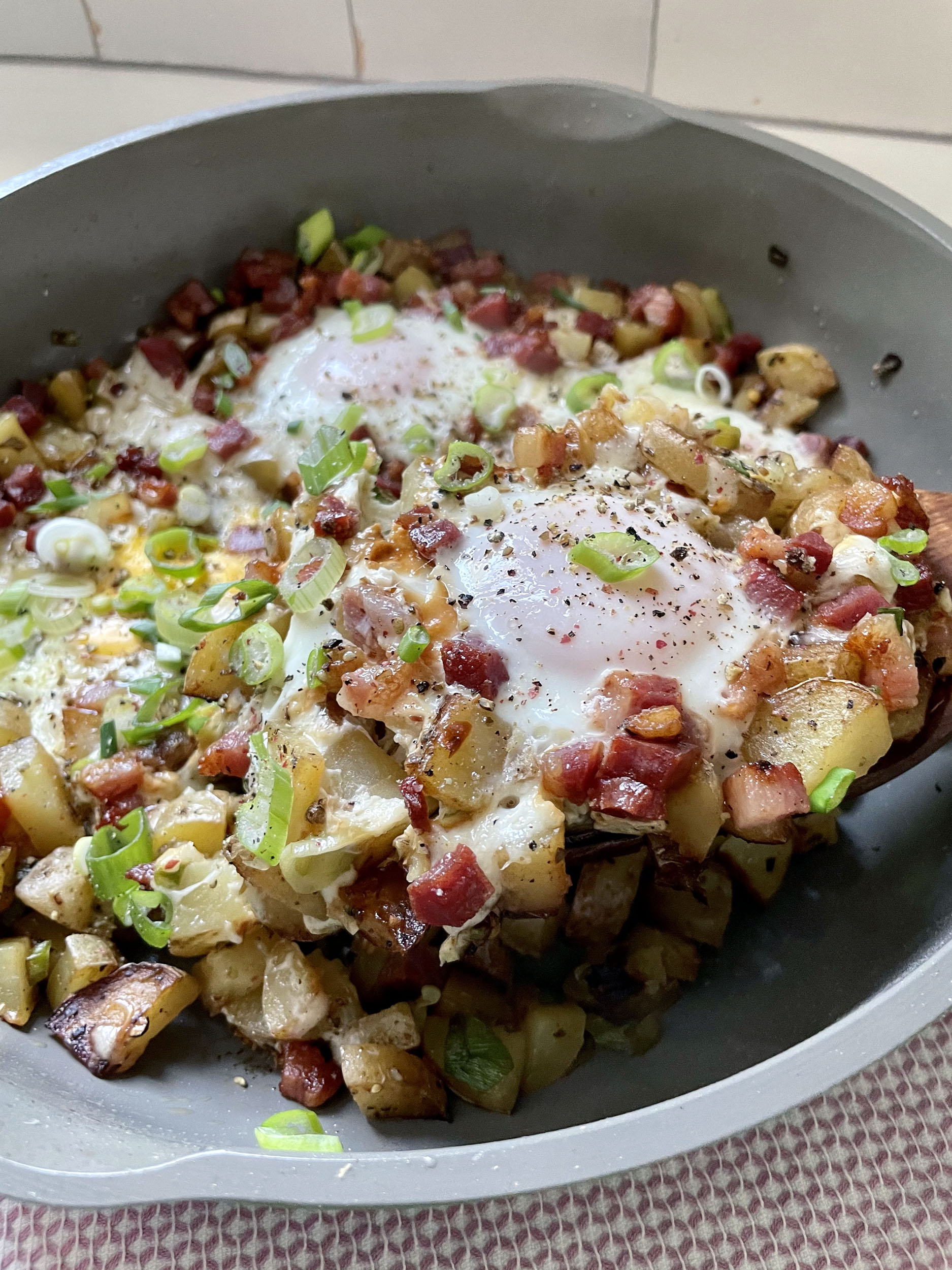 Print Recipe
Breakfast Hash with Pancetta
Crispy, creamy potatoes with melty cheese and crunchy pancetta. Fresh green onion and of course, eggs! This easy one pan hash ticks all the boxes.
Ingredients
Drizzle of Grapeseed Oil

4-6 oz. Pancetta, diced

1.25 lbs. Yellow or Red Baby Potatoes, diced into 1/2-inch pieces

Kosher salt, to taste

1 tsp. Paprika, more to taste

1 tsp. Dried Oregano, more to taste

1 tsp. Dried Thyme, more to taste

Fresh Cracked Black Pepper, to taste

2-3 Scallions, thinly sliced, divided

1 cup Cheddar Cheese, grated

4 Large Eggs
Instructions
1
Use a little drizzle of grapeseed oil to get the pancetta going in a non-stick skillet over medium heat.
2
Brown gently for about 5 minutes, until the pancetta is evenly browned.
3
Use a slotted spoon to transfer pancetta to a paper towel-lined plate and set aside.
4
Add the diced potatoes to the pan drippings in the skillet and increase heat to medium. Season with Kosher salt, thyme, oregano, paprika, and pepper. Cover the skillet.
5
Stir the potatoes every few minutes and check for doneness a the 10 minute mark. Potatoes should be golden and fork tender at 15 minutes.
6
Add 3/4 of the sliced green onions and stir to incorporate. Taste for seasoning and add more salt, pepper, etc. if needed.
7
Add a drizzle of olive oil, if desired.
8
Sprinkle grated cheese over potatoes and onions.
9
Create 4 wells in the hash and crack one egg in each well.
10
Sprinkle the browned pancetta over the eggs and potatoes.
11
Reduce heat to low and cover. Cook, checking for doneness every 3 minutes until egg whites are just set. Turn off heat and leave covered for an additional 1-3 minutes, until eggs reach desired doneness.
12
Top with remaining sliced green onions and more black pepper, if desired.