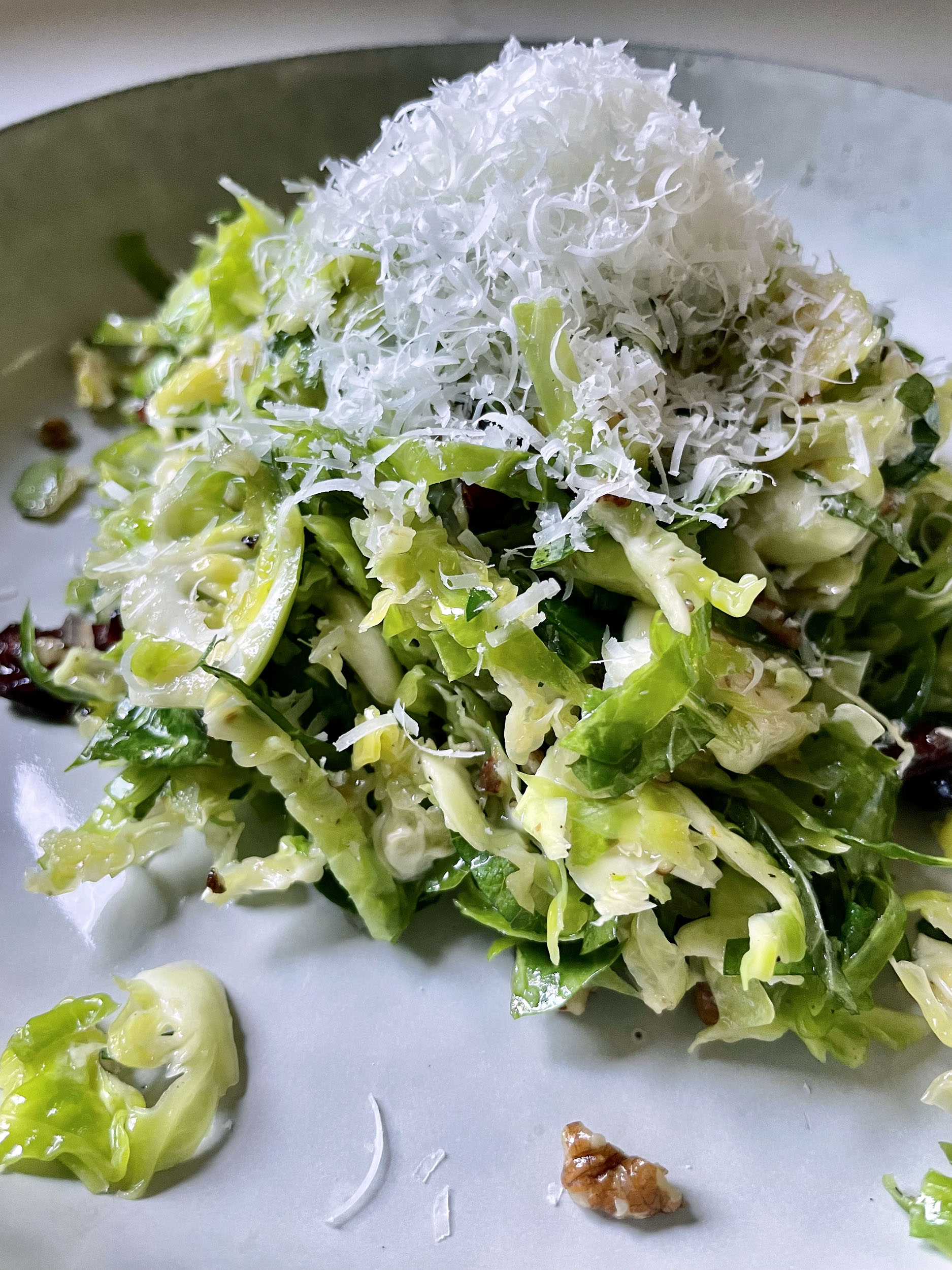 Print Recipe
Brussels Sprout Salad with Lemon Vinaigrette
Savory preserved lemon is the backbone for the lemony dressing that coats shredded Brussels sprouts, toasted nuts and dried cranberries.
Ingredients
For the Dressing

2 tbsp. Preserved Lemon Paste (preserved lemon puréed with fresh lemon juice)

1 Shallot, minced

2 Garlic Cloves, minced or pressed

1 tsp. Honey

1/4 cup White Balsamic Vinegar

3 tbsp. Olive Oil

Fresh Cracked Black Pepper

Brussels Sprout Salad

1 lb. Brussels Sprouts, stems cut

1/4 cup Chopped Toasted Pecans

1/3 cup Dried Cranberries

2 tbsp. Chopped Fresh Mint Leaves

2 tbsp. Chopped Fresh Flat Leaf Parsley

Fresh Grated Parmesan
Instructions
1
Shred the Brussels sprouts with the shred blade in a food processor, or use a mandoline slicer.
2
Transfer the shredded sprouts to a large mixing bowl and use your hands to fluff and separate the shreds. Set aside.
3
In a saucepan or skillet over medium-high heat, whisk to combine the shallot, garlic, honey, preserved lemon paste and vinegar. When mixture begins to boil, whisk in the olive oil and black pepper. Whisk vigorously to emulsify the oil.
4
When the dressing is fully emulsified and hot, pour it over the shredded Brussels sprouts and mix with kitchen tongs to coat the shredded sprouts in dressing.
5
Add the toasted pecans and dried cranberries to the salad and mix to combine.
6
Then add the shopped fresh herbs, mix once more to combine.
7
Plate individual servings and top the servings with a generous mound of freshly grated Parmesan cheese.