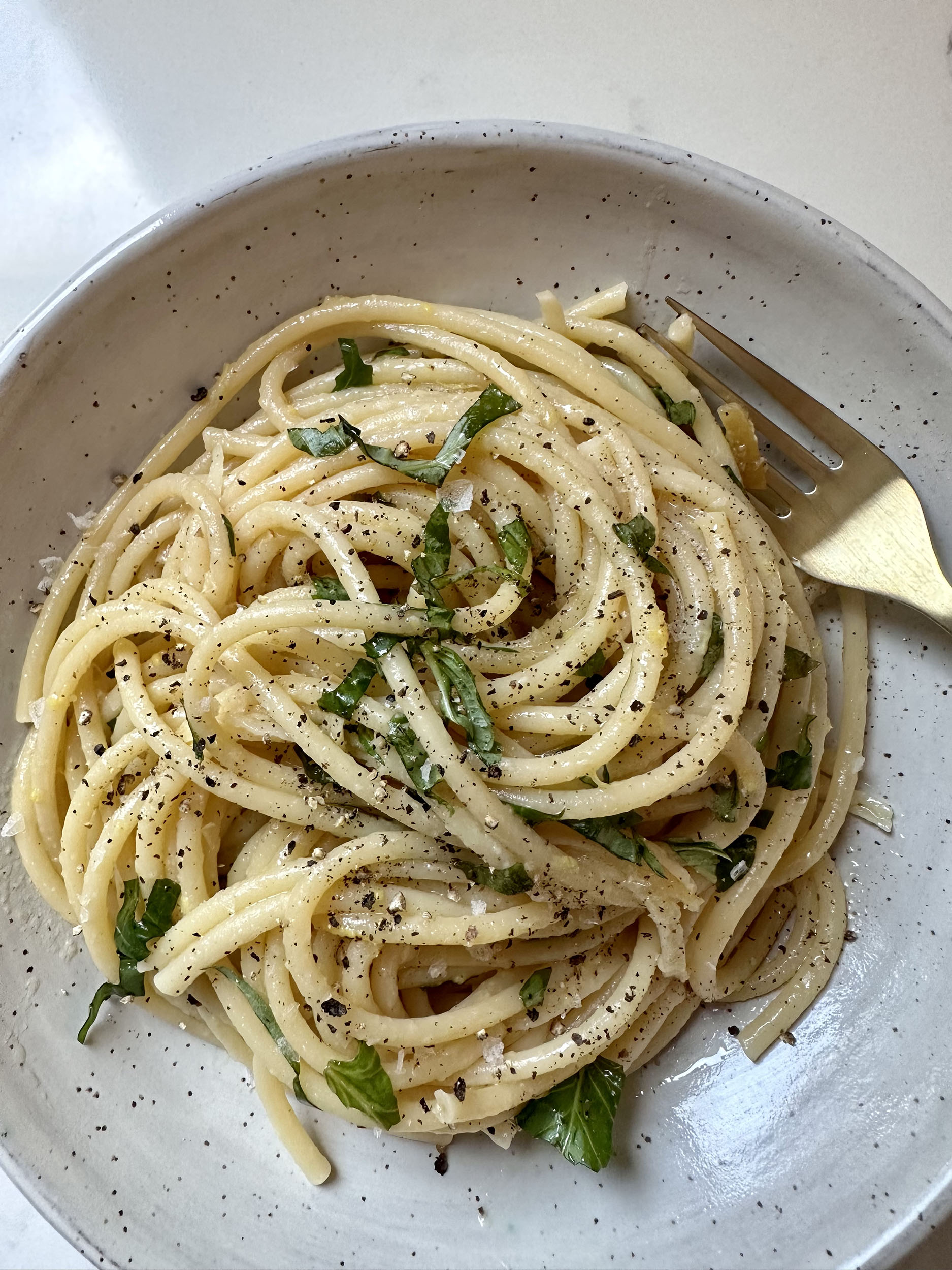 Print Recipe
Bucatini al Limone
A simple pasta preparation, with fresh and bright lemon flavor. Add cooked chicken or tuna, tender leafy greens...endless possibilities.
Ingredients
1/2 cup Extra Virgin Olive Oil

Zest of 1 Lemon

1/3 cup Lemon Juice

1 Garlic Clove, grated

1 cup Fresh Grated Parmesan Cheese, plus more for serving, if desired

Kosher Salt

Fresh Cracked Black Pepper, plus more for serving, if desired

1 lb. Pasta

Fresh Basil Leaves, sliced thin (chiffonade)

Optional: Preserved Lemon, julienned

Optional: Flaky Finishing Salt
Instructions
1
Start by setting a pot of 3 quarts of water to boil for the pasta.
2
In a medium bowl, whisk together the lemon zest, grated garlic, 1 teaspoon kosher salt, 1/4 teaspoon black pepper, olive oil, and lemon juice.
3
Once the vinaigrette is emulsified, stir in the fresh grated Parmesan cheese. Start with a silicone spatula, then you can switch back to the whisk to fully incorporate the Parmesan.
4
Once the water is boiling, add 1 tablespoon of salt (or two tablespoons of Diamond Crystal Kosher Salt). Stir, then add the one pound of pasta. Cook the pasta according to the package directions for al dente.
5
When the pasta is al dente, scoop out 1 cup of the pasta cooking water and set aside. Then drain the pasta and return it back to the pot. Pour the Lemon Parmesan Vinaigrette over the drained pasta in the pot and add about 1/2 cup of the reserved pasta cooking water. Turn the heat up under the pot to medium-low and vigorously stir the pasta with the vinaigrette and pasta water until the liquid thickened and lightly coats the pasta.
6
When the liquid has thickened to a sauce, is mostly absorbed and lightly coats the pasta, cut the heat.
7
Sprinkle thinly cut fresh basil strips over the pasta. Sprinkle on the julienned preserved lemon, if using.
8
Use tongs to serve. Top individual servings with grated Parmesan, or flaky finishing salt, and fresh black pepper, if desired.