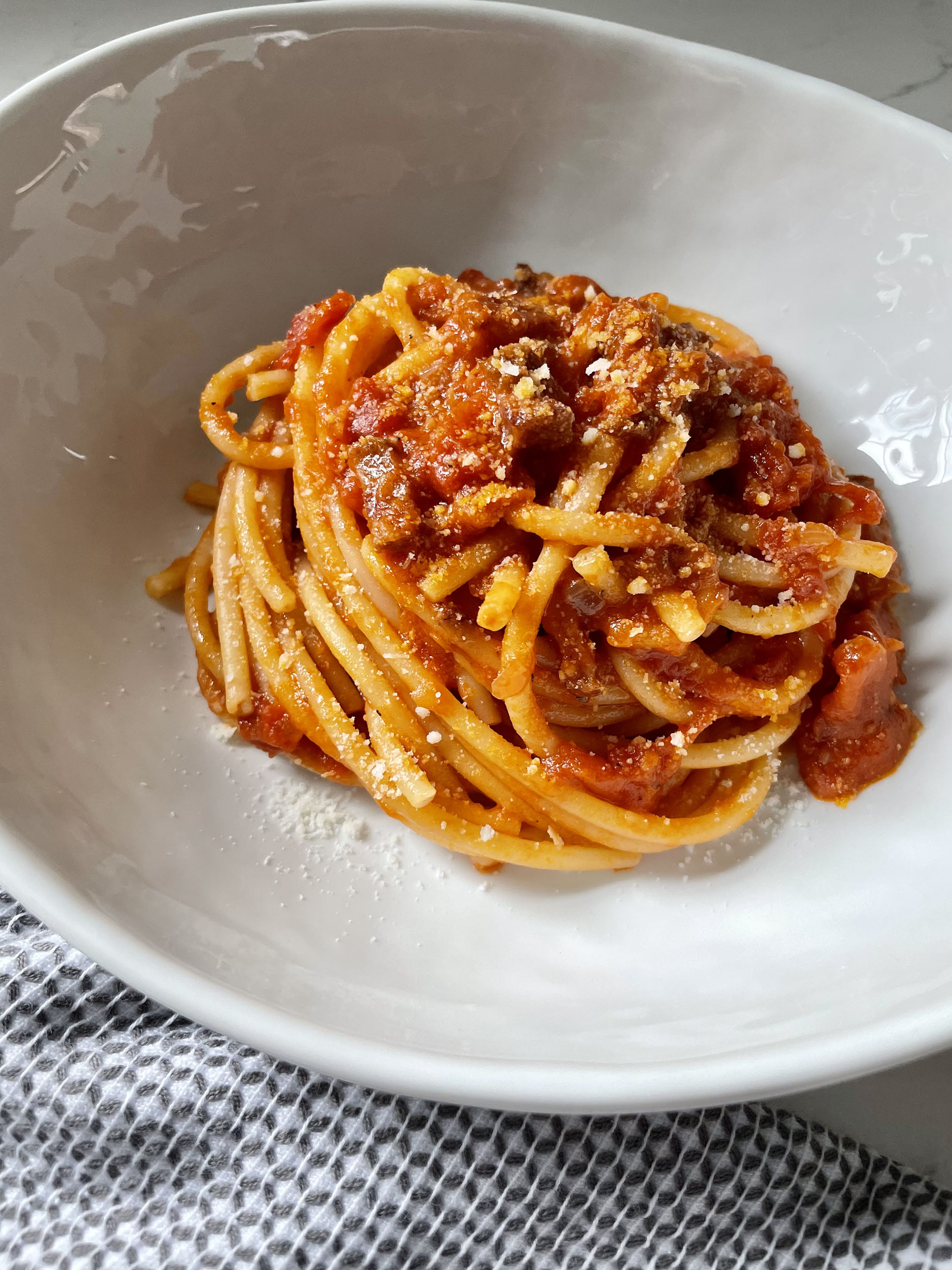 Print Recipe
Bucatini all'Amatriciana
Guanciale, Italian salt-cured pork cheek, deeply flavors this classic sauce. A little spice from dried chili and black pepper is perfectly balanced with the chunky tomato sauce and pecorino cheese. A little bit of Rome in a bowl.
Ingredients
2 tbsp. extra-virgin olive oil

4 oz. thinly sliced Guanciale or Pancetta (sliced like short matchsticks)

1/2 tsp. Crushed Red Pepper Flakes

1/2 tsp. Freshly Ground Black Pepper

3/4 cup Minced Onion

2 Cloves Garlic, minced

1 28-oz. Can Peeled Tomatoes with Juices, crushed by hand

Kosher salt

12 oz. Dried Bucatini or Spaghetti

1/4 cup finely grated Pecorino
Instructions
1
Heat oil in a large heavy skillet over medium heat. Add guanciale and sauté until crisp and golden, about 4 minutes.
2
Add pepper flakes and black pepper; stir for 10 seconds.
3
Add onion and garlic; cook, stirring often, until soft, about 8 minutes.
4
Add tomatoes (with juices).
5
Reduce heat to low, and cook, stirring occasionally, until sauce thickens, 15-20 minutes.
6
Meanwhile, bring a large pot of water to a boil. Season with salt; add the pasta and cook, stirring occasionally, for about 8 minutes (2 minutes before al dente). Reserve 1 cup of pasta cooking water and drain pasta.
7
Add drained pasta to sauce in skillet and toss vigorously with tongs to coat.
8
Add 1/2 cup of the reserved pasta water and cook until sauce coats pasta and pasta is al dente, about 2 minutes. (Add a little pasta water if sauce is too dry.)
9
Stir in cheese and transfer pasta to shallow bowls.