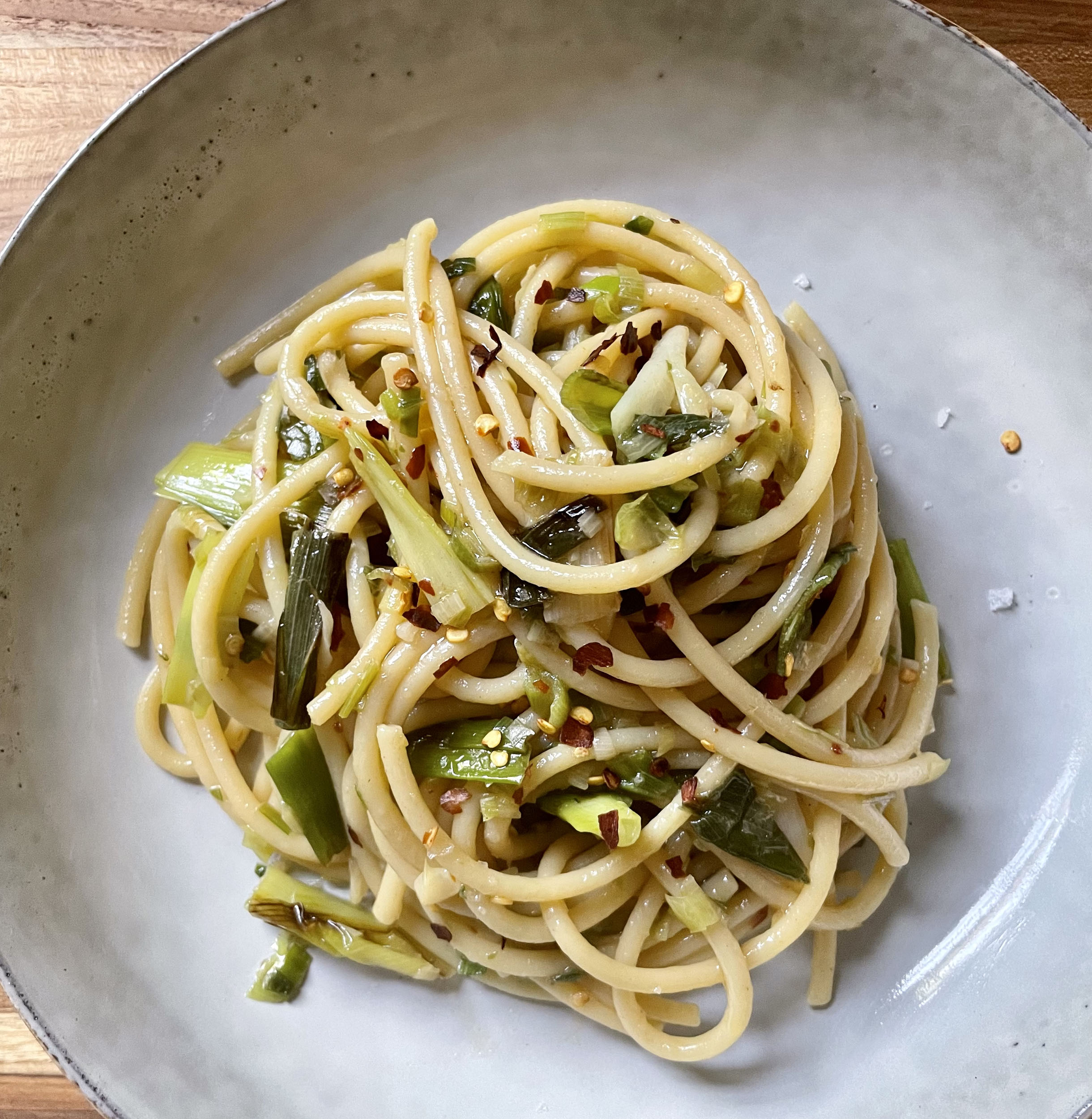 Print Recipe
Bucatini with Charred Scallions and Red Pepper
A love letter to this all-purpose allium, Bucatini with Charred Scallions and Red Pepper is so simple, yet its flavors are complex and rich.
Ingredients
7 cups Water

1 1/2 tbsp. Kosher Salt, plus more to taste

1/2 pound Bucatini, or Spaghetti

5 tbsp. Extra-Virgin Olive Oil, divided

3 Bunches Scallions, washed and trimmed

1/2 tsp. Red Pepper Flakes, plus more for garnish

Flaky Finishing Sea Salt, for garnish
Instructions
1
Keep each scallion bunch separate.
2
Chop one bunch of scallions into roughly 1 ½–inch pieces.
3
Chop another into ½-inch pieces.
4
Finely slice then mince the remaining bunch.
5
Heat a large pot or Dutch oven over medium-high heat. When it's very hot, add 1 tablespoon oil.
6
When the oil is shimmery, add the large-sized scallion pieces. Toss a few times and sprinkle with salt. Leave pieces to cook for 3 minutes, until they begin to char.
7
Add the medium-sized scallion pieces to the pan. Stir and season with another pinch of salt. Lower the heat to medium and cook for another 3 minutes, stirring a few times, until soft.
8
Add the minced scallions to the pan. Stir and season with another pinch of salt. Lower the heat to the lowest possible setting, then add the remaining 4 tablespoons olive oil. Cook for about 2 minutes, stirring once or twice. Then turn off the heat. Stir in the red pepper flakes.
9
Bring a separate pot with the 7 cups of water to boil.
10
Add a few pinches of Kosher salt and add the bucatini. After a moment, gently nudge it down with a wooden spoon as needed, until all the noodles are submerged. Set a timer for 9 minutes and boil noodles, stirring occasionally to prevent sticking, until just al dente.
11
At minute 7 of the pasta's cooking time, turn on the heat under the scallion sauce to the lowest setting and give the scallion oil a stir.
12
Use tongs to transfer the bucatini to the pot with the scallions and oil.
13
Add 1/3 cup pasta water and continuously and vigorously stir the pasta to form an emulsified sauce (about 2 minutes).
14
Incrementally add more water, if necessary.
15
Turn off the heat and plate the bucatini. Top with more red pepper flakes and flaky sea salt.