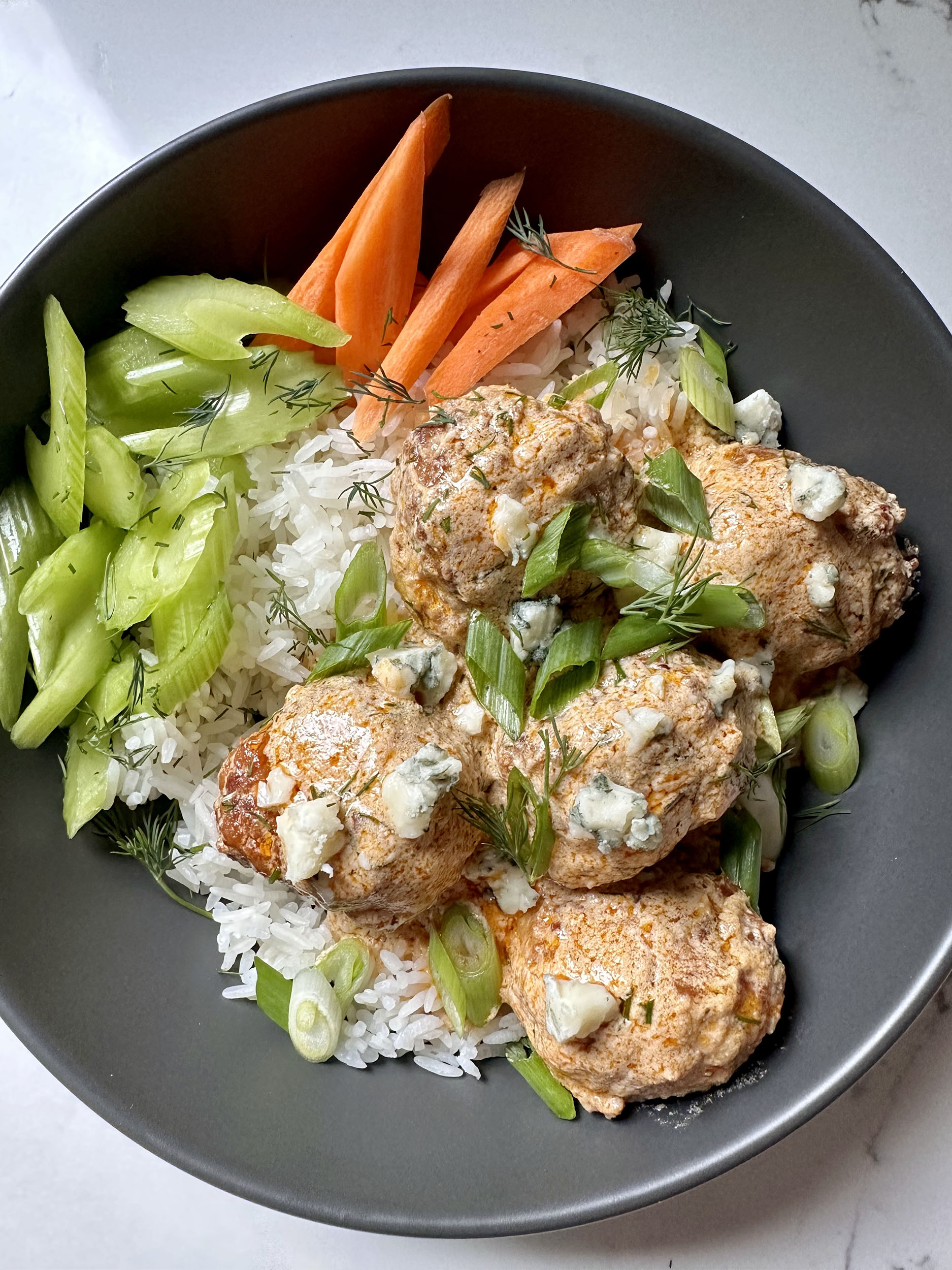 Print Recipe
Buffalo Chicken Meatballs
The spicy, tangy hot wing flavor served up as meatballs with a sour cream sauce. Make it a rice bowl with crunchy celery and carrot slices.
Ingredients
Buffalo Chicken Meatballs

1 lb. Ground Chicken

1 Large Egg

1/2 cup Panko Breadcrumbs

1/2 tsp. Worcestershire Sauce

1 tbsp. Frank's Red Hot Original Sauce

1/2 tsp. Garlic Powder

1/2 tsp. Onion Powder

1/2 tsp. Celery Salt, plus a tiny sprinkling more for each formed meatball

Buffalo Sour Cream Sauce

2 tbsp. Butter

1/4 cup Frank's Red Hot Original Sauce

3/4 cup Low-Sodium Chicken Broth

1/2 cup Sour Cream

Toppings and Serving Suggestions

Cooked Rice or Other Grain

Thinly sliced Celery and Carrot

Blue Cheese Crumbles

Sliced Scallions

Fresh Dill
Instructions
1
Start by using your hands to gently mix the ground chicken, egg, panko, garlic powder, onion powder, celery salt, Worcestershire and Frank's Red Hot Sauce.
2
Line a sheet tray with a sheet of parchment to catch the meatballs.
3
Use a 1.5 tablespoon cookie scoop to scoop about 16-20 meatballs and place them on the parchment.
4
Then use your hands to lightly roll each meatball into a sphere. Sprinkle a tiny bit of celery salt on top of each meatball.
5
Set up a large pan or braiser with 2-3 tablespoons of olive oil over medium-high heat. When the oil is shimmery, carefully add each meatball to the pan. Add only as many as you're comfortable turning, you can do them in batches if needed.
6
Let the meatballs cook for about 2-3 minutes on the first side. They will tell you when they are ready to be turned by releasing easily from the pan.
7
Use the tongs to carefully roll each to a raw side and keep cooking and turning until all the meatballs are browned on their exteriors.
8
Turn the heat down as needed to keep them from getting away from you. After the first side, the rest of the sides go pretty fast, about 1-2 minutes for each side.
9
When the meatballs are browned on all sides, cut the heat and transfer the meatballs to the clean sheet tray and set aside.
10
Return to the pan and turn the heat to medium-low. Add the butter to the pan and when it's melted, add the chicken broth and the Frank's Hot Sauce. Whisk to combine and let the mixture come up to a simmer.
11
When the sauce is simmering, add the meatballs back to the pan and let the whole thing simmer for about 5 minutes. Stir occasionally.
12
The sauce is ready when it has thickened enough for a trail made by your spatula fills in slowly.
13
Cut the heat and add the sour cream. Stir in the sour cream until the sauce is well mixed.
14
If desired, stir fresh dill into the meatballs and sauce.
15
Serve as desired, or over rice with celery and court slices, blue cheese crumbles, more fresh dill and sliced scallions.