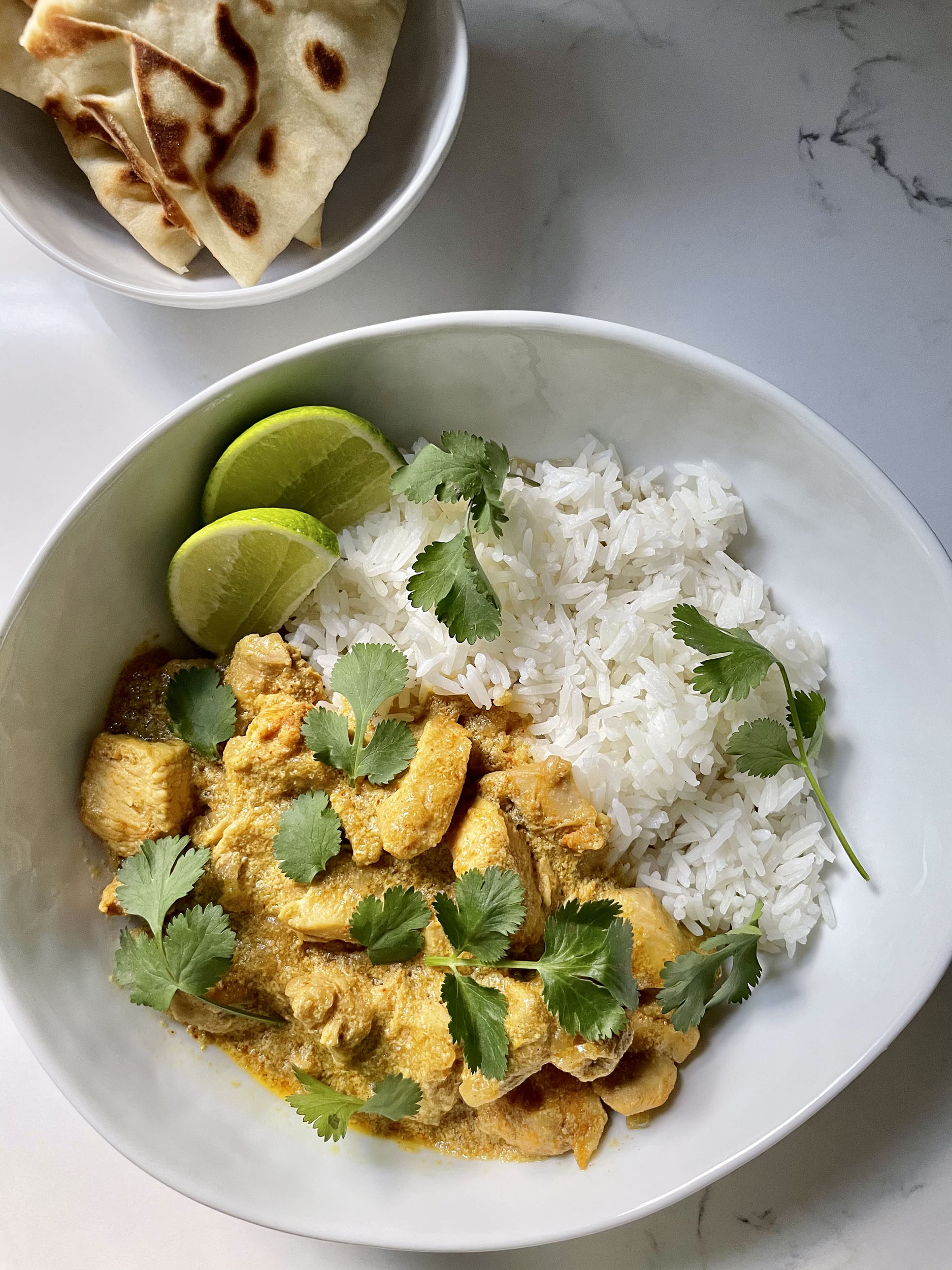 Print Recipe
Burma Superstar Coconut Chicken Curry
Deeply-flavored and only slightly spicy, this Coconut Chicken Curry is adapted from Burma Superstar's recipe. The main difference here is yellow curry.
Ingredients
2 ½ pounds Boneless, Skinless Chicken Thighs

1 tbsp. Ground Paprika

½ tsp. Ground Turmeric

2 tsp. Kosher Salt, plus more as needed

1/4 cup Canola oil

2 Small Yellow Onions, or 1 Large Onion, finely diced

1 tbsp. Fresh Ginger

2-4 Cloves Garlic, minced

1 can (13 1/2 oz) Unsweetened Coconut Milk

1 1/2 tbsp. Fish Sauce

3/4 cup Water

1 tsp. Red Curry Paste, or Madras Curry Powder, or Yellow Curry Powder

1/2 tsp. Cayenne Pepper

Cilantro for garnish

Lemon or Lime Wedges for Garnish
Instructions
1
Remove excess fat from the chicken and cut into 1-inch pieces.
2
Mix the chicken with the paprika, turmeric and salt, in a large bowl and allow to marinate while you prep.
3
In a large pot or Dutch oven, heat the oil over medium-high heat. When the oil is shimmery, add the onions and reduce the heat to medium. Gently sauté the onions until translucent.
4
Add the ginger and garlic. Continue to stir until fragrant, about 30 seconds.
5
Add the chicken to the onion mixture and stir to combine.
6
Pour in the coconut milk. Increase the heat to bring to a near boil. Let simmer for a few minutes to thicken the sauce.
7
Reduce the heat, add the fish sauce and water, and increase the heat again to bring back to a boil.
8
Lower the heat to simmer for about 45-50 minutes. Stir occasionally. Add the curry and cayenne at the end of 45-50 minutes and simmer for 5-10 minutes more.
9
Turn off the heat and let the curry rest for 20 minutes.
10
At the end of the rest, if desired, skim the fat/oil off the top.
11
Turn on the heat to medium-high and bring just to a simmer to warm through before serving.