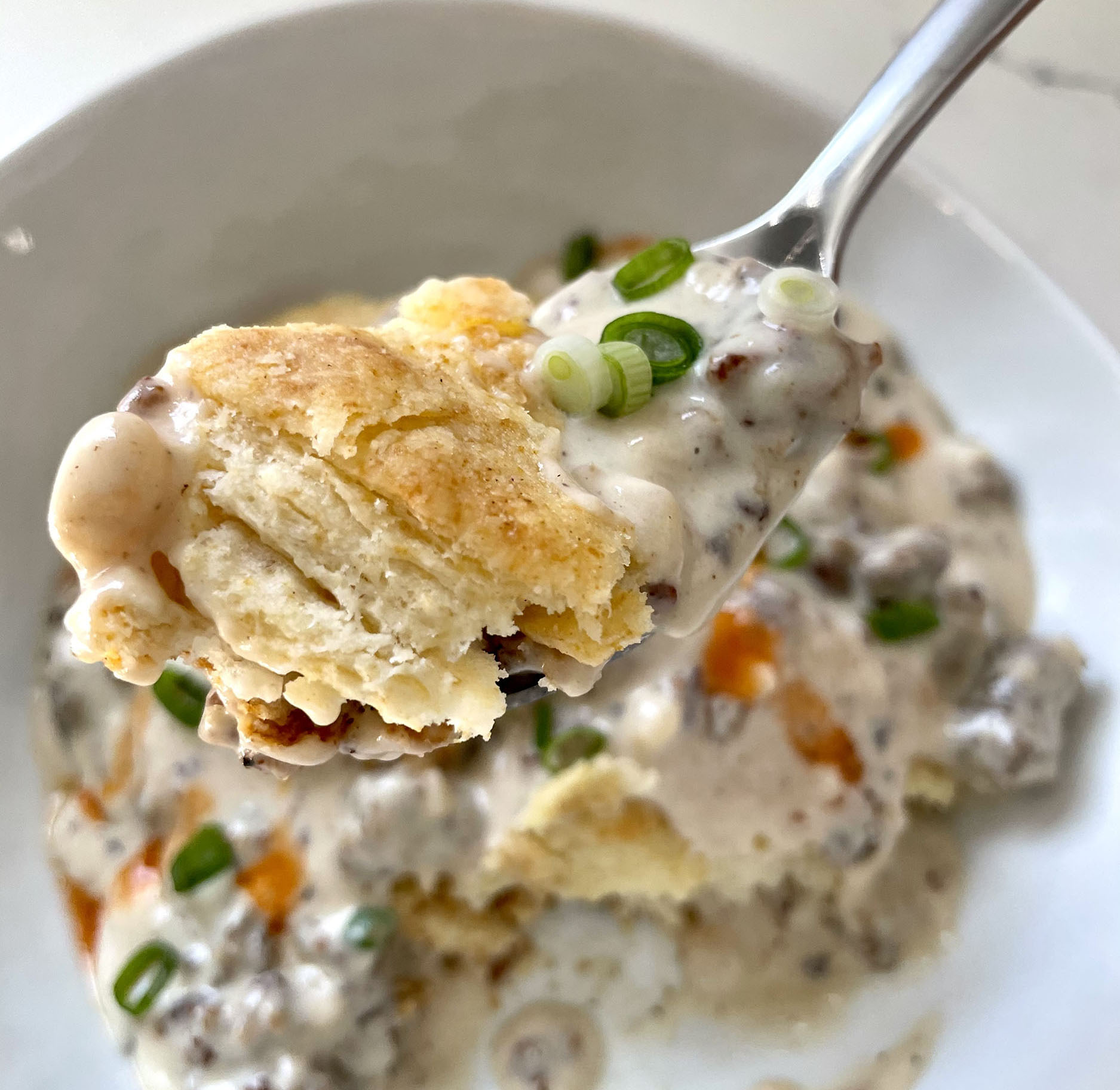 Print Recipe
Buttermilk Biscuits and Sausage Gravy
Flaky buttermilk biscuits smothered in creamy, rich, spicy sausage gravy. Stick-to-your-ribs, country style breakfast served fresh and hot.
Ingredients
Buttermilk Biscuits

2½ cups All Purpose Flour

2 tbsp. Baking Powder

2 tsp. Granulated Sugar

1 tsp. Kosher Salt

½ cup Frozen Unsalted Butter, grated on a box grater

1 cup Cold Buttermilk

¼ cup Unsalted Butter, melted (for brushing)

Sausage Gravy

12 oz. Ground Breakfast Sausage (one package of Jimmy Dean)

1 tbsp. Grapeseed Oil (or Canola)

1/3 cup All Purpose Flour

4 cups Whole Milk

Kosher Salt and Fresh Cracked Pepper, to taste

Sliced Scallions, for garnish
Instructions
1
Preheat the oven to 425 degrees and line a sheet tray with parchment.
2
Whisk together the dry ingredients.
3
Add the grated butter and lightly mix with your hand to coat the butter in the flour mixture.
4
Pour in the buttermilk and stir to create a shaggy dough.
5
Turn the dough out on a floured surface and press it out to a rectangle. Then, fold the bottom end up, and the top down, like you're folding a letter.
6
Turn the rectangle of dough counter-clockwise 90 degrees, and lightly pat out into a rectangle and repeat the bottom fold up, and the top fold down. Repeat this once more, then lightly roll the dough out to a 1/2" thick rectangle*.
7
Use a 2.5" round biscuit or cookie cutter, cut out biscuits and place the cut rounds on the parchment-lined sheet tray. Lightly pat and roll the remaining dough scraps and continue to cut biscuits until dough is all cut.
8
Brush the biscuits with melted butter and bake for 10-15 minutes, until the tops of the biscuits are golden.
9
Brown the breakfast sausage in oil, over medium heat.
10
Use a slotted spoon to transfer cooked sausage to a paper towel-lined plate.
11
Over low heat, sprinkle the flour over the sausage fat left in the pan. Whisk to create a thick paste. While whisking, slowly pour in the milk and continue whisking until there are no more flour lumps and the gravy becomes thick and bubbly.
12
Add the sausage back to the pan and stir to combine. Taste the gravy and add Kosher salt and fresh cracked black pepper to taste.
13
To serve, place one or two biscuits in a shallow bowl, ladle gravy over top. Garnish with sliced scallions.
Notes
*For taller, but fewer biscuits, try rolling the dough out to 3/4" instead of 1/2"