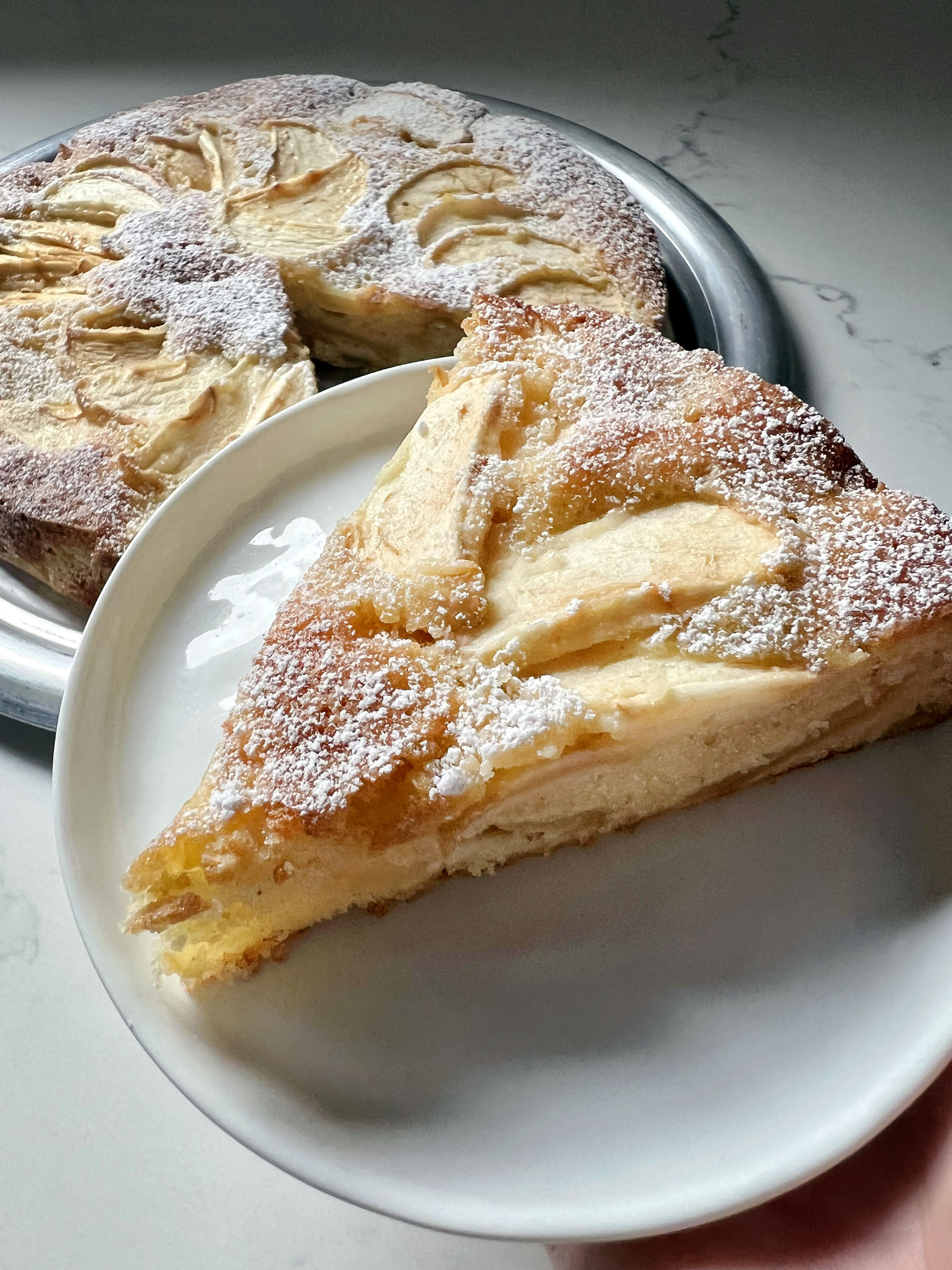 Print Recipe
Buttery Apple Almond Cake
This Buttery Apple Almond Cake puts the sweet tart flavor of Honey Crisp Apples in the spotlight in this fresh and light seasonal fruit cake.
Ingredients
Unsalted Butter, Flour and Baking Spray, for the tin and parchment

3/4 cup All-Purpose Flour

1/4 cup Almond Flour

3/4 tsp. Baking Powder

1/2 tsp. Kosher Salt

1/4 tsp. Ground Ginger

2 Large Eggs

3/4 cup Granulated Sugar

1/2 cup Unsalted Butter, melted and cooled slightly

2 tsp. Vanilla Extract

3 Medium-Size Honey Crisp Apples (about 1 1/4 lb. total), cut into 1/4-in.-thick slices (4 cups sliced)

Powdered Sugar, for garnish
Instructions
1
Preheat the oven to 350 degrees F. Then, butter and flour an 8-inch cake tin; line the bottom with a round of parchment and lightly spray the parchment with baking spray.
2
In a small bowl, whisk together the flour, almond flour, baking powder, salt and ground ginger.
3
In a large bowl, whisk the eggs until light and foamy.
4
Then whisk the sugar into the eggs, followed by the melted butter and the vanilla.
5
Once the wet ingredients are whisked together and smooth, gradually whisk the flour mixture into the wet mixture. Mix just until it all comes together and there are no more dry bits left.
6
Now add half of the apples to the batter and use silicone spatula to separate the apple slices and get them evenly mixed in the batter.
7
Pour the batter in the prepared cake tin. Then, arrange the rest of the apple slices on the top of the batter.
8
Bake the cake for 50-55 minutes, until golden brown on top and a cake tester poked in the center comes out clean. Take a peek at the cake about 30 minutes in to cover with foil if the top is browning too quickly.
9
When the cake has finished baking, let it cool in the tin set on a wire rack for 10-15 minutes. When the tin is less hot to the touch, carefully invert the the cake onto a wire rack or plate, pull off the parchment and then flip it back onto the wire rack to finish cooling. Just before serving, dust the top with powdered sugar if desired. Enjoy the cake while it's still warm, or cold.