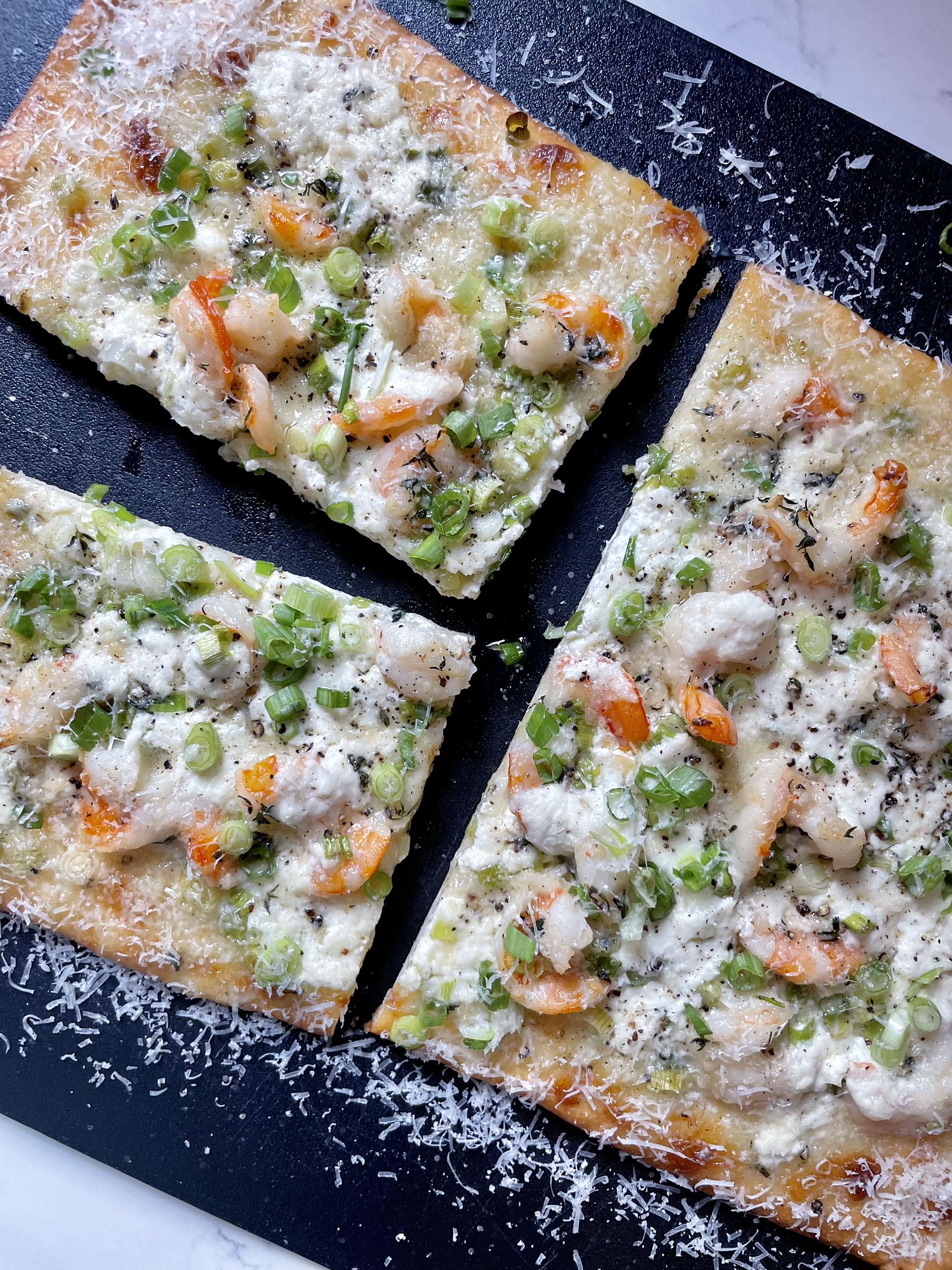 Print Recipe
Buttery Shrimp Pizza with Ricotta
Butter, garlic and thyme-poached shrimp is mellowed so perfectly with mild ricotta. Scallions add an allium bite; on a crunchy, chewy flatbread crust.
Ingredients
1/2 lb. 16/20 Wild-Caught Shrimp, peeled, rinsed and sliced in half lengthwise

3 tbsp. Salted Butter

2 Large Cloves Garlic, minced

1/2 tbsp. Fresh Thyme Leaves

1 Prepared Flatbread Dough (like Wewalka)

1 cup Freshly Grated Mozzarella

3-4 Scallions, thinly sliced (divided)

Ricotta

Fresh Cracked Black Pepper

Fresh Grated Parmesan Cheese
Instructions
1
Preheat oven to 450 degrees.
2
Over low-heat, melt salted butter with minced garlic and fresh thyme leaves. When the butter is melted, but not bubbling, add the shrimp.
3
Stir to coat the shrimp in the butter and let it poach in the melted butter over the lowest heat, just until the shrimp barely starts to turn opaque, then remove from heat and set aside.
4
Unroll the flatbread dough and place on a sheet tray. (If you're not using Wewalka Dough with the parchement lining, line the sheet tray with parchment.)
5
Brush the melted butter from the saucepan with the shrimp over the whole dough.
6
Scatter the mozzarella evenly over the dough, leaving a 1-inch border around the whole pizza.
7
Top with the poached shrimp, scatter them evenly over the cheese.
8
Sprinkle 2/3 of the sliced scallions over the shrimp.
9
Dot the pizza with dollops of ricotta cheese.
10
Drizzle the remaining butter/garlic/thyme poaching sauce over the pizza.
11
Bake for 15-20 minutes, until the crust is golden and the cheese is melted.
12
Remove from oven and let sit for 2 minutes, then carefully transfer pizza (leaving parchment behind) to a wire rack to cool for another few minutes while we finish the toppings.
13
Sprinkle fresh cracked pepper over the pizza.
14
Sprinkle remaining scallion slices over the pizza.
15
Grate Parmesan over the entire pie, taking special care to cover the crust with the grated Parmesan.