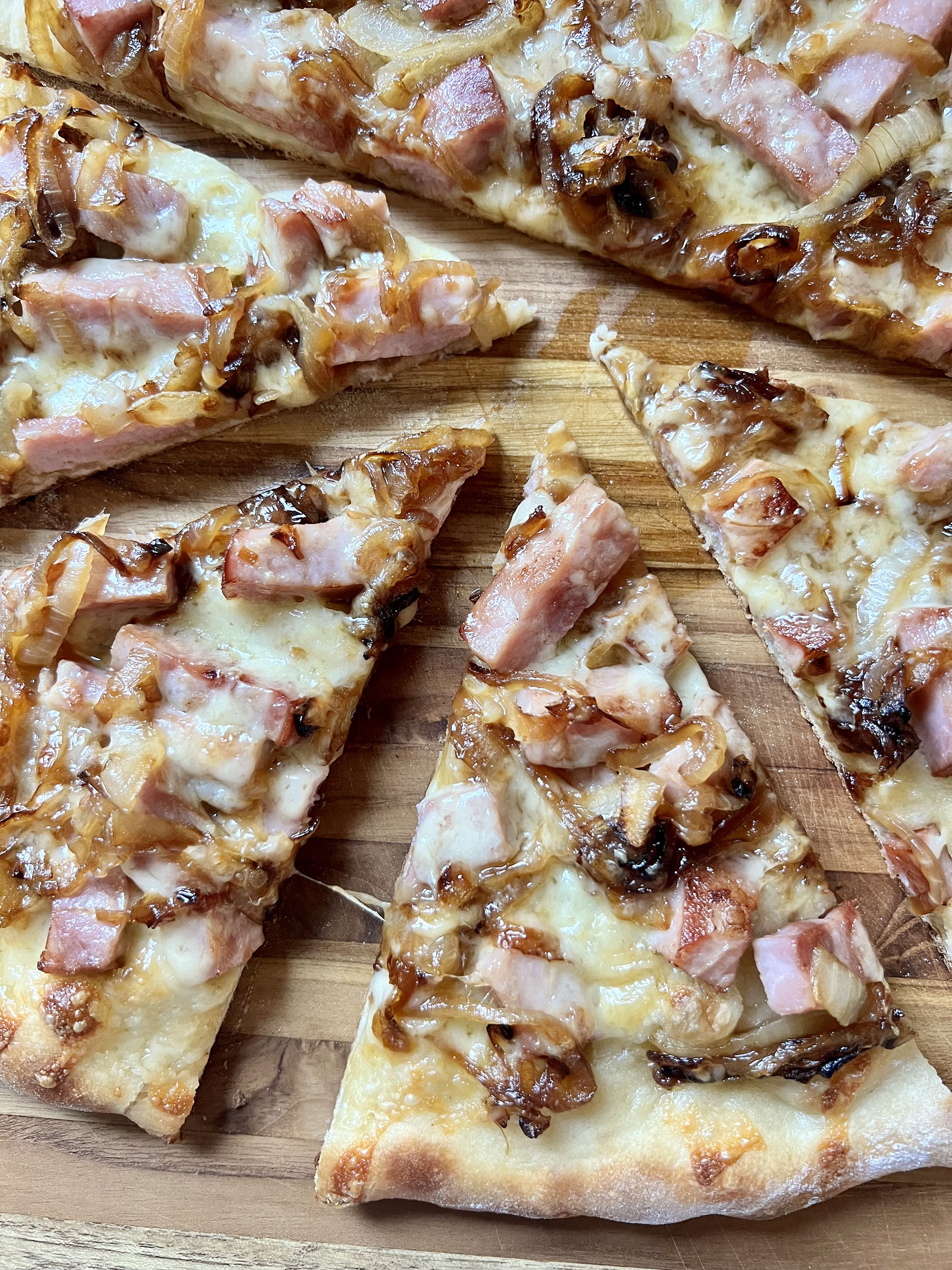 Print Recipe
Caramelized Onion and Ham Pizza
Caramelized onion, ham, and gruyere come together to create layers of sweet, savory, buttery and nutty flavors – so familiar yet so complex.
Ingredients
2 Medium Sized Yellow Onions, Sliced thin

2 tbsp. Olive Oil

Kosher Salt

1/4 cup Dry White Wine

8-10 oz. Ham, Sliced into 1/2-inch Batons

1 Prepared Pizza Dough

1.5 cups Gruyere Cheese, grated
Instructions
1
Preheat the oven with a pizza stone or steel to 450 degrees F
2
Get a large pan and drizzle in 2 tablespoons of olive oil. Over low heat, add the sliced onions to the pan.
3
Let these go for about 30 minutes, stirring occasionally. Add more oil as needed to keep the onions from sticking. They shouldn't stick at all if the heat is low enough, so if they're sticking, add a little more oil and turn down the heat.
4
After 30 minutes, sprinkle with kosher salt and deglaze the pan with about 1/4 cup of dry white wine. Let the wine cook off and get completely absorbed by the onions. Once the skillet is dry cut the heat and transfer the onions to a separate dish to cool.
5
In the same pan we used for the onions, over medium heat add a drizzle of olive oil to the pan and add the ham. Let the ham warm through and develop a little bit of browning. Stir to evenly brown the ham pieces and remove from heat and let the ham cool before topping the pizza.
6
Roll, spin or stretch your prepared pizza dough to about 12-inches round. Start with about 2/3 of the grated gruyere, giving even coverage and leaving about 1/2-inch around the dough for the crust. Then top with the cooled ham.
7
Top with the caramelized onions and add the rest of the gruyere cheese on top.
8
We are ready for the oven! Bake the pizza for 10-15 minutes, until the cheese is melted and bubbly and the crust is puffed and golden.