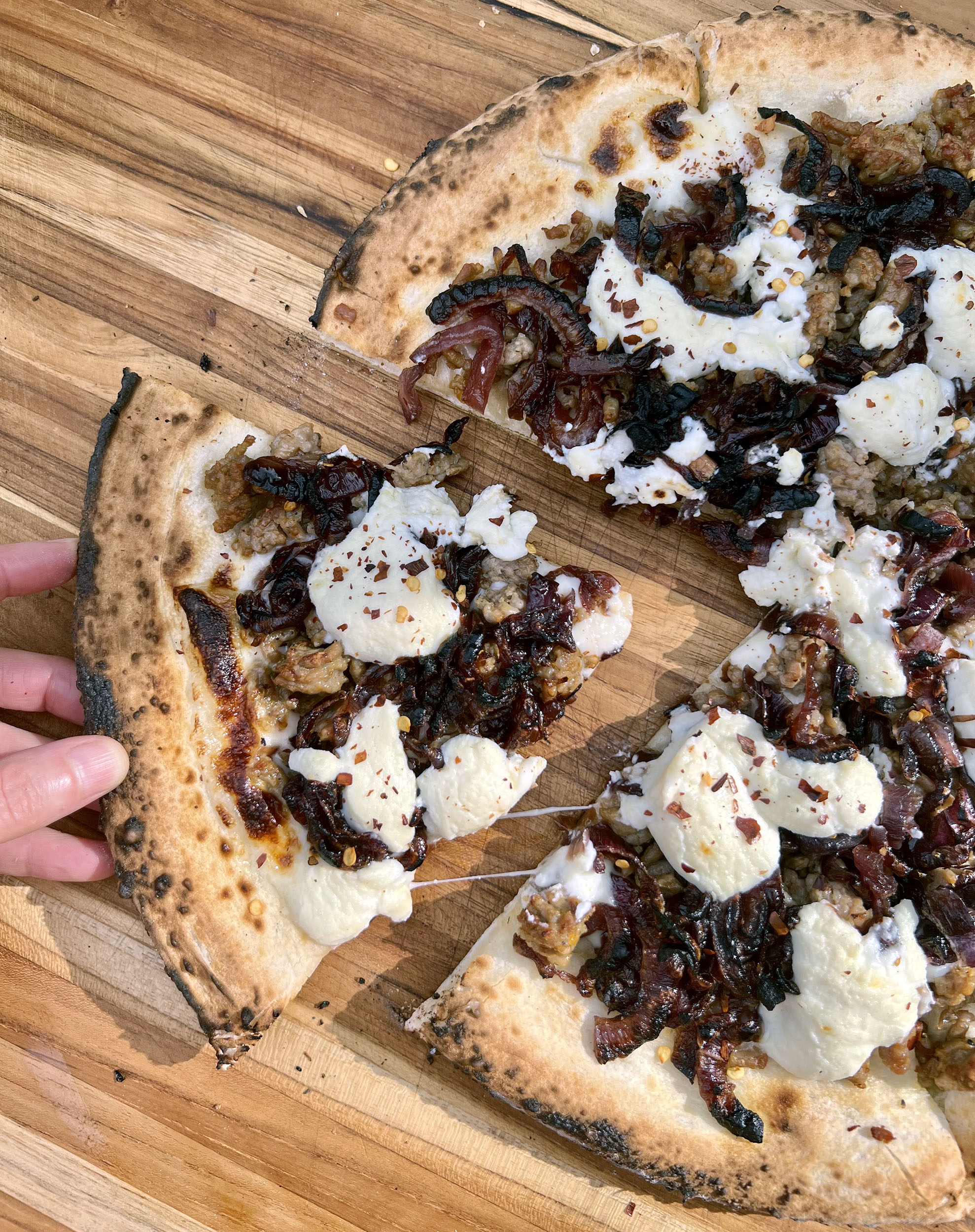 Print Recipe
Caramelized Onion with Sausage Pizza
The sausage has a spicy kick, the caramelized onions are lightly sweet, deliciously savory while the ricotta adds a fresh, mellow richness.
Ingredients
2 Red Onions, peeled, halved and sliced thinly

Drizzle of Olive oIl

Pinch of Kosher Salt

1 lb. Ground Spicy Italian Sausage

1 Prepared Pizza Dough

1 cup Shredded Low Moisture Mozzarella

1/4-1/3 cup of Ricotta Cheese
Instructions
For the Caramelized Onions
1
Peel and halve two red onions; thinly slice them and sauté over low heat with a little olive oil and pinch of Kosher salt for about two hours. Go about your morning and give them a stir every 20 minutes or so. Transfer to a container with a lid and refrigerate until you're ready to use them.
2
Brown one pound of Hot Italian sausage over medium heat, breaking it apart as it cooks. Then transfer to a paper towel-lined plate. When it's cooled a bit, transfer to a container and cover in the fridge until you're ready to use.
Caramelized Onion with Sausage Pizza
3
About 45-50 minutes before you're ready to bake, preheat your home oven to 450 degrees. Let the oven and the pizza steel or stone preheat for about 1 hour before putting the pizza in the oven.
4
Roll, stretch or pull your dough to a roughly 12-inch round. Evenly spread about a cup of shredded mozzarella on the dough.
5
Next, add the browned spicy sausage. Top the sausage with the caramelized onions. Finally, dot the top with dollops of ricotta cheese.
6
Bake the pizza for 10-15 minutes in your home oven. Or until the crust is puffed and golden and the cheese is melted and bubbly.