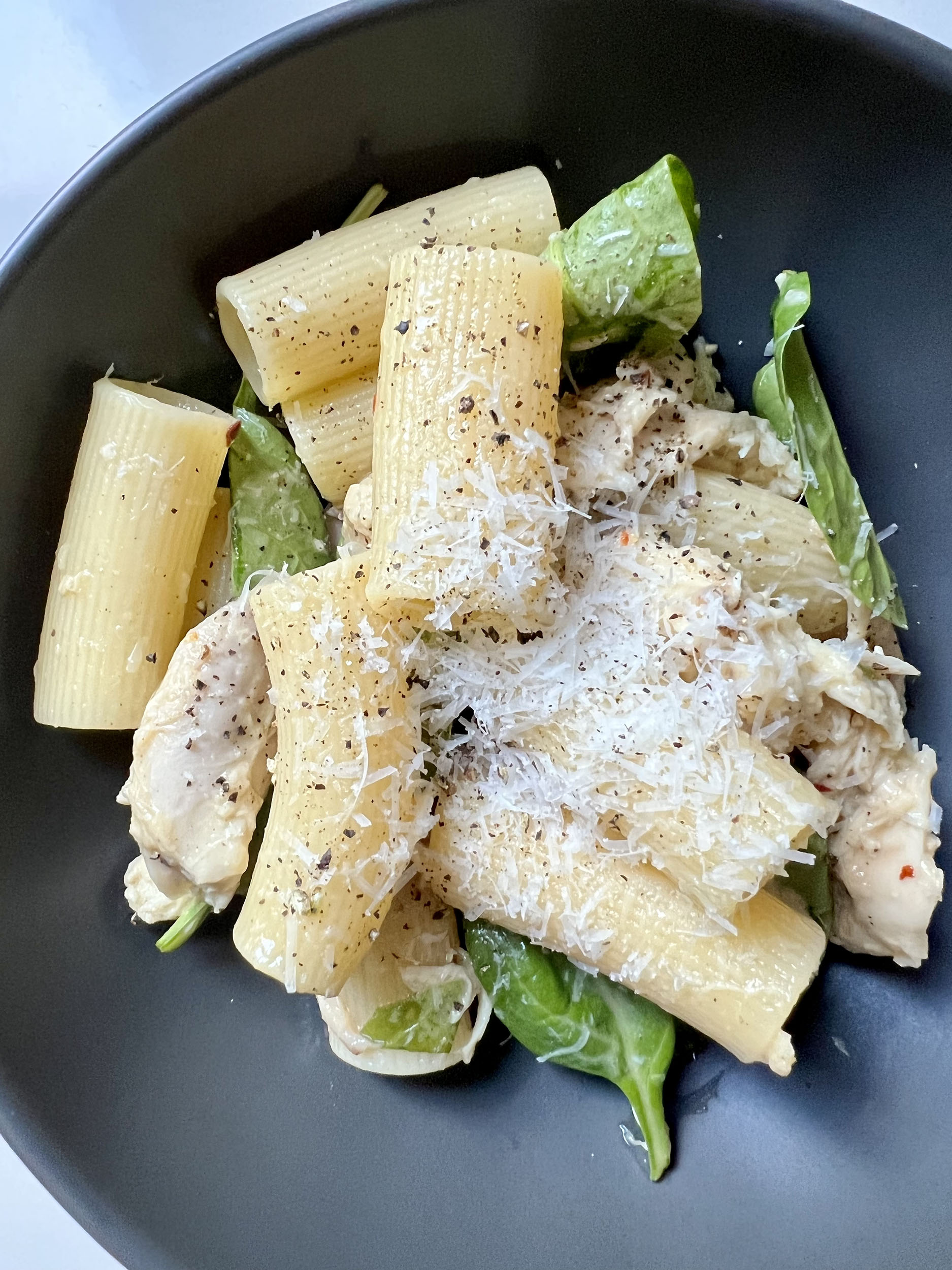 Print Recipe
Carbonara-Style Pasta with Chicken
We use the Pasta Carbonara method of creating a sauce from eggs and Parmesan to sauce up Rigatoni with leftover chicken and spinach.
Ingredients
8-9 oz. Tubular Pasta, like Rigatoni or Penne

1.5 tbsp. Kosher Salt, for the pasta water, plus more for seasoning

2 Eggs

3/4 cup Grated Parmesan Cheese, plus more for topping portions

Drizzle Olive Oil

1.5-2 cups Shredded Chicken, reheated in the microwave until very hot

Handful Fresh Spinach

Red Pepper Flakes

Cracked Black Pepper

Flaky Sea Salt
Instructions
1
Get a pot with about 2 quarts of water going over high heat.
2
Whisk together the eggs and cheese in a large bowl. Set Aside.
3
Once the water is boiling, season the water with about 1-1.5 tablespoons of kosher salt.
4
Add the pasta to the water. Set the timer for 8-9 minutes for al dente.
5
While we wait for the pasta to cook, heat the chicken in the microwave until very hot.
6
Once the pasta is cooked to al dente, scoop out 1.5 cups of water from the pot and set aside. Drain the pasta and then pour the pasta into the bowl with the egg and cheese mixture.
7
Drizzle on a little olive oil. Then, vigorously stir the hot pasta in the egg and cheese mixture to melt the cheese; creating a thick, glossy sauce that coats the pasta.
8
Add hot pasta water as needed to keep the sauce glossy and loose.
9
Add the reheated chicken to the pasta and continue stirring to coat the chicken in the sauce and mix well with the pasta.
10
Keep adding more pasta water as needed to keep everything loose and coated in the sauce. Toss in a handful of fresh spinach and mix well to combine and wilt the spinach in the hot pasta, chicken and sauce.
11
Season with a pinch of kosher salt, fresh cracked black pepper and a pinch of red pepper flakes, stir and we are ready to serve.
12
Scoop the Carbonara-Style Pasta with Chicken into bowls and top with Parmesan. Add more fresh black pepper and a small pinch of flaky sea salt, if you like and that's it!