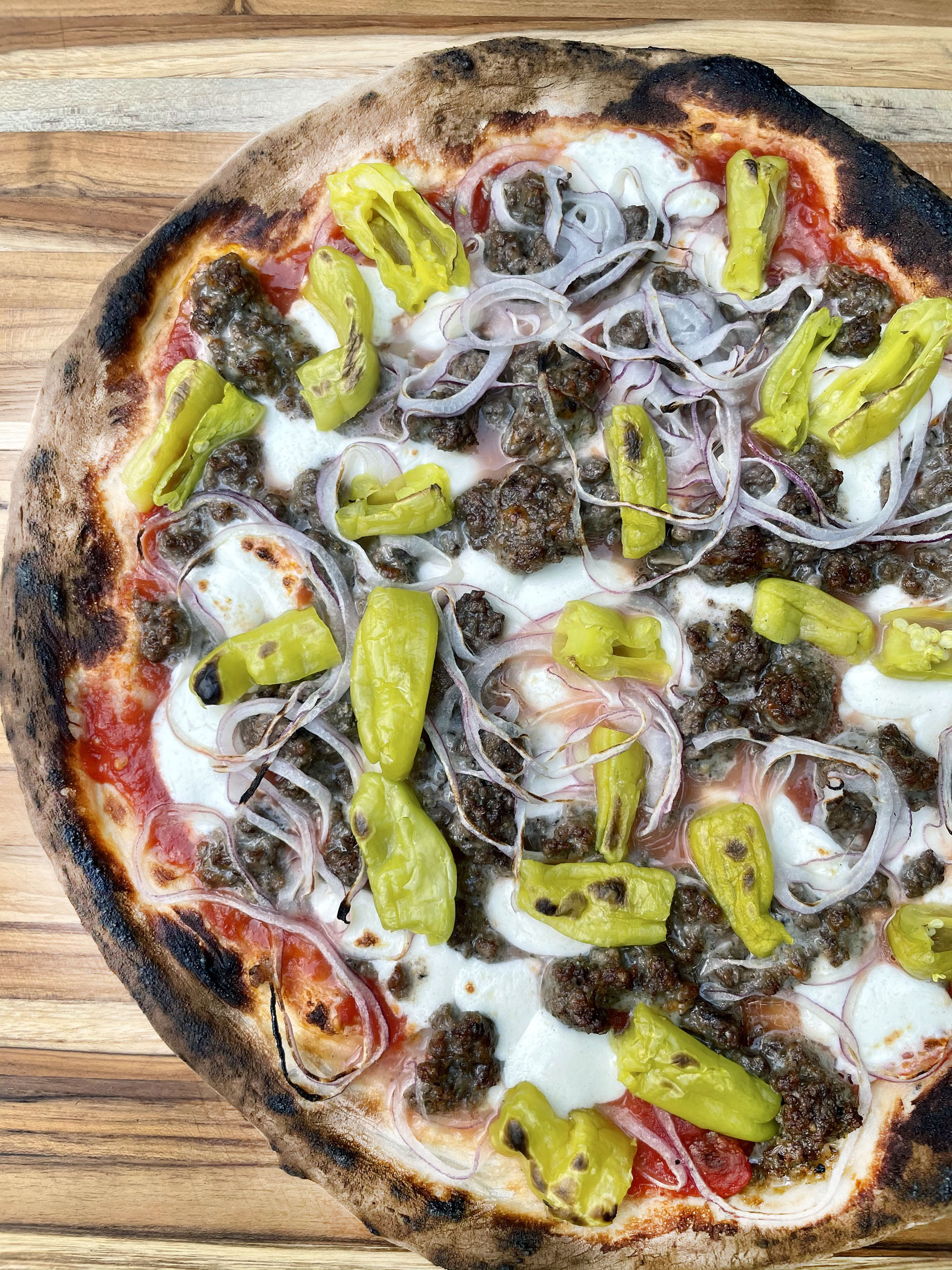 Print Recipe
Cheeseburger Pizza
Ground beef gets browned and mixed with cheddar cheese to top a pizza with tomatoes, onions and pickled peppers. It's a delicious combination, reminiscent of a classic American Cheeseburger.
Ingredients
1 lb. ground beef

1/4 tsp. Baking Soda

1 tbsp. Water

1 tbsp. Grapeseed or Vegetable Oil

1 cup Shredded Sharp Cheddar Cheese

Kosher Salt and Pepper, to taste

1 Prepared Pizza Dough

1/4 cup Crushed San Marzano Tomatoes, with their juices

1/2 16-oz. Package of Sliced Fresh Mozzarella, torn into pieces

1/4 Medium Red Onion, thinly sliced

Several Pepperoncini Peppers, stemmed and halved
Instructions
Ground Beef Prep/Cheeseburger Mixture
1
Make a baking soda slurry with the water and toss the ground beef with the slurry and set aside.
2
Heat 1 tablespoon of grapeseed or vegetable oil in a skillet and when it's shimmering, add the ground the beef.
3
Season with Kosher salt and pepper.
4
Cook, breaking up the ground beef with a spatula until the beef is browned and cooked through. Add more salt and pepper to taste.
5
Using a slotted spoon, transfer the ground beef to a mixing bowl and add 1 cup of shredded cheddar cheese.
6
Mix the cheese and ground beef together until the cheese is melted and well incorporated in the beef. You can make this early in the day and refrigerate it until you're ready to make the pizza.
7
Preheat oven to 450 degrees.
8
On a floured pizza peel, dust the dough with flour and create a crust around the perimeter of the dough and flatten down the center.
9
Stretch it out on the backs of your hands, left hand over right hand, until the dough is roughly 12-inches around.
10
Add more flour evenly on the peel and lay the dough on the peel.
11
Spoon and spread tomatoes over the dough.
12
Evenly distribute the mozzarella cheese over the sauce and add the prepared cheeseburger mixture evenly over the mozzarella.
13
Top the ground beef with the sliced onions and the pickled peppers.
14
Bake for 15 minutes or until the crust is golden and cheese is melted and bubbly.
15
Mop the wet areas with a paper towel, slice and serve.