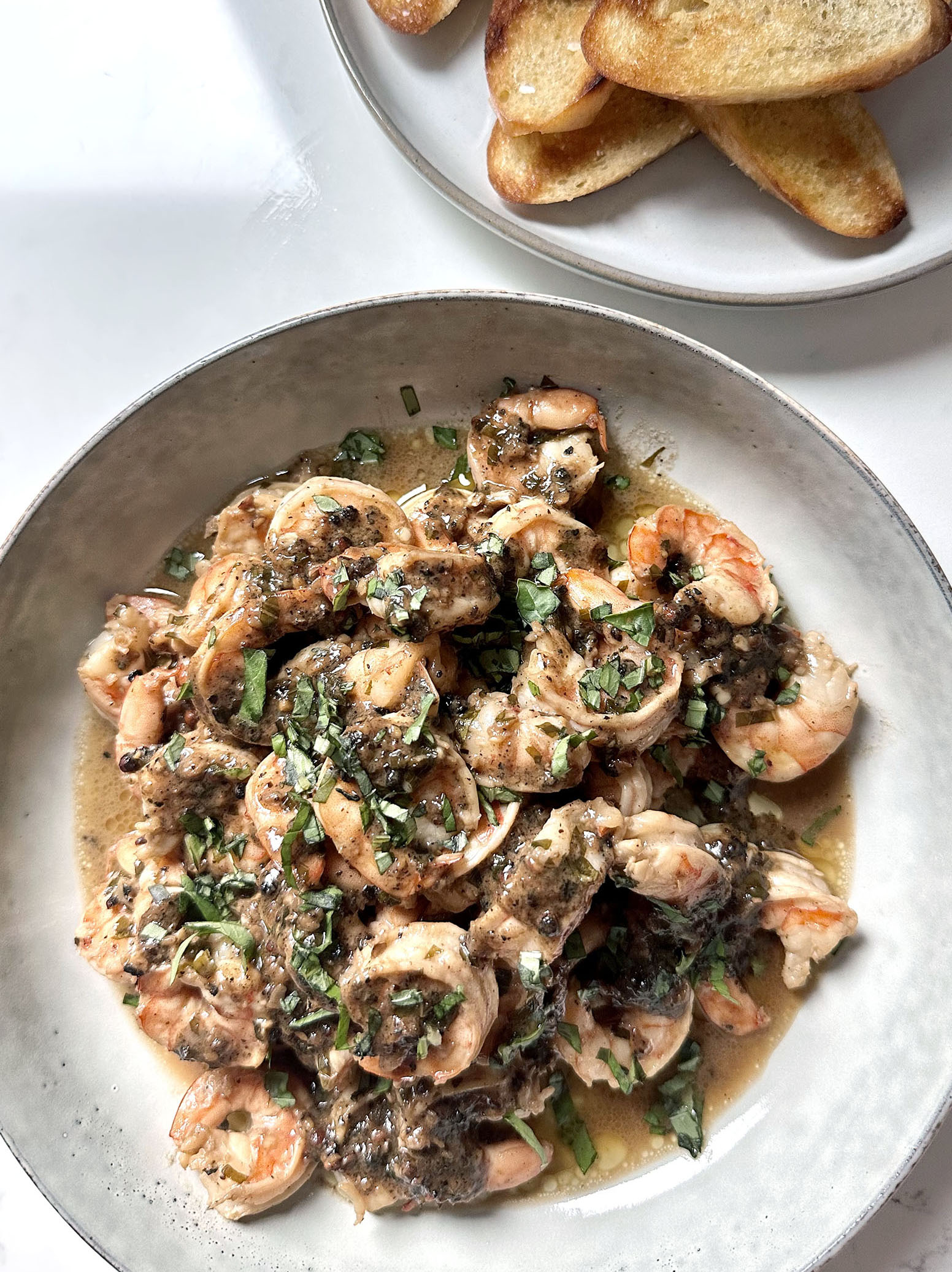 Print Recipe
Chef Regina's Pepper Marinade with Shrimp
Peppery and rich, Chef Regina's Pepper Marinade is a super versatile marinade that pairs beautifully with shrimp, salmon and oysters.
Ingredients
1/2 cup Butter

2 tbsp. Extra Virgin Olive Oil

1/4 cup Worcestershire Sauce

2 tbsp. Minced Fresh Basil Leaves (plus a little more for garnish)

2 tbsp. Cracked Black Pepper - You want to use black peppercorns cracked by you. Do not use Coarse Ground Pepper.

2 tbsp. Minced Garlic

Juice of 1/2 Lemon

1 lb. 16/20 Shrimp, peeled and deveined

Toasted Baguette Slices for Serving
Instructions
1
You want to use black peppercorns, cracked by you for the ultimate peppery flavor.
2
You don't want to grind the peppercorns to a powder. Just pulse the grinder a few times to crack the peppercorns and keep most of it intact.
3
In a 12-inch skillet, over low heat, combine the butter, olive oil, Worcestershire sauce, pepper, basil and garlic. Simmer for about 15 minutes. Stir occasionally, then squeeze the juice of half a lemon. Stir in the lemon juice.
4
After the Pepper Marinade has been simmering for about 15 minutes, Add the shrimp to the skillet in a single layer. Gently poach the shrimp In the marinade, stirring occasionally until the shrimp is opaque and lightly pink.
5
Transfer the cooked shrimp to a serving plate. The shrimp releases a lot of liquid as it cooks, so once the shrimp is transferred out, increase the heat to medium/medium-low and let the marinade cook down slightly.
6
Cut the heat and spoon the marinade over the shrimp.
7
Sprinkle the top of the shrimp with more minced basil for presentation. Serve with the toasted baguette slices.