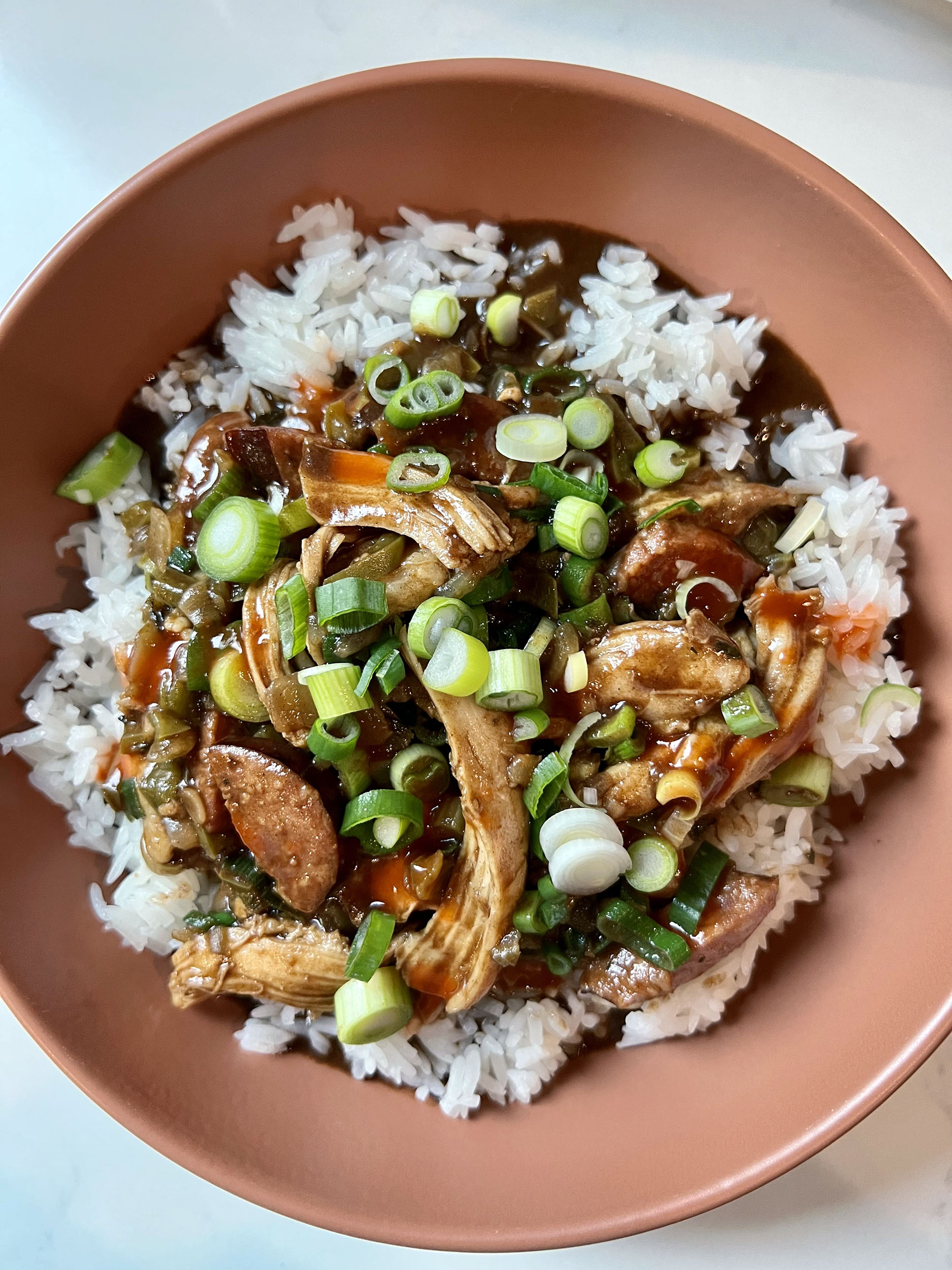 Print Recipe
Chicken and Sausage Gumbo
This rich and deeply flavored Chicken and Sausage Gumbo features, a dry roux with toasted flour. It's perfect for Mardi Gras!
Ingredients
1 cup All-purpose Flour

1 tbsp. Vegetable or Grapeseed Oil

1 Onion, chopped fine

1 Green Bell Pepper, chopped fine

2 Celery Ribs, chopped fine

1 tbsp. Minced Fresh Thyme

3 Garlic Cloves, minced

1 tsp. Smoked Paprika

2 Bay Leaves

1/2 tsp. Cayenne Pepper

Kosher Salt and Pepper

4 cups Chicken Broth, room temperature, divided

2 lbs. Boneless, Skinless Chicken Thighs, trimmed

8 oz. Andouille Sausage, halved and sliced 1/4 inch thick

6 Scallions, sliced thin

1 tsp. Distilled White Vinegar

Hot Sauce, like Crystal or Tabasco
Instructions
1
Place an oven rack in the center position and preheat the oven to 425 degrees F. Transfer 1 cup of all-purpose flour to a 12-inch oven safe skillet and place the skillet in the oven. Bake the flour, stirring occasionally until the flour is the color of ground cinnamon – about 40-50 minutes. Stir the flour more often the darker it gets. Turn on your range fan and/or open a window because the the flour will smell like burned popcorn as it bakes.
2
Transfer the toasted flour to a medium bowl.
3
Heat one tablespoon of vegetable or grapeseed oil in a Dutch oven over medium heat until shimmering. Then add the onion, celery and bell pepper. Sauté the holy trinity until softened.
4
Then add the fresh minced garlic, the seasoning and bay leaves. Stir to combine and let cook for about one minute, until fragrant. Then add 2 cups of chicken broth.
5
Transfer the chicken thighs to the Dutch oven in a single layer; the chicken will not be totally submerged. Bring to a simmer and reduce heat to medium-low. Cover and let simmer for about 15-17 minutes, until chicken is fork tender. When the chicken is cooked through, transfer it to a plate and set aside to cool slightly.
6
Turn your attention back to the toasted flour. Slowly whisk the remaining 2 cups of room temperature chicken broth into the toasted flour. Go very slowly at first, whisking to form a smooth, thick paste.
7
Turn the heat under the Gumbo up to medium and slowly whisk the roux paste into the Gumbo, stirring to incorporate each addition before adding more.
8
Once all the roux is incorporated, add the Andouille sausage to the Gumbo. Simmer the Gumbo uncovered for about 20 minutes, until the Gumbo has slightly thickened.
9
While that's simmering, shred the chicken thighs into bite size pieces. After the Gumbo has simmered for about 20 minutes, add the shredded chicken and the sliced scallions to the Gumbo. Stir to combine and remove from heat.
10
Now, stir in 1-2 teaspoons of distilled white vinegar. Taste for seasoning and add more kosher salt if needed. Serve the gumbo over rice with hot sauce on the side.