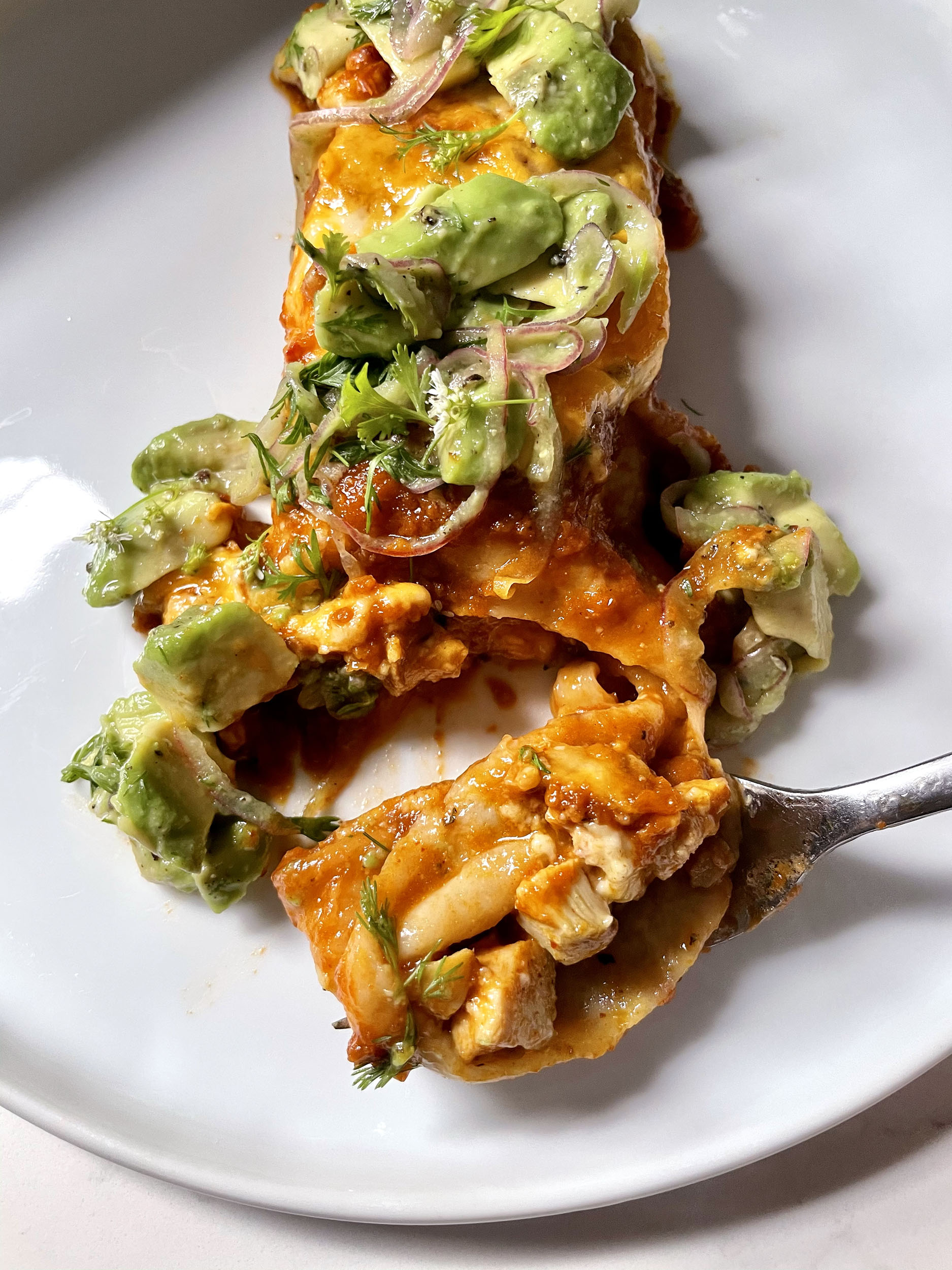 Print Recipe
Chicken Enchiladas with Fire-Roasted Pepper Sauce
Rubbed and baked chicken thighs fill soft flour tortillas with Pepper Jack cheese and a fire-roasted pepper sauce; topped with cheddar cheese and baked to enchilada perfection.
Ingredients
Fire-Roasted Pepper Sauce

3 Poblano Peppers

3 Jalapeño Peppers

8-10 Campari or Plum Tomatoes, with their juices

1 28-oz. can Whole, Crushed or Diced Tomatoes

2 cups Chicken Bone Broth

1 medium Onion, cut in wedges

6-8 cloves Garlic

1 tbsp. Chipotle Pepper Powder

1 tbsp. Chili Powder (or Guajillo Chile Powder)

1 tsp. Ground Cumin

1 tsp. Dried Oregano

1 tsp. Kosher Salt

Chicken + Rub

2 lbs. Boneless Skinless Chicken Thighs

1 tbsp. Ground Cumin

2 tsp. Ground Turmeric

2 tsp. Garlic Powder

2 tsp. Dried Oregano

2 tbsp. Kosher Salt

1 tsp. Guajillo Chile Powder.

Enchiladas

1 Package (9-12) 8-10" Flour Tortillas

3.5 cups Fire-Roasted Pepper Sauce

8 oz. Pepper Jack Cheese, cut into thick strips

1.5 cups Cheddar Cheese, grated
Instructions
Fire-Roasted Pepper Sauce
1
Drizzle poblanos, jalapeños and plum tomatoes with grapeseed oil and sprinkle with Kosher salt.
2
In an oven with the broiler set to high, or over hot coals and flames of a grill, roast the peppers and the tomatoes until the skin chars and blisters. Watch them, and turn them as each side blisters, until the whole vegetable is blistered with char spots.
3
Remove from heat and let cool until cool enough to handle.
4
Remove the charred skin from the peppers, remove the stems and seeds.
5
In a large pot or Dutch oven, add the fire-roasted veggies, can of tomatoes, broth, onion, garlic and spices. bring to a boil and reduce to a simmer. Simmer for 35-40 minutes. Remove from heat and let cool for 10-15 minutes.
6
Use an immersion blender to puree the sauce to a smooth consistency. Or, working in batches, transfer veggies to a blender and blend until smooth.
7
While the sauce is simmering make a spice rub for the chicken thighs. In a small dish, whisk together cumin, turmeric, garlic powder, oregano, chile powder and salt.
8
Generously coat chicken thighs on all sides with the spice rub. place chicken pieces on a rimmed sheet tray and bake in a 400 degree oven for about 20 minutes, until chicken is firm to the touch. Remove from heat and set aside to cool slightly. Reduce oven temperature to 375 degrees.
9
Lightly coat a 9x13 baking dish with cooking spray and spread 1 cup of the pepper sauce in the bottom of the dish.
10
Lay a flour tortilla flat and spread about 1 tablespoon of the pepper sauce, in a stripe, on the lower part of the tortilla.
11
Add about 2-3 tablespoons of chicken. Lay one strip of Pepper Jack cheese in the center of the chicken.
12
Fold the bottom of the tortilla over the filling and tightly roll the tortilla up, away from you.
13
Place the tortilla, seam side-down in the baking dish. Continue with remaining tortillas.
14
Line them up, horizontally along the 9" side, in a single layer in the baking dish. Depending on the amount of filling and size of your tortilla, you should get 7-10 enchiladas to fit.
15
Cover the rolled enchiladas with about 2 cups of the pepper sauce and bake, covered for 30 minutes.
16
Remove from oven and add remaining Pepper Jack Cheese and grated cheddar, transfer back to oven and bake for another 10-15 minutes, until the cheese is melted and bubbly.
17
Remove from oven and let stand for at least 10 minutes before serving.