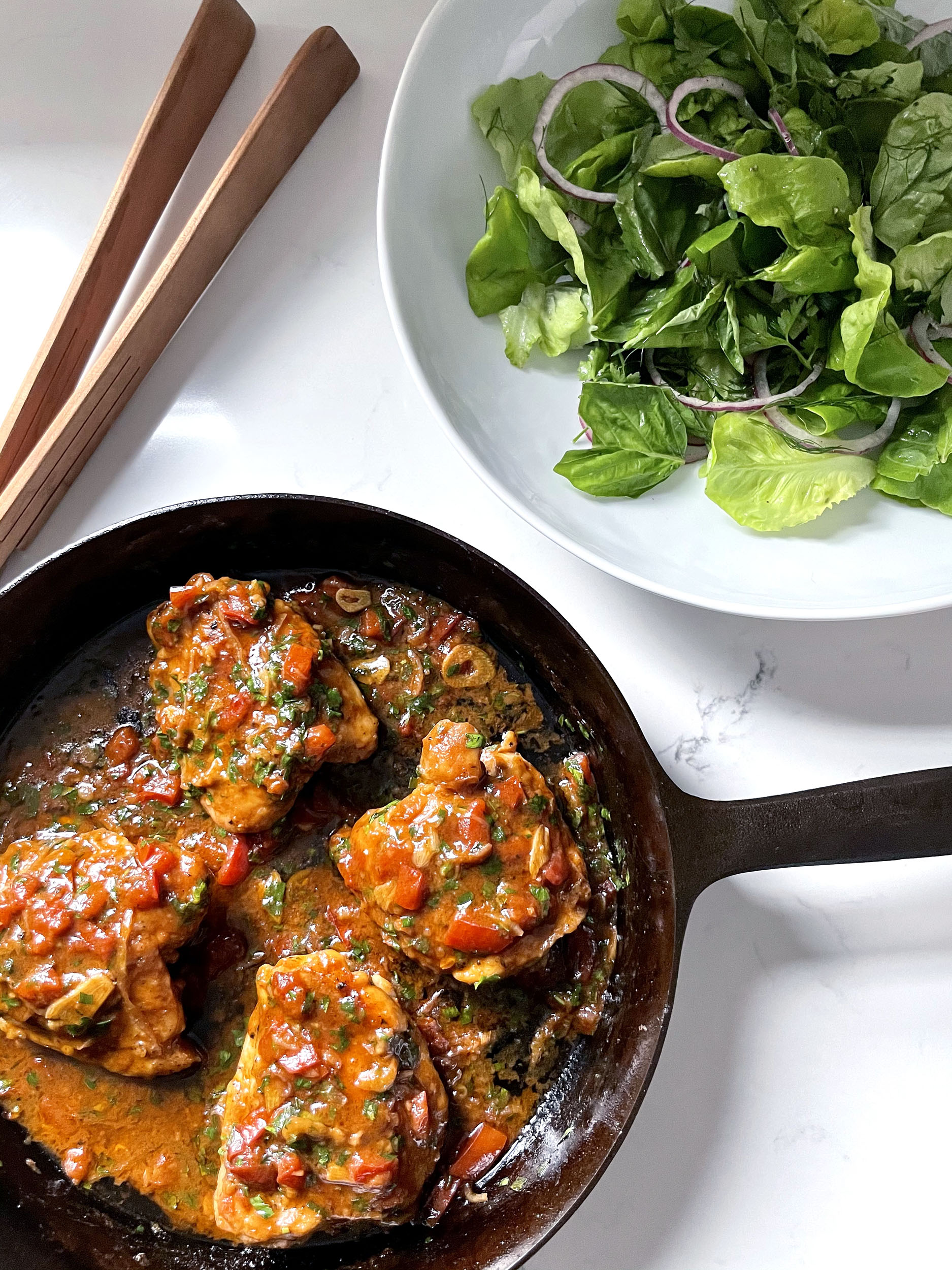 Print Recipe
Chicken in Vinegar (Poulet au Vinaigre)
This classic French dish is rich and flavorful. Fresh herbs and vinegar act as the most beautiful flavor booster; amping up the the flavor of the chicken and the tomatoes; everything just sings.
Ingredients
1.25 lbs Skinless Chicken Thighs, trimmed

1/2 tsp. Kosher Salt, plus a pinch, divided

1/4 tsp. Fresh Ground Pepper

1/4 cup All Purpose Flour

2 tbsp. Unsalted Butter

2 tbsp. Grapeseed Oil (or canola)

4 Cloves Garlic, thinly sliced

1 Large Shallot, sliced

1 tbsp. Tomato Paste

1 Large Tomato, seeded and diced

1/4 cup Red-Wine Vinegar

1 tbsp. Honey

1.5 cups Chicken Broth

1 tbsp. Chopped Fresh Parsley

1 tbsp. Chopped Fresh Tarragon
Instructions
1
Pat chicken dry and season with 1/2 teaspoon salt and pepper. Place flour in a shallow bowl and dredge chicken thighs to coat, shaking off excess. Discard remaining flour.
2
Heat butter and oil in a large skillet over medium-high heat until foamy.
3
Add the chicken and cook, flipping once until golden brown on both sides. About 7 minutes on the first side and about 5 minutes on the other side.
4
Transfer chicken to a plate. Then add the garlic, the shallot and remaining salt to the skillet. Cook for 1 minute.
5
Add the tomato paste and cook for 2 minute.
6
Stir in the tomato, vinegar, and honey, scraping up any brown bits in the pan.
7
Stir in broth and bring to a simmer.
8
Add the chicken back to the pan and reduce the heat to low, cover and cook for 15 minutes.
9
Uncover and cook, flipping the chicken thighs occasionally, until the sauce is slightly thickened, for another 20-25 minutes.
10
Stir in the parsley and the tarragon.