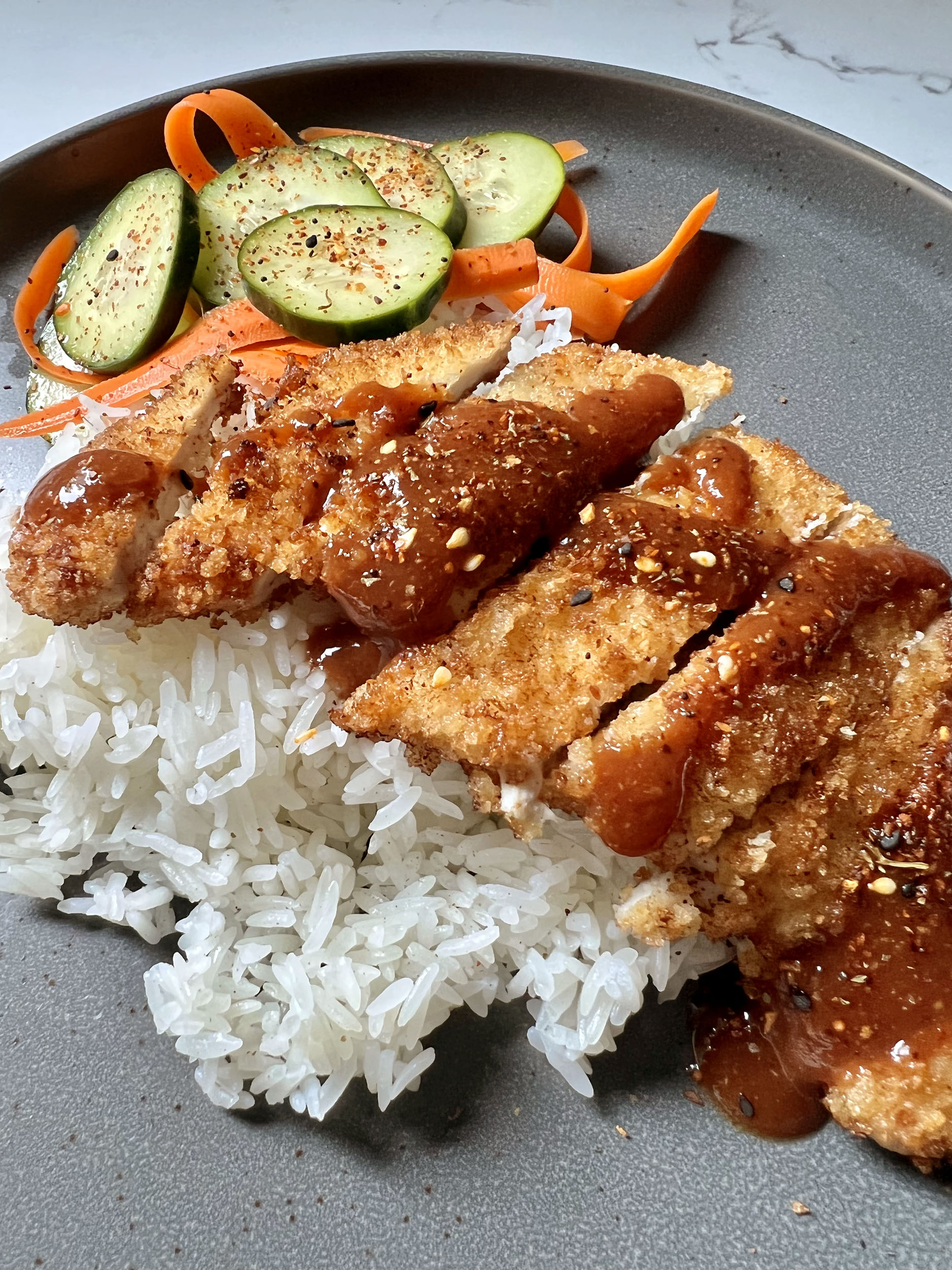 Print Recipe
Chicken Katsu with Tonkatsu Sauce
A light coating of egg and panko give these shallow fried chicken cutlets amazing crispy, crunchy texture. Served with Tonkastsu sauce.
Ingredients
Quick Pickled Cucumber Salad

1 Cucumber, sliced into 1/8-inch thick slices

1-2 Carrots, cut into ribbons with a vegetable peeler

Pinch of Kosher Salt

1/4 cup Rice Vinegar

Hot Water

Tonkatsu Sauce

1/4 cup Ketchup

2 tbsp. Worcestershire Sauce

2 tsp. Soy Sauce

1 tsp. Dijon Mustard

Chicken Katsu

1 cups Panko Bread Crumbs

2 Large Eggs

2 (6- to 8-ounce) boneless, skinless chicken breasts, trimmed, halved horizontally, and pounded 1/4 inch thick

1/4 cup Vegetable Oil, double for more than one batch of chicken

Kosher Salt

Togarashi, optional
Instructions
Quick Pickled Cucumber Salad
1
Place the cucumber slices and carrot ribbons in a bowl.
2
Season with a pinch of Kosher Salt.
3
Pour vinegar over veggies and pour hot water over to cover veggies. Cover and refrigerate until ready to use.
4
In a small bowl, combine ketchup, Worcestershire sauce, soy sauce and Dijon mustard. Use a fork or tiny whisk to thoroughly mix the sauce and set aside.
5
Pour panko bread crumbs into a zipper lock bag, seal and use a rolling pin to lightly smash the large panko crumbs into smaller pieces.
6
Pour the crushed panko into a flat dish like a pie plate. Whisk two eggs in another wide, flat dish.
7
Coat one breast cutlet in egg. Lift the cutlet out to let the excess egg drip off, then dredge the cutlet in the panko. Evenly coat the whole cutlet in panko, lightly pressing to adhere the panko. Place the breaded cutlet on the sheet tray and repeat with the remaining 3 cutlets.
8
Set up your fry station with the pan or braiser on the front left burner of your stove. Set the sheet tray with the breaded cutlets on the left side. Set up a fresh, clean sheet tray with a wire rack set inside on the right side. Cover the wire rack with paper towels. Rest your tongs on the paper towel-lined wire rack.
9
Pour 1/4 cup of vegetable oil into the pan. Drop several panko crumbs into the oil. Turn on the burner to medium-high. When the panko breadcrumbs turn golden, the oil is ready for the cutlets.
10
Add the cutlets to the hot oil, making sure to let the ends go away from you to avoid splashing yourself with hot oil.
11
Let the cutlets fry undisturbed for about 2-3 minutes, until the bottoms are deep golden brown. Then flip them over.
12
Let the other side cook undisturbed for 2-3 minutes, until the same deep golden brown is reached. Transfer cutlets to the paper towel-lined wire rack set in the sheet tray and sprinkle with kosher salt.
13
If you have to do a second batch like I did, turn off the heat and wipe the skillet clean with paper towels. Add another 2 tablespoons (for one more cutlet) or 1/4 cup (for two more cutlets) and repeat the frying with the remaining cutlet(s).
14
For each serving, take one cutlet and slice it into strips. Spoon a serving of rice in a wide shallow bowl.
15
Use your knife or bench scraper to transfer the entire sliced cutlet and place it on top of the rice. Use a slotted spoon to place a serving of the pickled cukes and carrots alongside the rice. Drizzle Tonkatsu sauce over the cutlet.
16
Sprinkle with spicy Togarashi if desired.