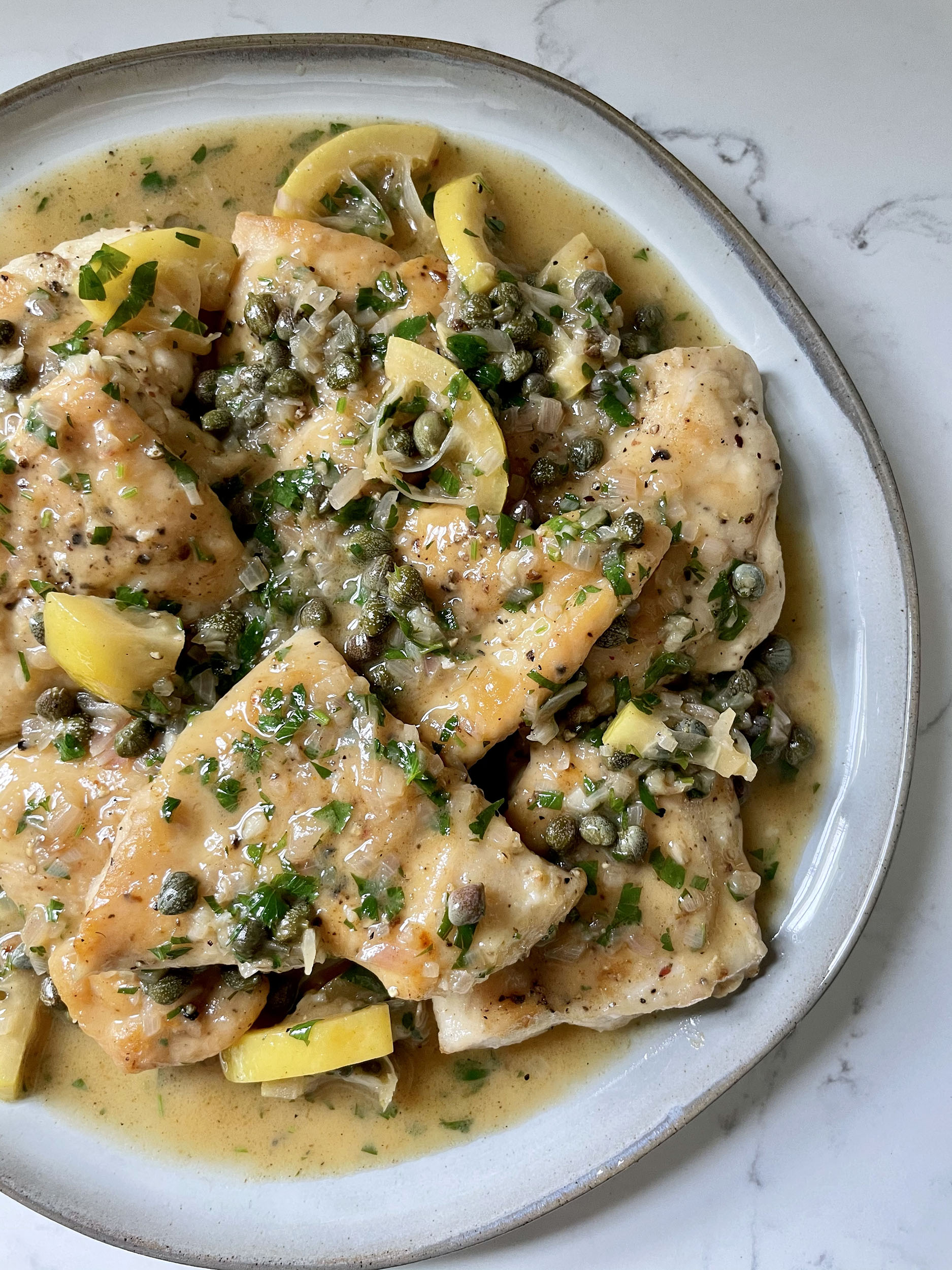 Print Recipe
Chicken Piccata
Chicken cutlets are shallow fried, then finished in a rich, lemony sauce with shallots, capers and parsley. Rich, tangy and fresh – it's a classic!
Ingredients
4 (6- to 8-ounce) Boneless, Skinless Chicken Breasts, Trimmed

Kosher salt and Pepper

2 Large Lemons

3/4 cup All-Purpose Flour

1/4 cup, plus 1 teaspoon Vegetable (or Grapeseed) Oil

1 Shallot, minced

1 Garlic Clove, minced

1 cup Chicken Bone Broth

3 tbsp. Unsalted Butter, cut into 6 pieces

2 tbsp. Capers, drained

1 tbsp. Minced Fresh Parsley
Instructions
1
Cut each chicken breast in half crosswise, then cut the thick half in half again horizontally, creating 3 cutlets of similar thickness.
2
Place cutlets between sheets of plastic wrap and gently pound to even ½-inch thickness.
3
Place cutlets on a rimmed sheet tray and season both sides with Kosher salt and black pepper. Set aside for 15 minutes.
4
Halve 1 lemon lengthwise. Trim ends from 1 half, halve lengthwise again, then cut crosswise ¼-inch-thick slices; set aside.
5
Juice remaining half and whole lemon and set aside 3 tablespoons juice.
6
Prepare dredging station with flour in a shallow dish. Place a wire rack set in a sheet tray.
7
Dredge cutlets in flour, shaking gently to remove excess. Place on wire rack. Repeat with all cutlets.
8
Heat 2 tablespoons oil in 12-inch skillet over medium-high heat until smoking. Place 6 cutlets in skillet, reduce heat to medium, and cook until golden brown on each side. About 2 to 3 minutes each side. Return cutlets to wire rack. Repeat with 2 tablespoons oil and remaining 6 cutlets.
9
Add remaining 1 teaspoon oil and shallot to skillet and cook until softened, 1 minute. Add garlic and cook until fragrant, 30 seconds.
10
Add broth, reserved lemon juice, and reserved lemon slices and bring to simmer, scraping up any browned bits.
11
Add cutlets to sauce and simmer for 4 minutes, flipping halfway through simmering. Transfer cutlets to platter.
12
Sauce should be thickened to consistency of heavy cream; if not, simmer 1 minute longer.
13
Turn off heat, whisk in butter. Stir in capers and parsley. Season with salt and pepper to taste.
14
Spoon sauce over chicken and serve.