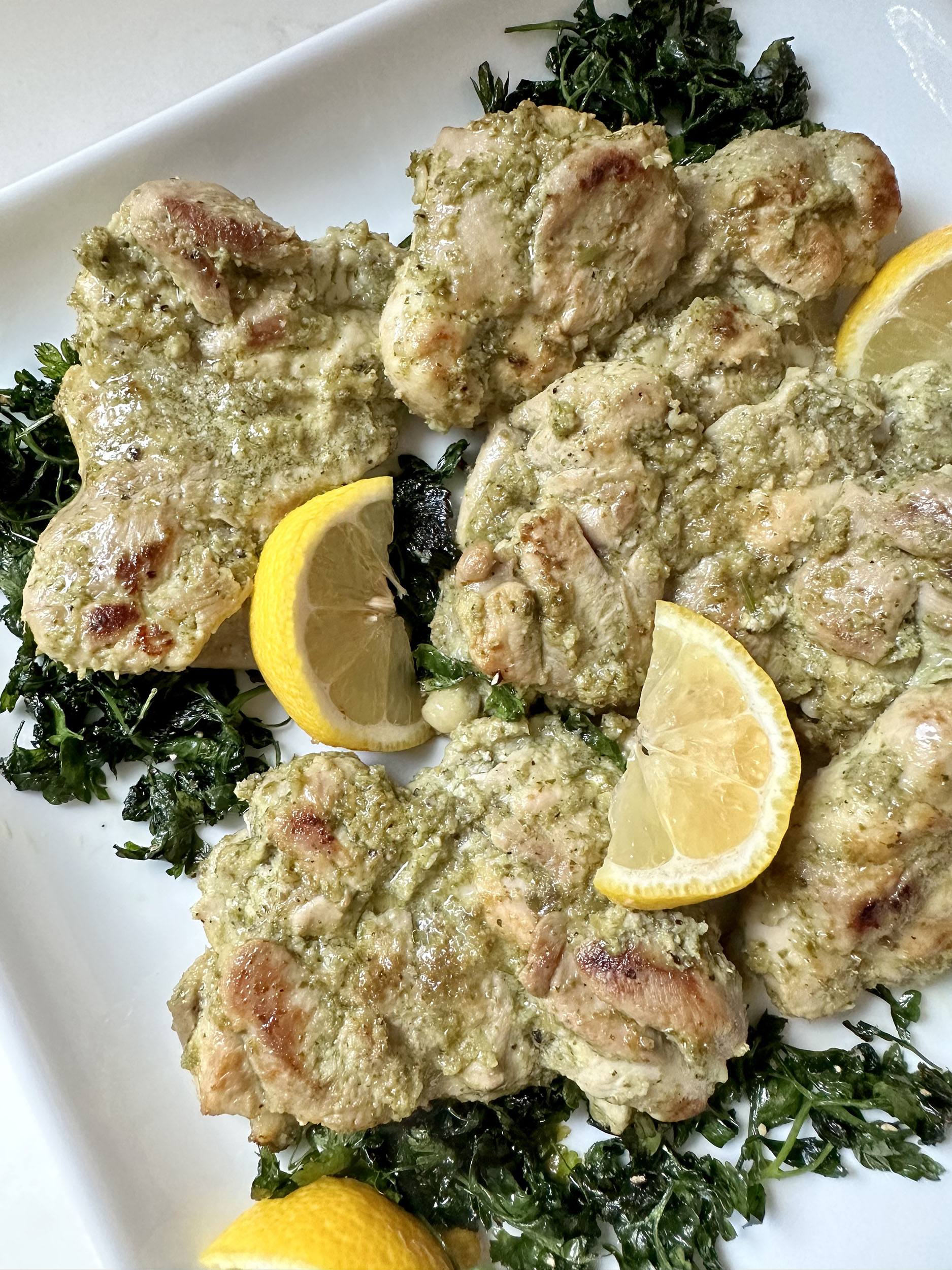 Print Recipe
Chicken Thighs with Parsley and Lemon
Herby, fresh and bright; yet deeply savory, Chicken Thighs with Parsley and Lemon is a one-pan wonder. Just perfect for a weeknight!
Ingredients
1 Bunch Fresh Fat-Leaf Parsley (3 to 4 ounces) or go for two bunches, to double the sautéd leaves

10 Garlic Cloves, peeled

1 Jalapeño, stemmed

2 tbsp. Capers

2 tbsp. Fresh Lemon Juice, plus wedges for serving

2 tsp. Granulated Sugar

Kosher salt and black pepper

1/2 cup Buttermilk

1.5-2 lbs. Boneless, Skinless Chicken Thighs

2 tbsp. Olive Oil, for sautéing the parsley
Instructions
1
First, take the bunch of parsley and separate the leaves and tender stems from the thicker, bottom stems.
2
Roughly chop the thicker bottom stems and add them to the bowl of a food processor. To the stems in the processor, add buttermilk, sugar, capers, lemon juice, garlic, the jalapeño, a good pinch of kosher salt and several cranks of black pepper.
3
Blitz the marinade ingredients until the mixture is smooth. Pour the marinade in a bowl and add the boneless, skinless chicken thighs. Turn to coat and submerge the thighs in the marinade. Set aside and let marinate for 30 minutes. If you want to let them go longer, up to overnight, cover and place in the fridge.
4
Get a large skillet (a nonstick will be best for the clean up) going over medium-high heat. Add two tablespoons of olive oil and when the oil is shimmery, add the parsley leaves and tender stems to the pan. Sauté the parsley leaves until they are wilted, brighter green and begin to char in spots.
5
Transfer the sautéd parsley to a serving platter and set aside.
6
To the same skillet over medium-high heat, add the chicken thighs. Don't bother to let the marinade drip off. We want the chicken to be still coated in the marinade. Discard the leftover marinade. Let the chicken cook for about 7 minutes on the first side. Before turning them, check the thighs for browning. We want to see some spotty browning on the thighs before turning them to cook the second side.
7
Once turning the thighs, let the second side cook for 5-7 minutes, until you see some browning on the second side and the thighs are cooked through. You can temp them if you're unsure of their doneness. Look for an internal temp of 170 degrees.
8
Transfer the thighs to the platter with the sautéd parsley. Garnish with lemon wedges.