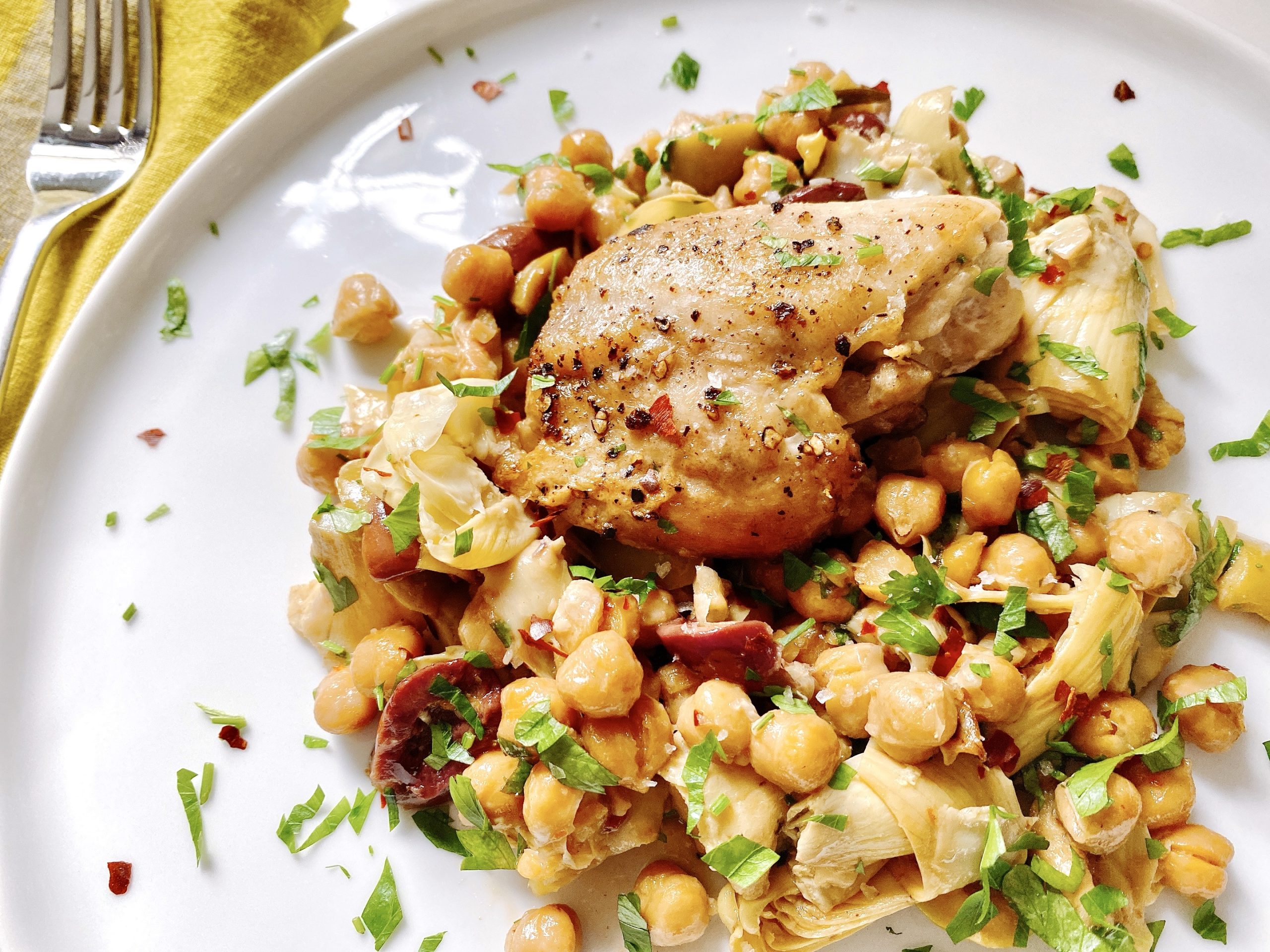 Print Recipe
Chicken with Artichokes and Olives
Mediterranean flavors come together in this light and easy, one-pan dish. Flavored with olives, wine, herbs and lemon, this healthy dish is great for meal prep and it's an easy weeknight meal.
Ingredients
4-6 Boneless, Skinless Chicken Thighs

2 tbsp. Olive Oil, more if needed

1 14-oz. Can of Artichoke Hearts, drained, halved and patted dry

1 15.5-oz. Can of Chickpeas, drained and rinsed

1/2 cup Olives (Kalamata, Chalkidiki, or whatever you like), halved or quartered

4 cloves Fresh Garlic, smashed and rough chopped

3/4 cup Dry White Wine

Zest of Half a Lemon

Juice of 1/2 - 1 Lemon

3-4 Rosemary Sprigs

1 tbsp. Unsalted Butter (or olive oil)

Salt and Pepper, to taste

Crushed Red Pepper Flakes, to taste

Flat Leaf Parsley, rough chopped
Instructions
1
Preheat oven to 375 degrees.


2
Salt and pepper chicken and brown in pan over medium high heat, about 5 minutes each side. Transfer chicken to separate plate.


3
Add garlic, artichokes, chickpeas and crushed red pepper flakes to pan. Add more olive oil if necessary. Lightly brown the artichokes, about 7 minutes.


4
Add olives, wine, lemon zest and rosemary to pan. Stir, then add chicken back to pan and bring to a simmer.


5
Cover and place in oven for 15-30 minutes or until internal chicken temp reads 165-170, or juices run clear.


6
Remove pan from oven and transfer chicken to separate plate.
7
Over medium high heat, bring remaining juices to a simmer and add one tablespoon butter. Simmer until butter is melted.


8
Return chicken to the pan and add lemon juice and parsley.