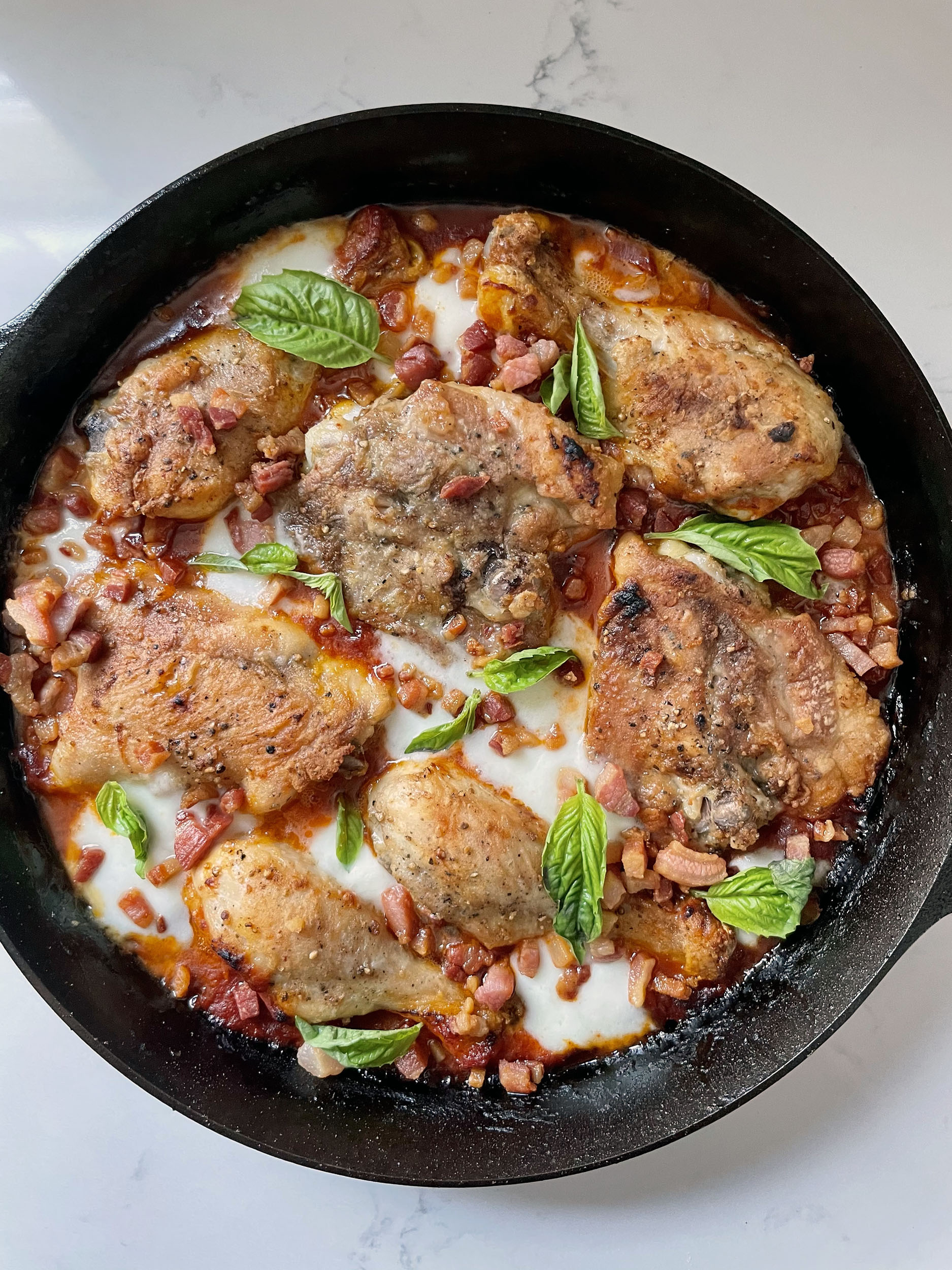 Print Recipe
Chicken with Tomatoes Pancetta and Mozzarella
Crispy chicken in a deeply flavored tomato sauce with gooey mozzarella, crunchy pancetta and fresh basil
Ingredients
3.5 lbs. Bone-in Chicken Pieces (or use a 3 1/2 pound chicken cut into 8 pieces)

2 tsp. Kosher Salt

1 tsp. Black Pepper

1/4 cup All Purpose Flour (for optional dredging chicken pieces)

1 tbsp. Olive Oil

5 oz. Pancetta, diced

3 Garlic Cloves, thinly sliced or minced for a stronger garlic flavor

2-3 Anchovy Fillets

1/4 tsp. Red Pepper Flakes

1 (28-ounce) Can Whole Plum Tomatoes, or hand crushed whole San Marzano Tomatoes (or diced tomatoes...)

1 Large Basil Sprig, plus more chopped basil for serving

8 oz. Fresh Mozzarella cut into 3/4-inch pieces
Instructions
1
Heat oven to 400 degrees. Season chicken pieces with salt and pepper.
2
Pat the chicken dry, and then (optional step) dredge the pieces in flour, shake off the excess and set on a sheet tray.
3
In a large oven-proof skillet, heat oil over medium heat. Add pancetta and cook, stirring frequently, until browned. Use a slotted spoon to transfer pancetta to a paper-towel-lined plate.
4
Add chicken to skillet. Sear, turning occasionally, until well browned on all sides, about 10 minutes. Transfer to a large plate. Pour off all but 1 tablespoon oil.
5
Reduce heat to medium-low and add garlic, anchovy and red pepper flakes to skillet; fry for 1 minute.
6
Stir in tomatoes and basil sprig. Cook, breaking up tomatoes with a spatula, until sauce thickens, about 10 minutes.
7
Return chicken to skillet. Transfer skillet to oven and cook, uncovered, until chicken reads 165 degrees when probed with a thermometer, about 30 minutes.
8
Nestle mozzarella pieces between the chicken pieces. Adjust oven temperature to broil, but leave the rack in the center position. Return skillet to oven and broil until cheese is melted and bubbling, 2 to 3 minutes (watch carefully to see that it does not burn).
9
Garnish with pancetta and chopped basil before serving.