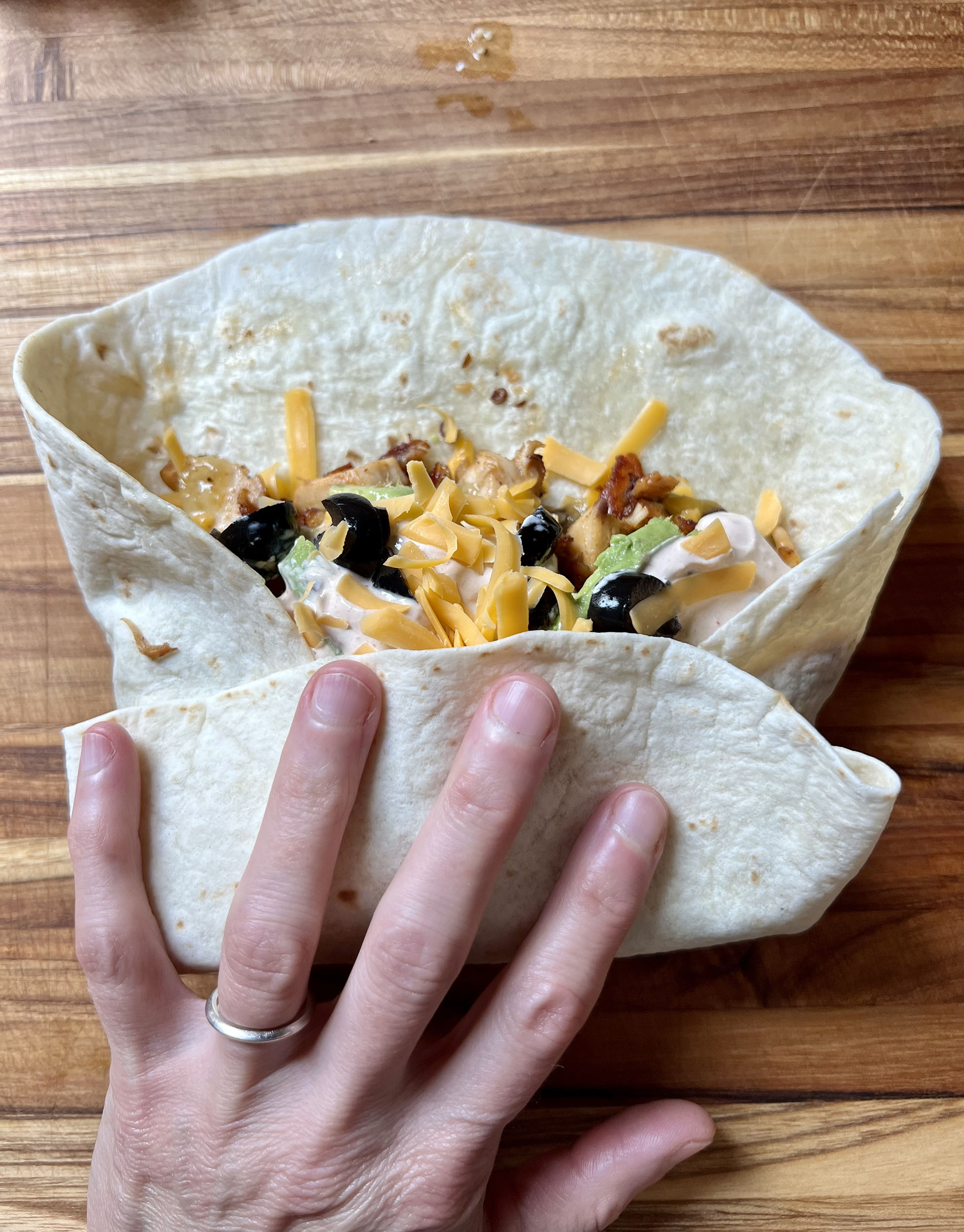 Print Recipe
Chipotle Chicken Super Burrito
Today's Chipotle Chicken Super Burrito is quick, easy and so delicious. With refried beans, avocado, cheddar cheese and chipotle sour cream.
Ingredients
1 cup Chopped Chipotle Chicken Strips

1 can Refried Black Beans

1 10-inch Flour Tortilla

1/2 cup Grated Cheddar Cheese

1 Avocado, sliced

1/3 cup Sour Cream

2 tsp. Chipotle in Adobo Sauce

Tomatillo Salsa

Black Olives, sliced
Instructions
1
First, chop up the chipotle chicken strips and warm them through in a pan over medium heat with a drizzle of olive oil.
2
At the same time, heat 1 can of refried black beans over low heat, stirring occasionally until the beans are soft and heated through.
3
Meanwhile mix the two teaspoons of chipotle in adobo sauce into the sour cream and set aside.
4
Warm the tortilla by laying it on top of the chicken while it is in the skillet, letting the heat slightly warm the tortilla to make it more pliable.
5
Now layer on the toppings. Start with the black beans. Then add about half of the grated cheddar cheese.
6
Top the cheese with the chipotle chicken. Then the slices of avocado.
7
Then a little tomatillo salsa and the chipotle sour cream. Next we have the black olives and finally the remaining cheddar cheese.
8
To roll the burrito: Turn the tortilla clockwise 90 degrees, so the toppings are horizontal.
9
Fold each end, left and right, over toward the center. Gently flatten to the toppings under the folded sides. Then fold the bottom part of the tortilla up over the center.
10
Then roll the burrito up and over itself so the seam is on the bottom.
11
This next part is totally optional. If you want to give the tortilla a little crunch and kind of warm everything through to finish it off, set a skillet over medium heat with a drizzle of olive oil. When the oil is shimmery, lay the burrito in the skillet seam side down.
12
Check the bottom of the burrito after about one minute and flip the burrito over if it's golden and toasted. Toast the other side and remove from the pan when it's toasted to your liking. Transfer to a plate and serve.
Notes
This recipe shows another use for Chipotle Chicken Strips that were made here previously. Feel free to substitute with any leftover chicken or other protein of your choice.