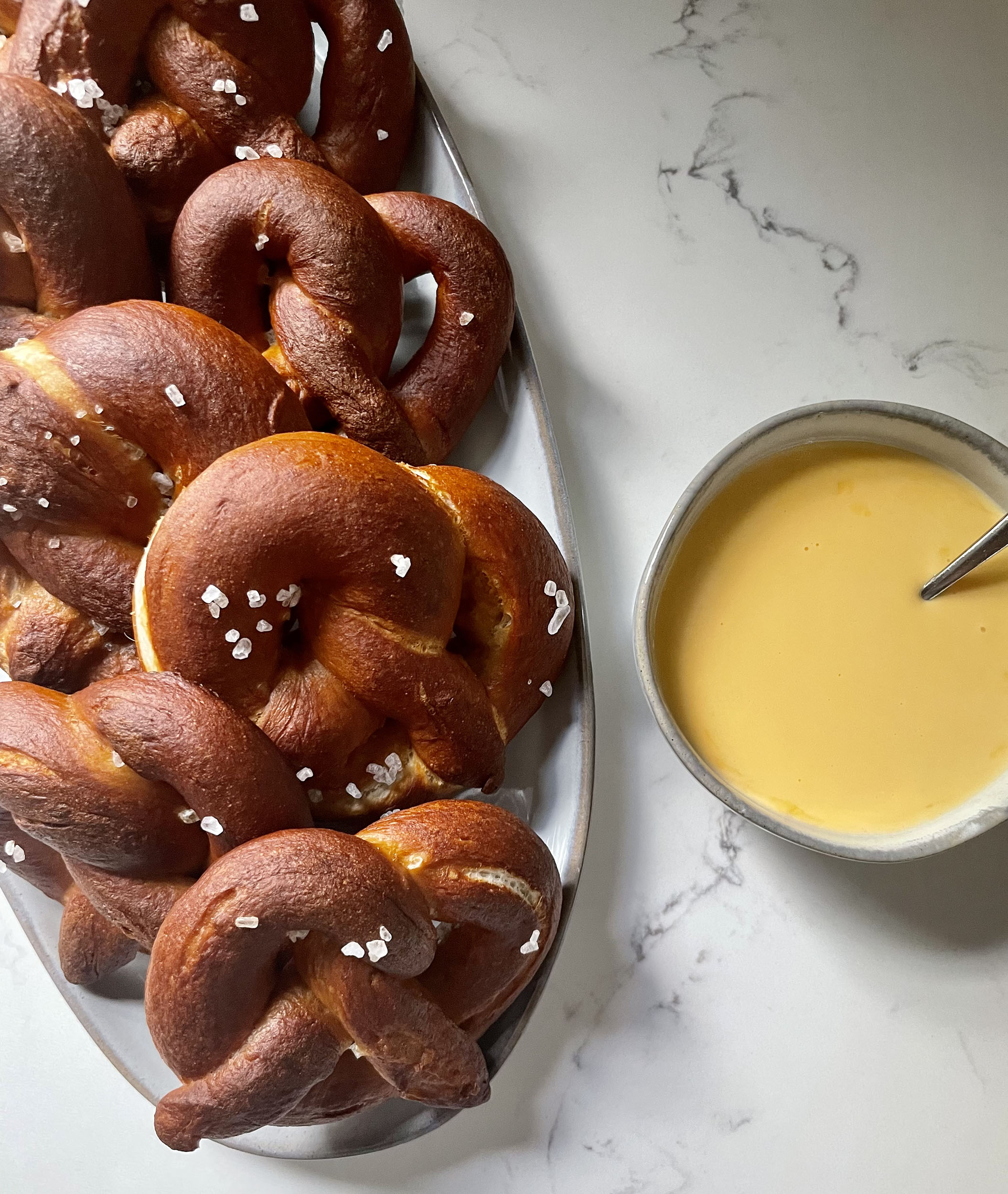 Print Recipe
Classic Ballpark Soft Pretzels
Soft and chewy, with that deep brown exterior, these Classic Ballpark Soft Pretzels are just the ticket for enjoying the game at home with friends.
Ingredients
1.5 cups Warm Water (110 degrees)

3 tbsp. Vegetable Oil

2 tbsp. Packed Dark (or Light) Brown Sugar

2 tsp. Instant or Rapid-Rise Yeast

3 ¾ cups Bread Flour

4 tsp. Kosher salt

1/4 cup Baking Soda

Cooking Spray

Pretzel Salt
Instructions
1
Add 110 degree water, rapid rise yeast, brown sugar and oil in the bowl of a stand mixer.
2
Let the yeast get foamy with the water, sugar and oil, about 3-5 minutes.
3
In a separate bowl, whisk together 4 teaspoons Kosher salt and bread flour.
4
Then add the flour/salt mix to the yeast mixture in the stand mixer bowl.
5
With the dough hook, knead on low speed until the dough pulls cleanly away from the sides of the bowl, about 3-4 minutes.
6
Turn the dough out on a lightly floured surface and knead by hand for about one minute and form the dough into a smooth dough ball.
7
Lightly grease a large bowl, place the dough ball in and cover with plastic wrap.
8
Let the dough rest and rise at room temperature for about one hour, until it's doubled in size.
9
Gently punch down the dough ball to deflate.
10
On a lightly oiled surface, turn out the dough and cut into 12 even pieces; use a bench scraper to cut the dough in half, then quarters, then each quarter into three wedges.
11
Cover the slices with plastic wrap.
12
Lightly flour two rimmed sheet trays.
13
Take one wedge of dough out from under the plastic wrap and roll it out into a long rope, about 20-22 inches long.
14
Then, take each end and make a U shape with the bottom of the U facing you. Then, take each end and bring it down, crossing in the center.
15
Now, pick up each end and cross them again, making a full twist in the center. And then firmly press the ends into the bottom of the pretzel shape.
16
Lay each shaped pretzel on a floured rimmed sheet tray and cover loosely with plastic wrap.
17
Repeat with all 12 pieces of dough – six pretzels per tray.
18
Let the pretzels proof again for about 20 minutes, until the pretzels are puffy.
19
Meanwhile, position two oven racks: one in the middle-top position, and one in the middle lower position. Preheat oven to 425 degrees.
20
Dissolve 1/4 cup baking soda in 4 cups of water in a large Dutch oven or pot and bring to a boil.
21
Use a flat spatula to scoop a pretzel and flip the pretzel, knot-side down into the boiling water. One at a time, get three pretzels in the water. Let them boil for 15 seconds, then flip and boil another 15 seconds.
22
With the flat spatula, scoop each pretzel out of the water and lay them, knot-side up on the wire rack. Repeat with four more batches of three pretzels.
23
Let the pretzels sit for 5 minutes.
24
Meanwhile, take the original two rimmed sheet trays and wipe out the excess flour and spray with a light layer of cooking spray. Sprinkle pretzel salt on the greased sheet trays and transfer the pretzels, knot-side up, to the greased, salted sheet trays. Then sprinkle the tops with more pretzel salt.
25
Place the trays in the oven and bake for 15-20 minutes; switching top and bottom and rotating sheets halfway through baking.
26
Pretzels are done when they are a deep brown/mahogany color.
27
Transfer pretzels to a wire rack to cool for 10 minutes.