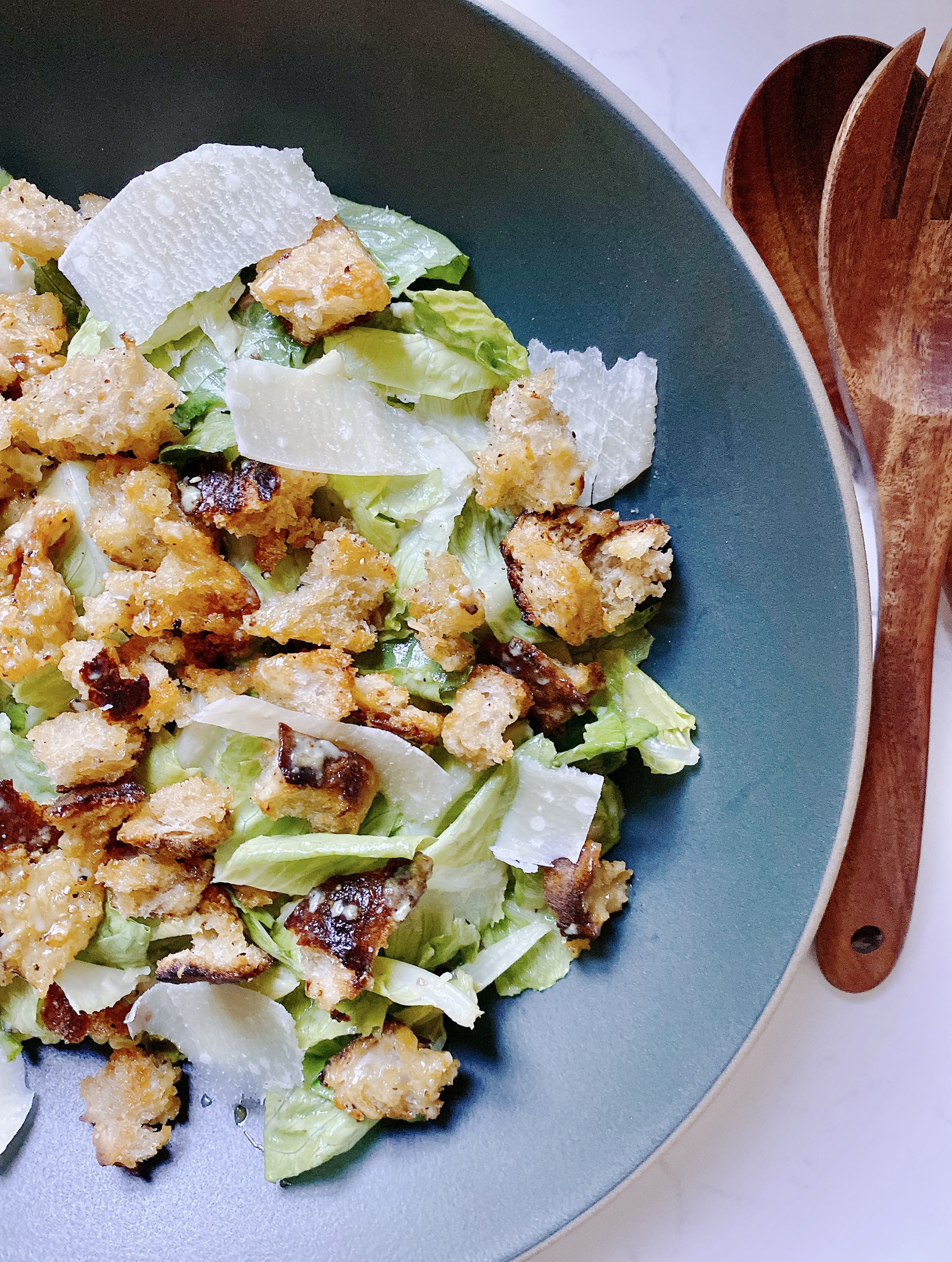 Print Recipe
Classic Caesar Salad
Caesar dressing from scratch is easy – and more luscious and flavorful than store-bought. The lemony, olive oil croutons put this classic Caesar Salad over the top.
Ingredients
Caesar Dressing + Salad

6 Anchovy Fillets, oil packed and drained

1 Garlic Clove

Kosher Salt

2 large Egg Yolks

2 tbsp. Lemon Juice, plus more

3/4 tsp. Dijon Mustard

2 tbsp. Olive Oil

1/2 cup Vegetable or Grapeseed Oil (preferred)

3 tbsp. Parmesan Cheese, finely grated + shaved Parmesan for garnish

Fresh Ground Black Pepper

1 Head Romaine Lettuce

Croutons

3 cups Torn Bread Pieces, about 1" x 1"

3 tbsp. Olive Oil

Lemon Zest, optional

Grated Parmesan, optional

Kosher Salt

Fresh Ground Black Pepper
Instructions
1
Chop together anchovy fillets, garlic, and pinch of salt. Use the flat side of a knife blade to smash into a paste, then scrape into a large bowl.
2
Whisk in egg yolks, 2 Tbsp. lemon juice, and mustard.


3
A drop at a time to start, gradually whisk in olive oil, then vegetable oil; whisk until dressing is thick and glossy. Whisk in finely grated Parmesan.
4
Season with salt, pepper, and more lemon juice, if desired.


5
Preheat oven to 375°. Tear bread into 1" chunks. Toss bread with olive oil in a bowl. Spread on a baking sheet; season with salt and pepper. Bake, tossing occasionally, until golden, 10–15 minutes.


6
Pour off 2/3 cup of dressing into separate cup, leaving 1/3 cup in the mixing bowl. Add Romaine to bowl and add about 1/3 cup more dressing on top. Toss with your hands to coat the lettuce and transfer to a serving bowl.


7
In the now empty lettuce mixing bowl, toss croutons in dressing remaining in bowl, adding more dressing if desired. Toss to coat croutons in dressing. Top salad with croutons and shaved parmesan. Top with cracked black pepper, if desired.