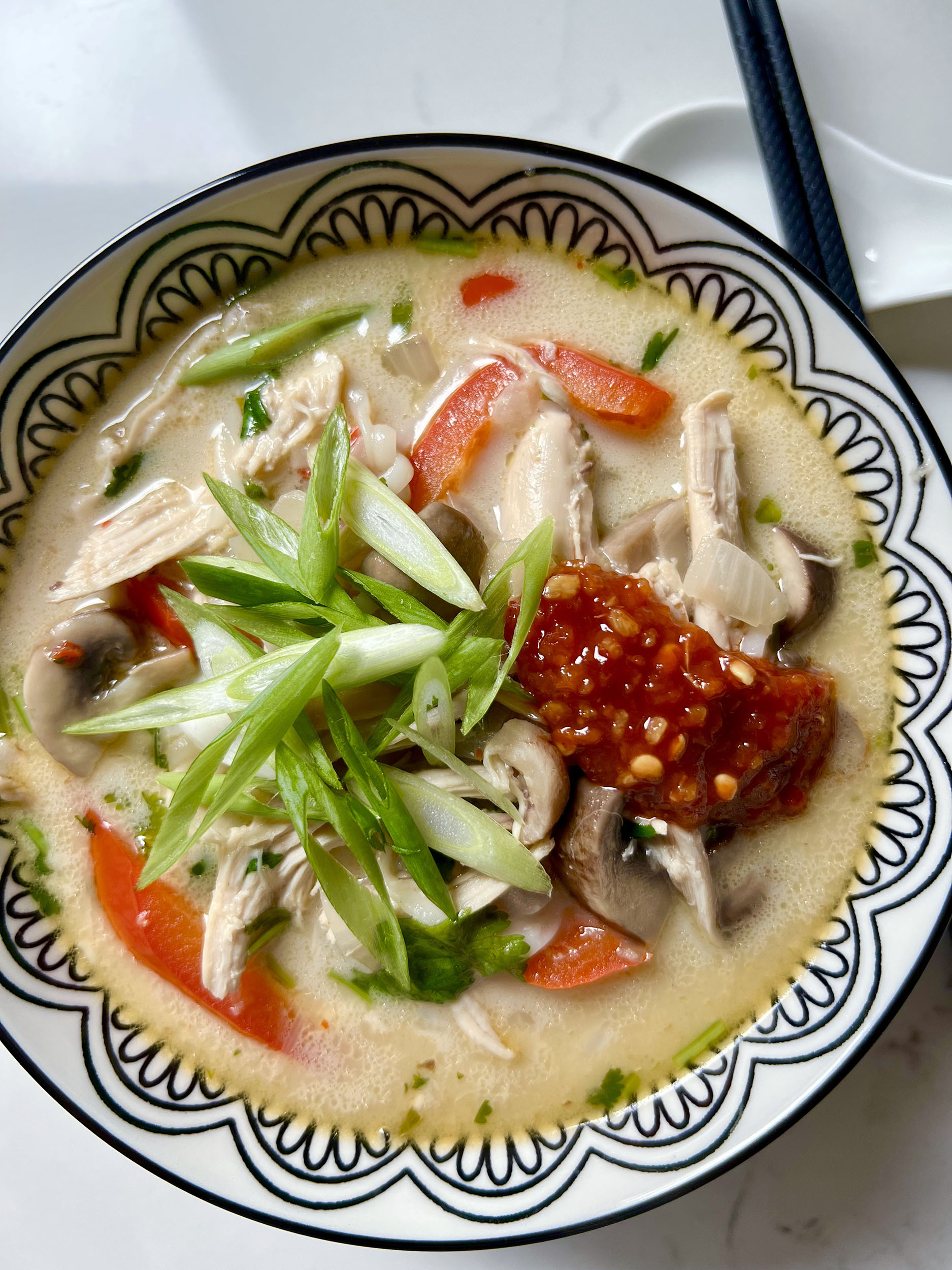 Print Recipe
Coconut Chicken Noodle Soup
Thai flavors of coconut milk, lime, cilantro and ginger make this chicken noodle soup perfect for summer. Perfectly balanced and satisfying!
Ingredients
2 tbsp. Grapeseed or Vegetable Oil

1 cup Quartered Mushrooms

1 Small Onion, diced

Pinch of Kosher Salt, plus more to taste

2 tbsp. Grated Fresh Ginger

1 tsp. Red Pepper Flakes (or more to your taste)

6 cups Low Sodium Chicken Broth

1 14-oz. can Unsweetened Coconut Milk

2 cups Chopped or Coarsely Shredded Chicken

2 tbsp. Fish Sauce

4-6 oz. Rice Noodles

1 Red Bell Pepper, sliced into strips

3 tbsp. Fresh Lime Juice

1/4 cup Chopped Cilantro

Toppings

Sliced Scallions

Lime Wedges

Chili Garlic Sauce (highly recommended)

Cilantro Leaves
Instructions
1
Over medium-high heat drizzle about 2 tablespoons of vegetable or grapeseed oil into a Dutch oven or other large pot. Toss in the diced onion, quartered mushrooms and about 1 teaspoon (or more if you like it spicy) red pepper flakes. Grate about 2 tablespoons of fresh ginger right into the pot.
2
Sprinkle the mix with a good pinch of kosher salt and stir occasionally until the veggies soften.
3
Add 6 cups of low sodium chicken broth to the pot. Then add the can of unsweetened coconut milk. Stir to combine and bring to a low boil.
4
Add the shredded chicken and the fish sauce. Let the soup come back up to a boil, then add the rice noodles, then reduce the heat to keep at a simmer.
5
Add the strips of red bell pepper and let the soup simmer until the noodles are cooked. About 5 minutes. Then, cut the heat and stir in the lime juice and the chopped cilantro.
6
Stir to fully mix in the lime juice and the cilantro. Then taste for seasoning. I ended up adding two heavy pinches of kosher salt.
7
Once you have the seasoning adjusted to your liking, ladle portions into bowls.
8
Top the soup with sliced scallions, more cilantro and lime wedges if you like. I added sliced scallions and a heavy dollop of Vietnamese chili garlic sauce for extra heat and savory garlic flavor.