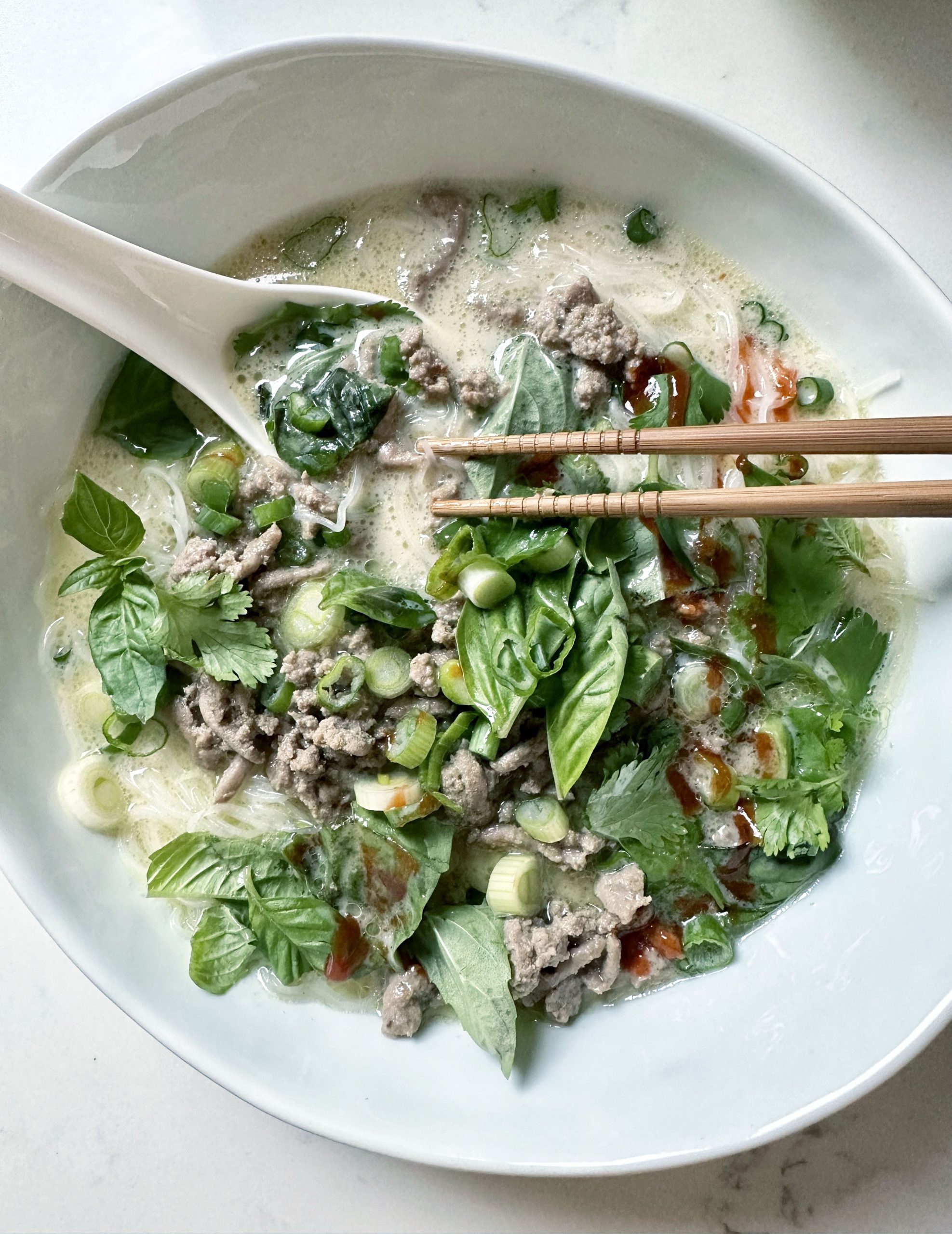 Print Recipe
Coconut Green Curry Noodles with Turkey
Coconut Green Curry Noodles with Turkey is a very simple dish: nourishing, yet light and super flavorful. With fresh basil and cilantro.
Ingredients
1/2 cup Grapeseed or Vegetable Oil

4 tbsp. Green Curry Paste

1 lb. Ground Turkey or Chicken

2 Cans Unsweetened Coconut Milk

1/3-1/2 cup Fish Sauce

1/4 cup Sugar

2 cups Water

8-8.8 oz. Package Rice Vermicelli Noodles

Torn Fresh Basil Leaves, for garnish

Torn Fresh Cilantro Leaves, for garnish

Scallions, sliced thinly, for garnish

Lime Wedges, for garnish

Sriracha Sauce
Instructions
1
Get a large pot or Dutch oven heating over medium-high heat with 1/2 cup of vegetable oil. Add 4 tablespoons of green curry to the oil. Stirring occasionally, let the curry paste bloom in the oil for about 3 minutes, or until its lightly fragrant.
2
Add the ground turkey (or chicken, if you prefer) to the pot and use a wooden spoon to break it up as it cooks.
3
When the turkey is no longer pink, add 2 cans of unsweetened coconut milk, the fish sauce, sugar, and 2 cups of water. Bring the mixture to a boil and then reduce to let it simmer and thicken for 45-50 minutes.
4
Meanwhile, bring a separate pot of 3 quarts of water to boil. Cut the heat and add the rice vermicelli. Cover the pot. Occasionally stir the rice vermicelli and cook for about 5-7 minutes, until the noodles are tender but chewy. Then drain the noodles through a fine mesh strainer. With the noodles still in the fine mesh strainer, toss them with cold tap water. Set the noodles aside. If the noodles start to clump while you wait for the Coconut Green Curry, you can periodically toss them with cold water.
5
After about 45 minutes of simmering, the Coconut Green Curry should have reduced and thickened a bit. Divide the noodles evenly among 4 wide shallow bowls. Ladle the curry over the noodles so that the noodles are swimming in the Coconut Green Curry.
6
Top with torn fresh basil, cilantro, thinly sliced scallions and lime wedges. Serve Sriracha sauce on the side.