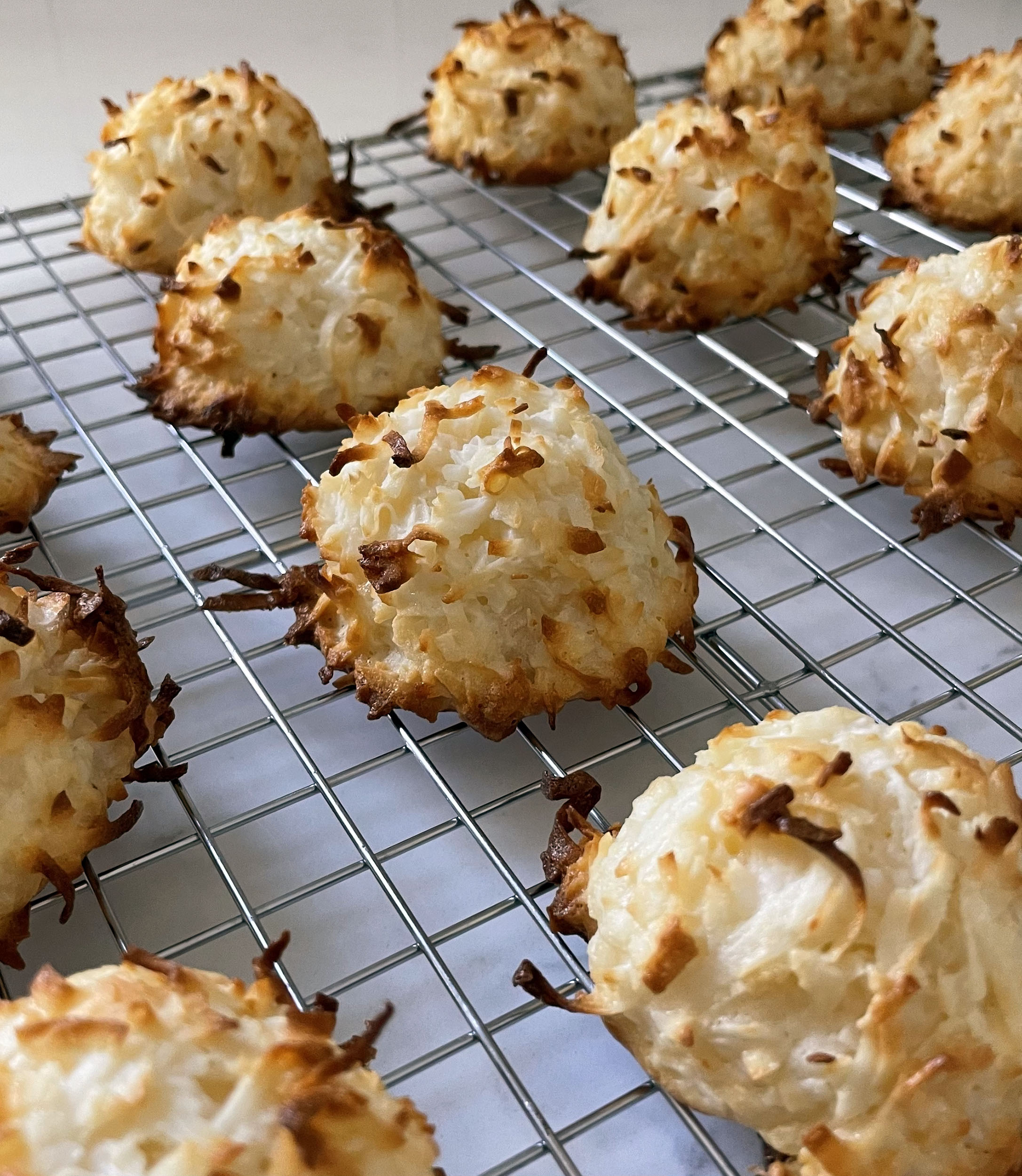 Print Recipe
Coconut Macaroons
Soft and chewy on the inside; crispy and golden on the outside, these Coconut Macaroons are a perfect gluten free Holiday cookie.
Ingredients
1 14-oz bag Sweetened Flaked Coconut, such as Baker's Angel Flake

3/4 cup + 2 tbsp. Sweetened Condensed Milk

1 tsp. Vanilla Extract

2 Large Eggs Whites

1/4 tsp. Salt

4 oz. Semi-Sweet Chocolate, High Quality Chocolate, such as Ghirardelli, chopped (optional)
Instructions
1
Preheat the oven to 325°F. Position two oven racks near the center of the oven. Line two sheet pans with parchment paper.
2
In a large bowl, mix the coconut, sweetened condensed milk and vanilla extract. Set aside.
3
In the bowl of an electric mixer, beat the egg whites and salt until stiff peaks form.
4
Use a large rubber spatula to fold the egg whites into the coconut mixture.
5
Using a small cookie scoop or a spoon, form heaping tablespoons of the mixture into mounds on the lined sheet pans, about 1" apart.
6
Bake for 20 to 25 minutes, rotating the pans from top to bottom and front to back, until the tops and edges are golden.
7
Let cool on the pans for a few minutes, then transfer to a wire rack to cool completely.
8
If dipping the macaroons in chocolate, melt the chocolate in a microwave-safe bowl at medium power, stopping and stirring at 30 second intervals, until smooth. (Alternatively, melt the chocolate in a double boiler over simmering water.) Dip the bottoms of the macaroons in the chocolate, smooth the excess with an offset spatula or knife, and return to the lined baking sheets.
9
Place the macaroons in the refrigerator for 10-15 minutes until the chocolate is set.
10
The cookies keep well in an airtight container at room temperature for about a week.