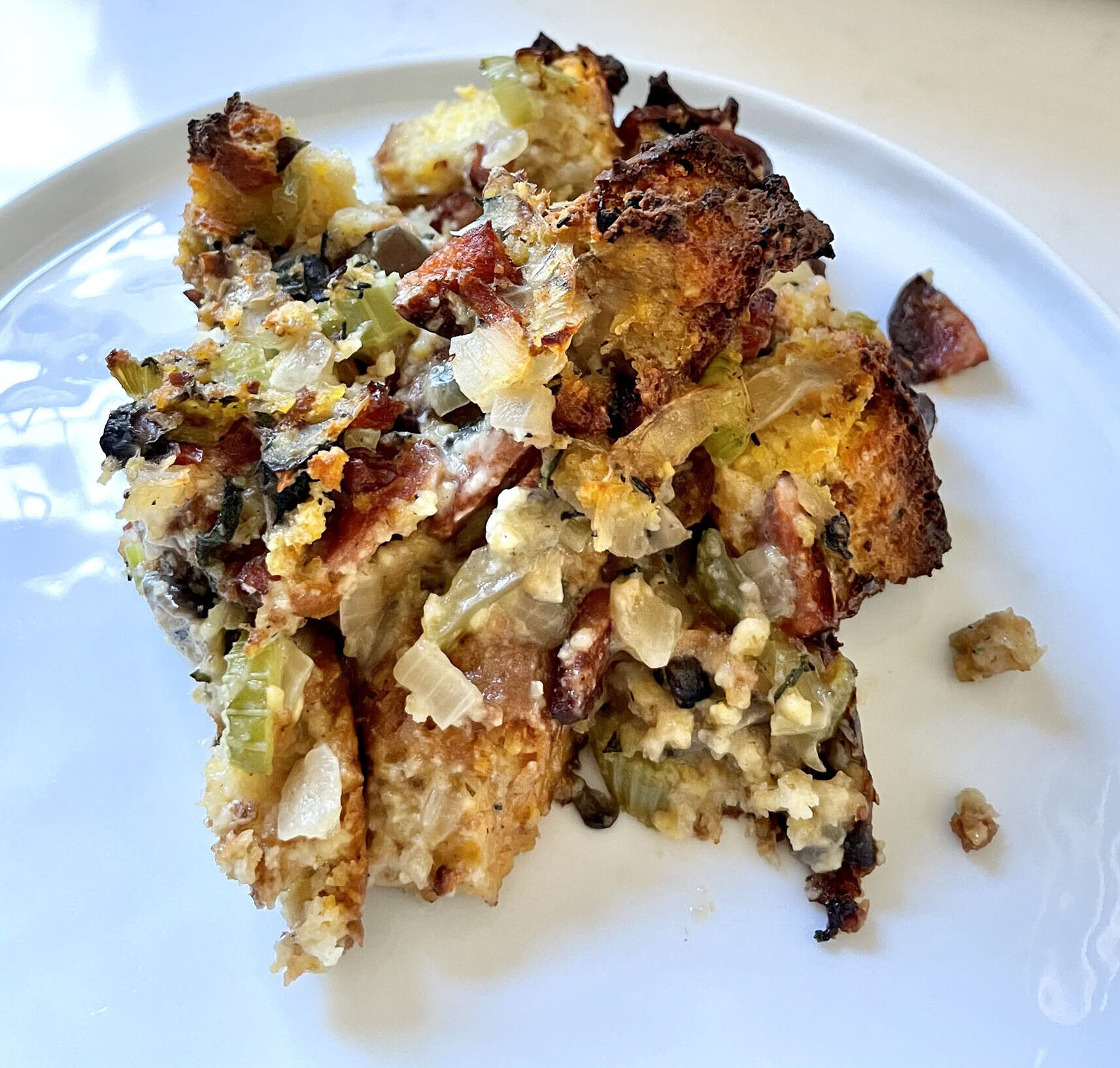 Print Recipe
Cornbread Andouille Dressing
This traditional Thanksgiving side has all the flavors you expect, with Andouille sausage for a little kick.
Ingredients
1 Batch Cornbread, cut into 1" cubes (I recommend Bob's Red Mill)

3 Ribs Celery, diced

1 Medium Onion, diced

1 tsp. Kosher Salt (more to taste)

1 tsp. Fresh Cracked Black Pepper (more to taste)

8 oz Andouille Sausage, sliced into half moons

1 tbsp. Olive Oil

1 cup mixed Mushrooms, roughly chopped

2 tbsp. Fresh Thyme, minced

2 tbsp. Fresh Sage, minced

2 Cloves Garlic, minced

3 cups Turkey or Chicken Broth (1/2 cup reserved for cornstarch slurry)

1/2 cup half and half

2 tbsp. Corn Starch
Instructions
1
Preheat oven to 350 degrees.
2
Prepare Cornbread according to package directions.
3
When cornbread is cool enough to handle, cut into 1" cubes, set aside.
4
Slice Andouille sausage into 1/8" half moon shapes and brown over medium-high heat with olive oil. Use a slotted spoon to transfer sausage to a paper towel-lined plate.
5
Add celery, onions and mushrooms to skillet and cook over medium heat until onions are translucent.
6
Add thyme, sage and garlic to veggie mixture and cook for another minute.
7
Pour 2 1/2 cups of broth and the half and half into veggie mixture, bring to a simmer.
8
In a separate bowl, whisk together corn starch and 1/2 cup of broth and slowly whisk into veggie mixture.
9
Bring veggie mixture back to a simmer and let thicken, about 10 minutes.
10
Add sausage to a large bowl, and add cornbread cubes on top, but do not mix.
11
Once veggie mixture is thickened to a loose gravy, pour over cornbread and sausage and gently mix to coat all the cornbread.
12
Cover with plastic wrap and let sit for 15 minutes, gently stirring the mixture every 5 minutes and re-covering between mixing.
13
Spray a 9" x13" baking dish with nonstick spray and spread in the dressing.
14
Bake, uncovered for 40 minutes or until the top is golden and the liquid is fully absorbed.
15
Remove from oven and let sit for 10 minutes before serving.