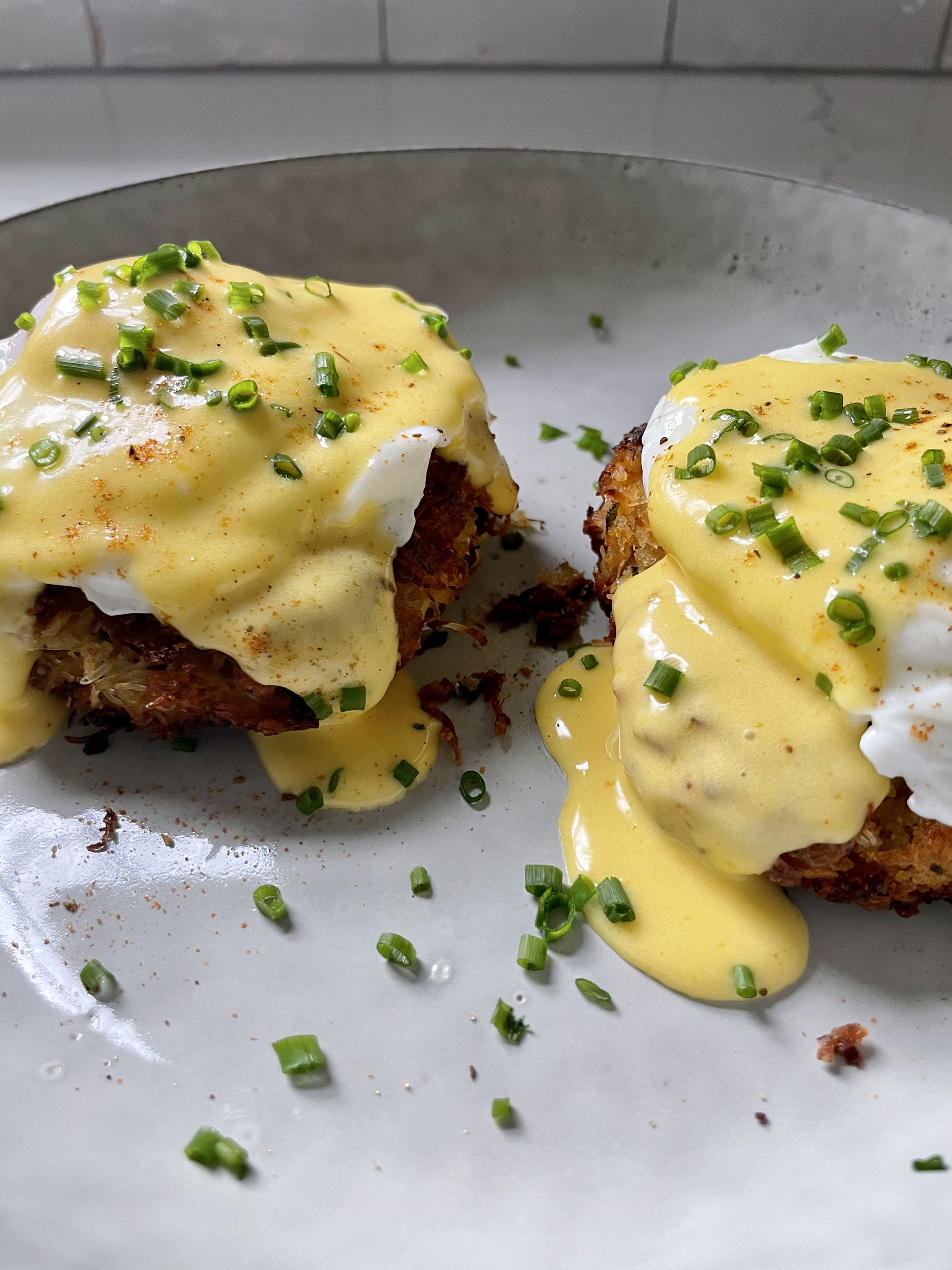 Print Recipe
Crab Cakes Eggs Benedict
Crab Cakes Eggs Benedict is gorgeously rich and luscious. Cloud-like Hollandaise drapes over perfectly poached eggs, which give way to crispy, crunchy, perfectly seasoned, pan-fried crab cakes.
Ingredients
Crab Cakes

1.5-2 lbs. Lump Crabmeat (go for canned, it's easier)

1.5 cups Panko

1/2 cup Mayonnaise

1/4 cup Chopped Chives (plus some for garnish)

1 tbsp. Dijon Mustard

2 tsp. Old Bay (plus some for garnish)

Kosher salt and freshly ground black pepper

Juice and zest of 1 lemon

3 tbsp. Unsalted Butter

3 tbsp. Olive Oil

Hollandaise Sauce

4 Egg Yolks

1 tbsp. Freshly Lemon Juice

1/2 cup Unsalted Butter, melted and cooled to room temp.

Pinch Cayenne Pepper

Pinch Kosher Salt
Instructions
1
Preheat oven to 400 degrees.
2
Mix together the mayo, lemon juice and zest, breadcrumbs, crab and chives (reserve some chives for garnish), until well combined.
3
Cover and refrigerate the mixture for 15 minutes.
4
This mixture will make 8 or so 2.5-inch crab cakes or 4 big ones.
5
If doing 4, evenly divide the mixture into four portions. If doing 8, use a 1/2 cup measuring cup as a scoop to portion the crab cakes.
6
Form the crab cakes into patties and place the patties on a sheet of parchment.
7
In a large oven-safe skillet, over medium-high heat, melt the butter with the olive oil. Once butter is melted and foamy, carefully add crab cakes to the skillet.
8
Cook until golden brown on both sides (about 2 minutes on each side).
9
Place skillet in the oven for 10 minutes to warm the crab through.
10
Melt butter in a small saucepan over low heat, do not let the butter boil. Let the butter cool off to room temperature and pour into a lightweigh measuring cup with a pour spout.
11
Set up a double boiler with a saucepan of lightly simmering water.
12
Whisk the lemon juice, salt, cayenne and eggs until they lighten in color a little and nearly double in volume.
13
Set the bowl with the eggs over the saucepan of lightly simmering water. Be sure the bottom of the bowl is not touching the water.
14
Vigorously whisk with one hand and very very slowly begin to drizzle in the cooled, melted butter. It's easier to whisk back and forth than it is to whisk in a circle, it's also more effective in getting light, airy Hollandaise. DO NOT STOP WHISKING.
15
Hollandaise is done when the sauce is lighter in color, doubled in volume, with a light and creamy texture.
16
Pour the sauce in a smaller container and set it in a warm spot.
17
If sauce thickens before service, add a few drops of warm water and stir to loosen the sauce. Add as many drops of water as necessary to get desired consistency.
18
Place poached egg on top of crab cake and drizzle with Hollandaise sauce. Garnish with a sprinkle of Old Bay seasoning and chopped chives.