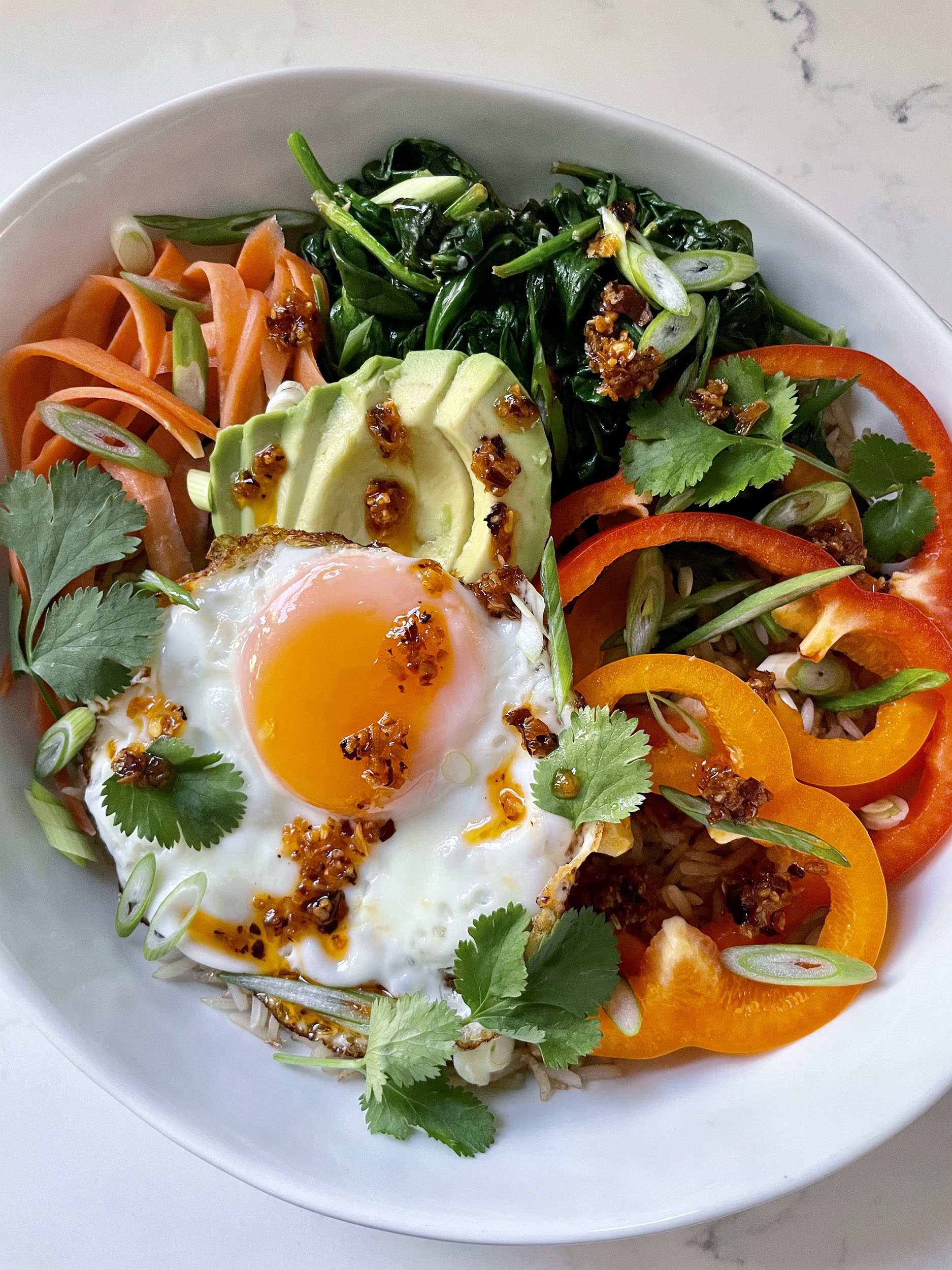 Print Recipe
Crispy Rice Bowl
Heart-healthy with whole grain brown rice, avocado, veggies, fresh herbs and an egg. This dairy-free, gluten-free rice bowl combines a variety of flavors, colors and textures for ultimate satisfaction.
Ingredients
1-2 tsp. Sesame Oil

2.5 cups Brown Rice, cooked, preferably day old

Pinch of Kosher Salt, plus more to taste

2 tbsp. Avocado Oil

1 tsp. Fresh Ginger, grated

1 clove Garlic, minced or grated

1 11-oz. Bag Fresh Spinach (or other favorite leafy green)

1 tbsp. Fresh Lime Juice

4 large Eggs

1 ripe Avocado

Veggies: Red or Orange Peppers, Carrots, Cucumber

2 Scallions, thinly sliced, for topping

Fresh Herbs: Cilantro, Mint, Basil, for topping

Chile Crunch, Sriracha or your favorite spicy condiment
Instructions
1
Heat sesame oil in a skillet over high heat and once hot, toss in the rice and a pinch of Kosher salt. Add more sesame oil if needed.
2
Cook, stirring occasionally for about 10 minutes, or until the rice is getting golden and crispy on the outside.
3
Once crisped to your liking divide the rice amongst 4 bowls or meal prep containers.
4
Add avocado oil to the skillet and heat to shimmering.
5
Add the garlic and ginger and cook, stirring, until fragrant. Don't let the garlic get brown.
6
Add the spinach (or your favorite greens) and just let it wilt, stirring to incorporate the ginger and garlic.
7
Squeeze in the juice of half a lime and remove from heat.
8
Add the greens to the bowls with the rice and wipe out the skillet.
9
Add a good drizzle of avocado oil to the skillet and heat it to shimmering over a medium heat. Tilt the skillet from side to side and back to front to ensure even oil coverage and crack an egg into the skillet. Reduce heat to low.
10
Build the bowl by adding your desired prepped veggies to the crispy rice and the greens.
11
Add the egg and top with herbs and your favorite toppings, such as chopped nuts, chile crunch, etc.