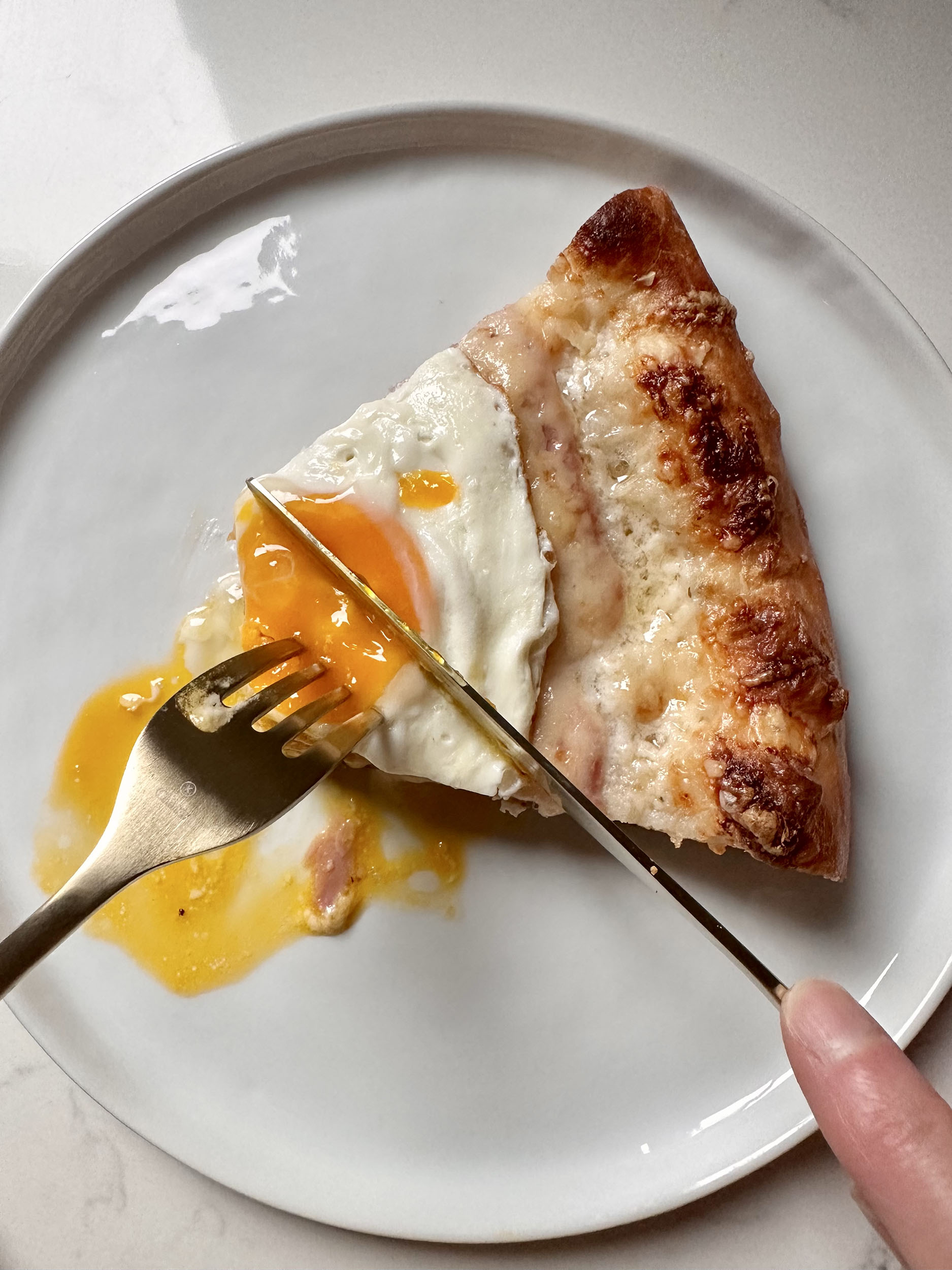 Print Recipe
Croque-Madame Pizza
Reimagining the classic French Croque-Madame Sandwich, our pizza features béchamel sauce, ham and Gruyere cheese, topped with a fried egg.
Ingredients
Béchamel Sauce

1 tbsp. Butter

1 tbsp. All Purpose Flour

2/3 cup 1/2 &1/2

Nutmeg, Kosher Salt to taste

Croque-Madame Pizza

1 Prepared Pizza Dough

6-8 Slices Deli Ham

1 cup Grated Gruyere Cheese

3-4 Eggs, fried in butter

Black Pepper, to taste
Instructions
1
First preheat the oven to 450 degrees F with a pizza stone or steel.
2
Melt the butter in a small saucepan over medium heat. When the butter is melted and foamy, whisk in the flour to make a thick, pasty mixture. Then whisk in the 1/2 & 1/2, whisk until smooth. Continue whisking and cooking the sauce until it thickens to a creamy, thick consistency.
3
Sprinkle with a pinch of ground nutmeg and season with kosher salt to taste. Set the béchamel sauce aside.
4
Roll, stretch or spin your dough out to about 12-inches, on a lightly floured pizza peel.
5
Use a silicone spatula to spread a thin layer of the béchamel sauce over the dough, leaving a 1-inch border for the crust. Then, layer the ham in a single layer, over the sauce.
6
Cover the ham with the grated gruyere. And we are ready for the oven.
7
While the pizza is baking, fry three eggs in a nonstick pan with a bit of butter, over medium-heat until they are done to your liking.
8
Pull out the pizza when it's golden and the cheese is melted, bubbly and beginning to brown.
9
Then slide the eggs out of the pan, directly onto the pizza.
10
Top with black pepper if you like, slice and serve!