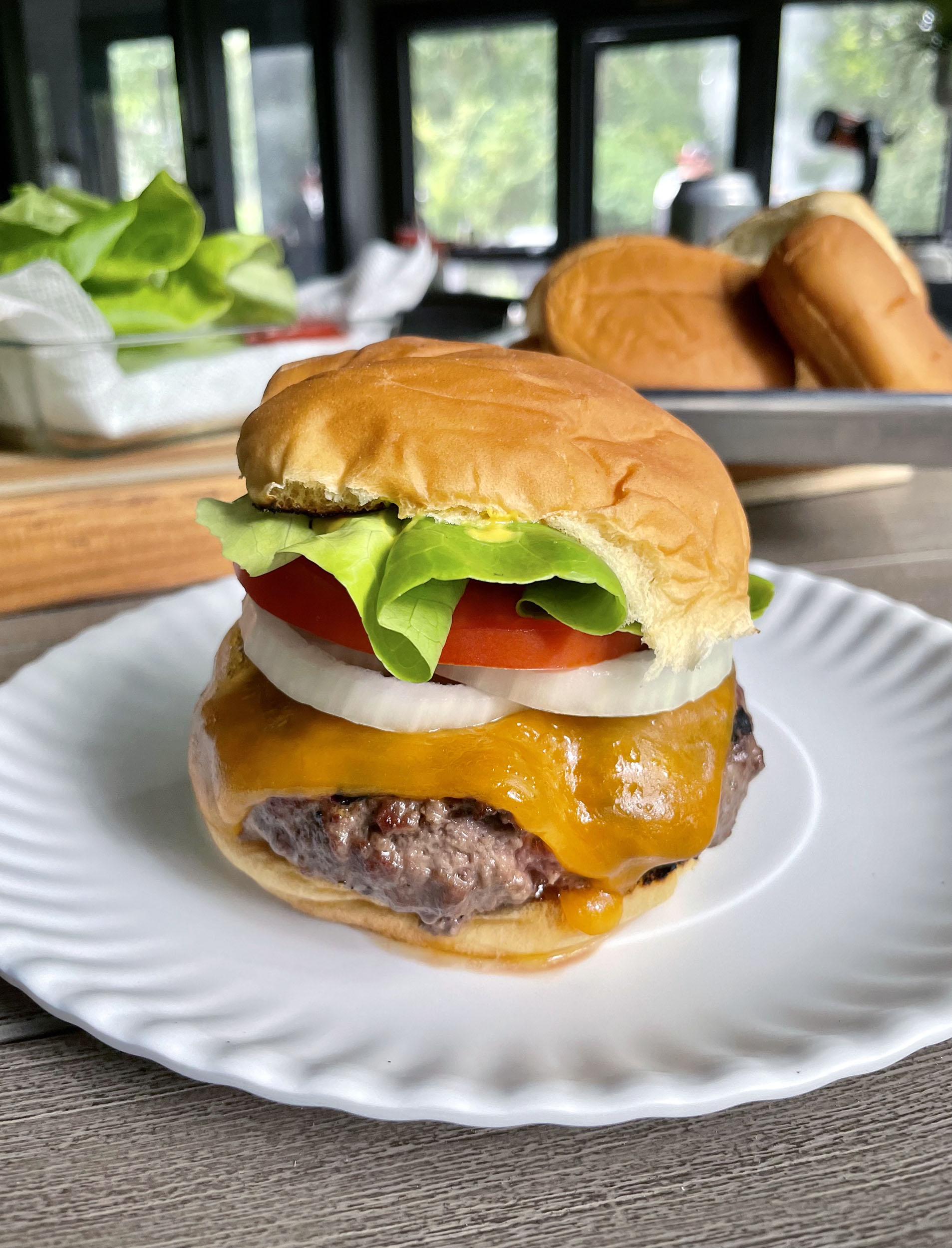 Print Recipe
Djalali's Best Butter Burgers
Chipotle Butter seasons the burger from the inside. Djalali's Best Butter Burgers are super juicy and thick, yet perfectly cooked.
Ingredients
1 lb. Ground Sirloin

1 lb. Ground Chuck

Splash of Worcestershire Sauce

Splash of Soy Sauce

1 Large Egg

6 tbsp. Compound Butter, divided (or regular salted butter)

Salt and Pepper, to taste
Instructions
1
Line a rimmed sheet pan with parchment for the patties.
2
In a large bowl, combine the ground sirloin and ground chick with a splash of Worcestershire sauce, an egg and soy sauce.
3
Mix that all together with your hands until well-incorporated.
4
Then, form six meat balls and, one by one, flatten them into a thick disk.
5
With your thumb, make an indention in the center, taking care not to poke all the way through the patty.
6
Scoop about 1/2 to 1 tablespoon of very cold butter and drop it in the indentation.
7
Then, gather up the outer edges of the patty and reform into a ball around the butter.
8
Gently flatten it back out to a thick patty, making sure none of the butter is exposed.
9
Repeat with all six meat balls, placing them on the parchment-lined sheet pan. Place the sheet pan in the freezer for about 20 minutes.
10
Meanwhile, heat the grill going on high heat. About 650 degrees.
11
Salt and pepper one side of the patties.
12
Use a long-handled grill spatula to flip the salted side of the patties onto the grill, one at a time.
13
Salt and pepper the other side of the patties once you have them on the grill.
14
Grill the burgers for about 4-5 minutes on each side, moving them around on the grill as needed to avoid flare-ups. Burgers are done at 135-140 internal temp.
Notes
If your grill maxes out at 500 degrees, cook the burgers for about 5-6 minutes on each side.