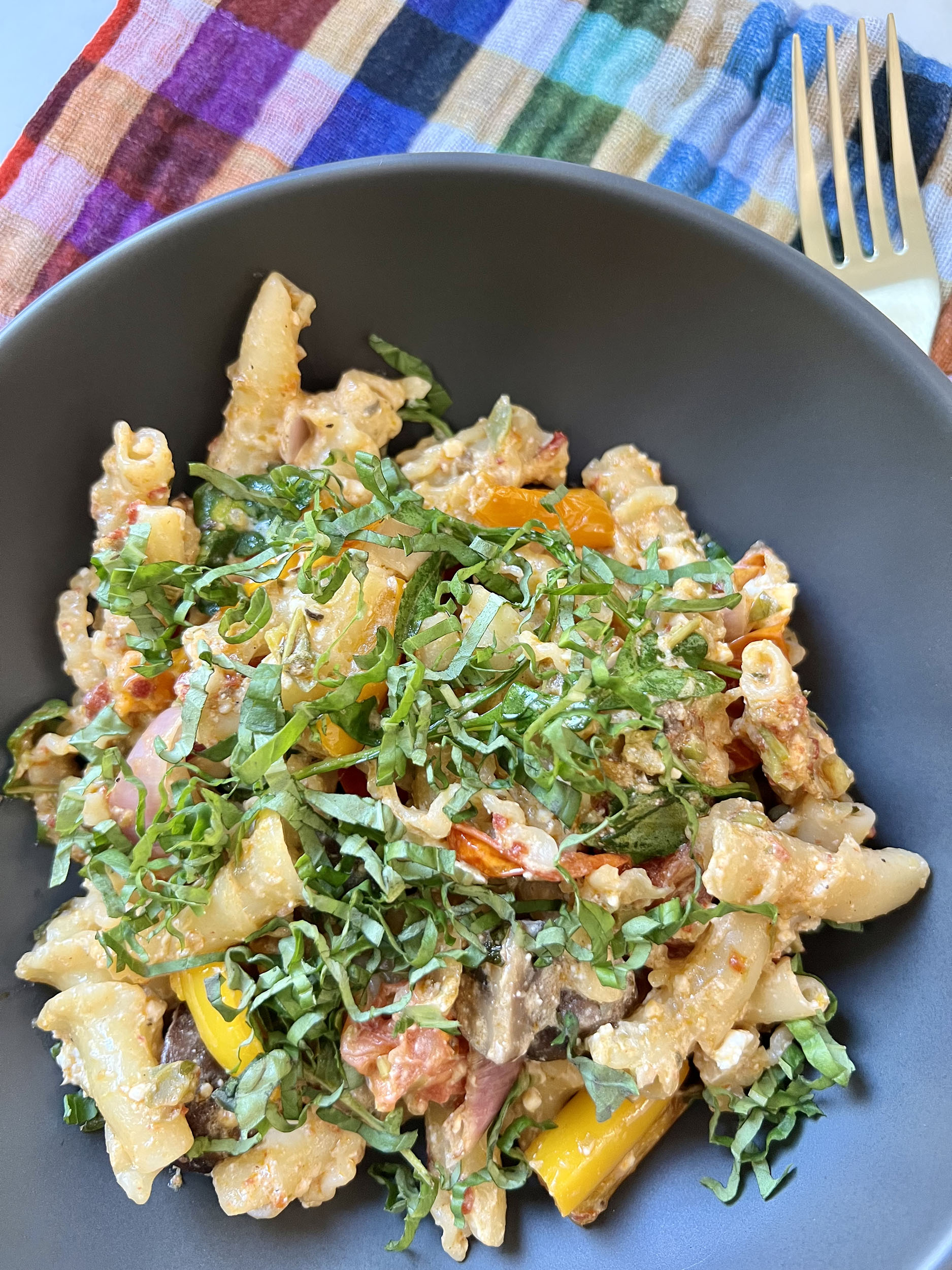 Print Recipe
Easy Baked Feta Pasta
An easy alternative to cream-based pasta dishes, this Easy Baked Feta Pasta comes together in just about half an hour. A perfect weeknight meal, customize to your liking or for whatever you have in the fridge!
Ingredients
8 oz. package Mushrooms, quartered

16 oz. package Mini Bell Peppers, stemmed and quartered

2 Shallots, sliced into 1/4-inch pieces

1 cup Cherry tomatoes, halved

1 8-oz. Block Feta, halved

Olive Oil

Kosher Salt

Black Pepper

1 16-oz. package Dried Pasta (try a tubular or twisted shape like Fusilli, Campanelle, or Cavatappi)

Optional: 1 cup olive tapanade and 1 handful of raw arugula or raw spinach

2-3 tbsp. Fresh Basil, chiffonade cut
Instructions
1
Preheat the oven to 400 degrees F.
2
Combine the prepped veggies on a sheet tray and drizzle with olive oil.
3
Season with Kosher salt and pepper, toss to coat the veggies.
4
Place the halves of feta on the veggies and drizzle more olive oil on the feta. Top the feta with black pepper.
6
Meanwhile cook pasta according to package directions for al dente cooked pasta.
7
Drain pasta and add the cooked pasta back to the pot.
8
When the feta and veggies come out of the oven, break apart the feta with a silicone spatula or wooden spoon. Mix with the veggies.
9
Add the feta/veggie combination, along with any pan juices to the drained pasta in the pot and stir to combine and coat the pasta in the feta and veggies.
10
Optionally, add in a handful of raw arugula or spinach and one cup of olive relish or tapenade. Stir again to mix well.
11
Serve portions in wide bowls, topped with fresh basil.