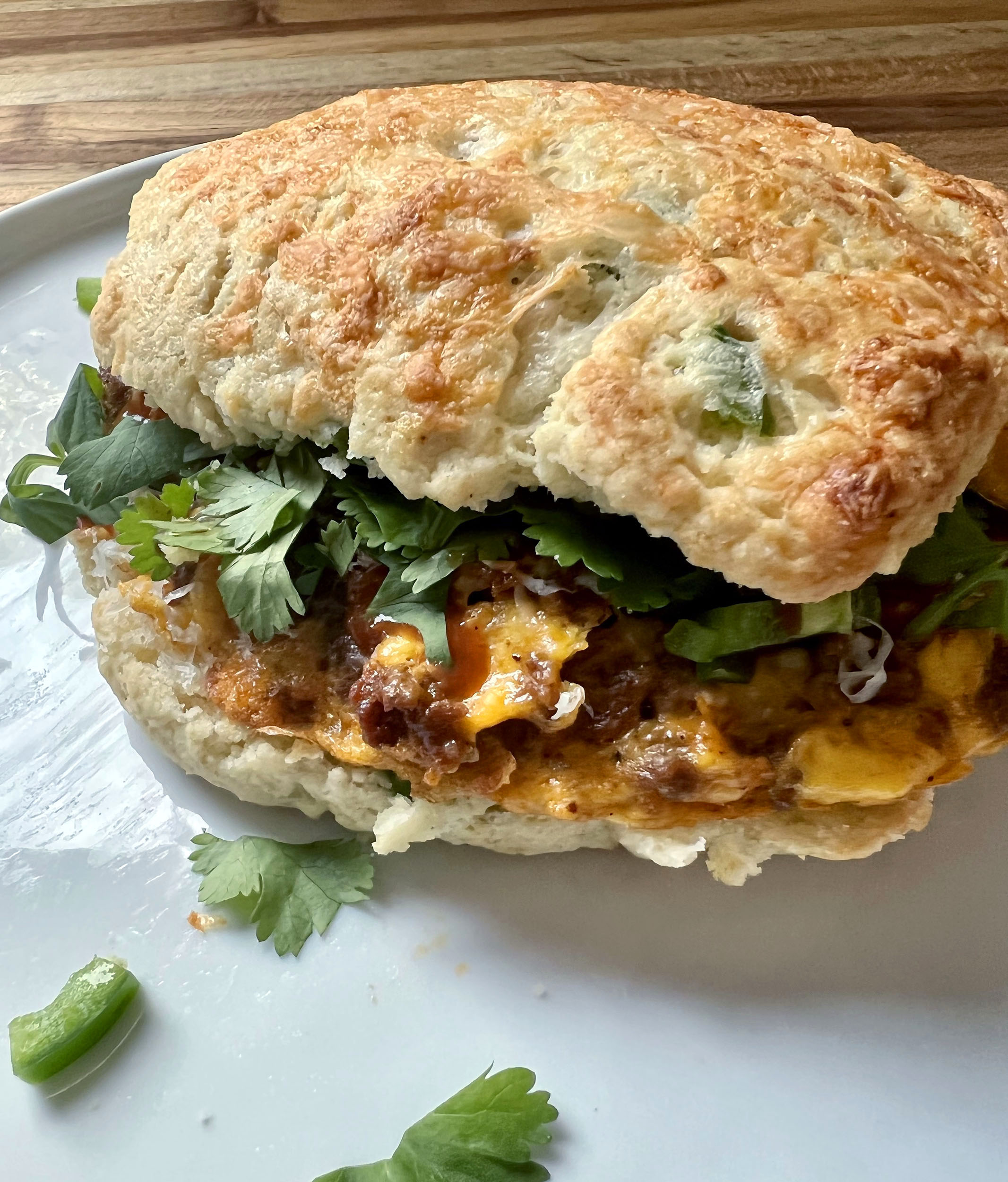 Print Recipe
Cheddar Jalapeño Biscuit Sandwiches
Light, fluffy cheddar jalapeño biscuits sandwich a savory, flavorful Mexican chorizo egg scramble. Topped with cilantro, cheese and hot sauce.
Ingredients
Cheddar Jalapeño Biscuits

1 1/3 cups All-Purpose Flour

1/4 cup Fine Cornmeal

3 tbsp. Sugar

2 tsp. Baking Powder

1 tsp. Kosher Salt

Pinch Cayenne Pepper

1.5 cups Grated Sharp cheddar cheese, divided (1.25 cups and 1/4 cup)

2-4 tbsp. Diced Fresh Jalapeños, more or less to taste

3/4 cup plus 2 tablespoons heavy cream, plus extra for brushing

Biscuit Sandwiches

8 oz. Mexican Chorizo

5 Large Eggs, beaten

Toppings

1/4 cup Chopped Cilantro, stems and leaves, more or less to taste

1/4 cup Grated Cheddar Cheese, more or less to taste

2 tbsp. Diced Fresh Jalapeño, more or less to taste

Hot Sauce
Instructions
Cheddar Jalapeño Biscuits
1
Preheat oven to 425 degrees, F.
2
In a large mixing bowl, whisk together the flour, fine corn meal, sugar, salt, cayenne and baking powder.
3
After whisking together the dry ingredients, add the 1 and 1/4 cups of the grated cheddar.
4
Then add the diced fresh jalapeño. Use your hands to throughly mix the cheddar and jalapeño into the dry mixture.
5
Create a well in the center of the mixture and pour the heavy cream into the center well.
6
Use your hands to bring it together; lightly mix the dry mixture into the cream by pushing the dry mix from the edges into the cream in the center. Continue until the dry mixture is mostly clumping together and there isn't much loose flour left.
7
Turn the biscuit mix out onto a lightly floured surface. If there is still a lot of dry, loose flour, dribble in a little more cream at a time just until the dough is mostly clumped. Gently knead the dough about 3-4 times to get it to form one mass of dough. Shape it into a square and pat it out so it's about 1-inch tall.
8
Use a bench scraper to make two cuts, cross-wise to make 4 large biscuits.
9
Use the bench scraper to scoop up each biscuit and place on a parchment-lined sheet tray. Brush the tops with a little heavy cream. Then, sprinkle the reserved 1/4 cup of grated cheddar on top of the biscuits.
10
Bake the biscuits for 12-15 minutes, until golden brown and puffed up.
11
While the biscuits are baking, make the chorizo egg scramble.
12
Cook the chorizo over medium heat, breaking it up as it cooks until it's browned and cooked through.
13
Reduce the heat to medium-low and pour in the beaten eggs. Once the egg sets around the sides, gently stir the mixture, let it spread out and repeat stirring it in from the edges until the eggs are mostly cooked.
14
When the eggs are mostly cooked, but still wet in areas, gather the mixture together turn the heat to low and cover.
15
By now the biscuits should be ready, golden brown and puffed up a bit. Transfer them from the sheet pan to a wire rack to cool slightly.
16
Check the eggs and if they are done to your liking, remove from heat.
17
Once your biscuits are cool enough to handle, use a serrated knife to cut a biscuit in half horizontally. Use a silicone spatula to divide the chorizo egg scramble into half or quarters and place a serving on top of the cut biscuit bottom.
18
Top the chorizo and eggs with more grated cheddar, fresh diced jalapeño and your favorite hot sauce.
19
Then add a small handful of chopped cilantro leaves and stems. Top with the top half of the cut biscuit.