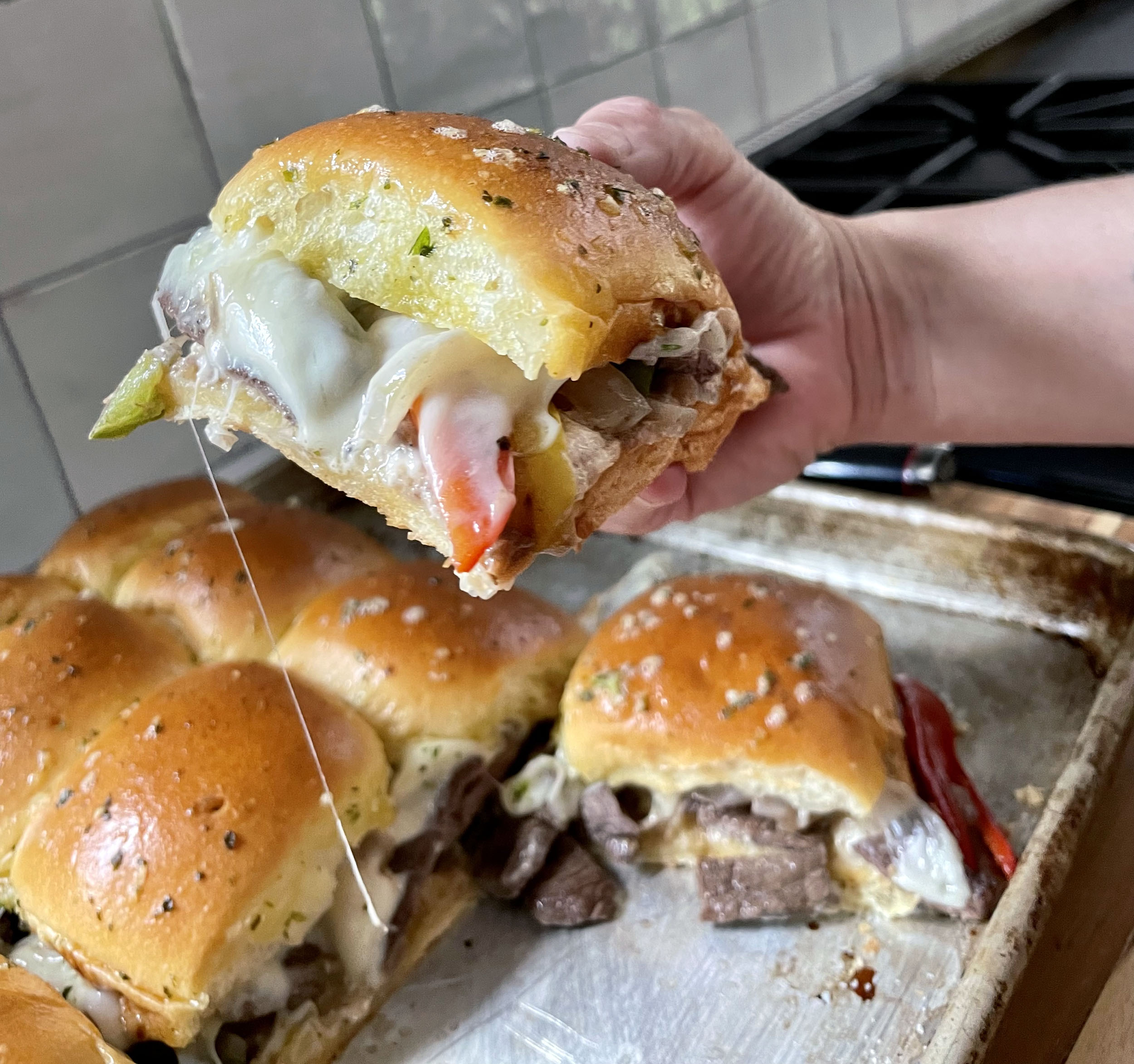 Print Recipe
Easy Cheese Steak Sliders
Savory steak and peppers, with slightly sweet onions; gooey, nutty, melted Provolone; the butter brushed Brioche buns really make these sliders, though – soft and pillowy, slightly toasted on top. Each little slider is about 4 bites of wonderful.
Ingredients
Mayonnaise Spread

3-4 tbsp. Mayonnaise

2 tsp. Worcestershire Sauce

2 tsp. Horseradish

Sliders

1 Red or Yellow Bell Pepper, sliced in thin strips

1 Green Bell Pepper, sliced in thin strips

1 Yellow or White Onion, sliced in thin strips

~ 2 lbs. Sirloin, Ribeye, or Flank Steak, sliced in thin strips about 1/8" thick

12-16 Slices of Thinly Sliced Deli Provolone

3-4 tbsp. Mayonnaise Spread

2 Packages of 8 Brioche Buns

3 tbsp. Melted Compound Butter, or Plain Salted Butter
Instructions
1
Mix 3-4 tablespoons of mayonnaise with Worcestershire sauce and horseradish, taste and adjust accordingly.
2
Preheat oven to 350 degrees.
3
Leave the individual Brioche Buns connected to each other, and use a serrated knife to slice each package of 8 buns in half, horizontally. Arrange the two bottom halves on a rimmed sheet tray.
4
Spread 3-4 tablespoons of Mayonnaise Spread on the sliced bun bottoms. Set aside.
5
Sauté the steak on a hot griddle with a tablespoon of vegetable oil until steak slices begin to brown.
6
Add onions and peppers to the griddle.
7
Stir the onions, peppers and steak and cook until onions and peppers begin to soften and brown, and the steak is no longer pink.
8
Push the two bun bottoms together to create one large bun bottom and pile the steak, peppers and onions evenly on top.
9
Layer on the Provolone cheese and place the bun tops on top.
10
Brush the bun tops with melted butter and bake until the bun tops are toasted and the cheese is melted, about 8-10 minutes.
11
When they come out of the oven, slice them right in the tray; cut along each individual bun's edge, straight down – avoid sawing or slicing and pulling – this way the steak, peppers, cheese and onions won't get dragged through the center of the buns.