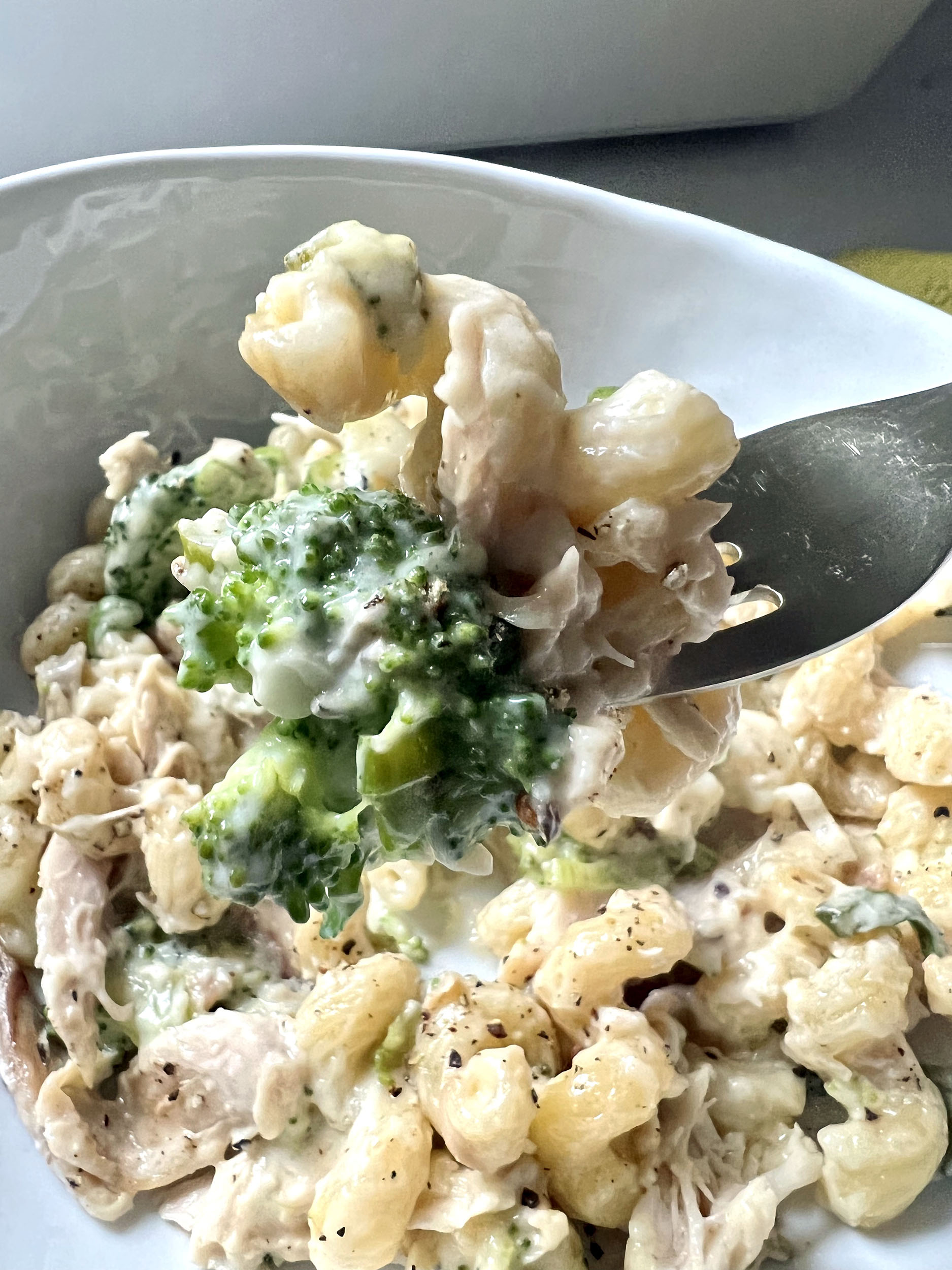 Print Recipe
Easy Chicken and Broccoli Casserole
Each bite of this Easy Chicken and Broccoli Casserole is a little bite of comfort cloaked in a robe of cheddar cheese. So good!
Ingredients
3 cups Dried Pasta like Cavatappi, or Macaroni

2 cups Store-bought Rotisserie Chicken

2 cups Grated Sharp Cheddar, divided

1 lb. Broccoli, cut into florets

3 Scallions, thinly sliced

1 10.5-ounce can Cream of Chicken Soup

1 10.5-ounce can Cream of Onion Soup

1/2 cup Sour Cream

1/2 tsp. Garlic Powder

1/2 tsp. Kosher Salt

1/2 tsp. Black Pepper
Instructions
1
Preheat the oven to 375 degrees and place an oven rack in the center position.
2
Get a pot with 4-quarts of water boiling for the pasta.
3
Once the water is boiling add 1 tablespoon of Diamond Kosher salt. Then add the pasta. Stir occasionally and let the pasta boil for 5 minutes. Then add the broccoli florets to the boiling pasta. Cook for another 2 minutes then drain in a colander.
4
From the colander, transfer the broccoli and pasta to a 9x13-inch casserole dish. Then add the two cans of creamy soup to the casserole.
5
Add the chicken on top and season the chicken with the Kosher salt, garlic powder and black pepper.
6
Add the sliced scallions and one cup of the grated cheddar cheese.
7
And now give this whole thing a good mix. Fold all the ingredients into the pasta and broccoli, working your silicone spatula down and through the pasta and broccoli and then back up again to fully mix the creamy soups and chicken through the pasta and broccoli.
8
Once the casserole is fully mixed, top with the second cup of grated cheddar cheese.
9
Cover and bake the casserole for 25-30 minutes. Remove the cover and bake for an additional 5-10 minutes, until the cheese and exposed pasta begins to get toasty.